IMF and World Bank were designed to keep African countries in economic slavery, says Lumumba
asaaseradio.comMay 25, 2023 9:13 AM
Appearing on the Asaase Breakfast Show on Thursday (25 May), P L O Lumumba advised African countries to wean themselves off overreliance on the IMF and World Bank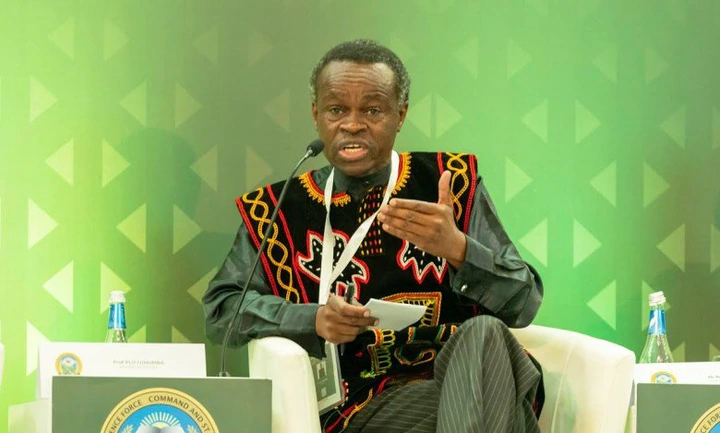 The renowned anti-corruption campaigner and Afro-visionary Patrick Loch Otieno (PLO) Lumumba has said that African countries must wean themselves off what he describes as "colonial economic slavery".
He said the World Bank and the International Monetary Fund (IMF) were designed to keep African countries in a permanent state of economic slavery.
Appearing on the Asaase Breakfast Show on Thursday (25 May), Lumumba advised African countries to resort to trade through regional blocs to wean themselves off the Bretton Woods system of monetary management.
"African countries are progressively becoming more and more beholden to the Bretton Woods institutions, and I have always said that whenever you see any African country kowtow to IMF and World Bank, then you know that country is in danger," he said.
"The IMF/World Bank [were] designed by their creators to keep African countries and other countries in a permanent state of economic slavery.
https://www.google.com/afs/ads?psid=5134551505&channel=AutoRsVariant&cx=9d449ff4a772956c6&fexp=44789923%2C21404%2C17300002&client=pub-1883810847636355&r=m&sct=ID%3D8d48dfc20b4fbbe2%3AT%3D1663995891%3AS%3DALNI_MYBQ_1mRlbaYMdncuO4-jaN5s_Fpg&sc_status=6&hl=en&rpbu=http%3A%2F%2Fgoogle.com&rpqp=q&type=3&rs_tt=c&oe=UTF-8&ie=UTF-8&format=r5&nocache=9921685038932693&num=0&output=afd_ads&domain_name=cdn-af.feednews.com&v=3&bsl=10&pac=2&u_his=2&u_tz=0&dt=1685038932695&u_w=360&u_h=806&biw=360&bih=674&psw=360&psh=2600&frm=0&cl=534159633&uio=-&cont=autors-container-0&jsid=csa&jsv=534159633&rurl=https%3A%2F%2Fcdn-af.feednews.com%2Fnews%2Fdetail%2F41655c89763e3bd3e2ce12c007fdf63d%3Ffeatures%3D2114057%26country%3Dgh%26uid%3D08c1e53bf8ea5f4e83fb533f6407a12207298822%26like_count%3D4%26client%3Dmini%26language%3Den&adbw=master-1%3A318
"So, one of the things that must be done is to ensure African countries wean themselves off the breast of the IMF and the World Bank. It can be done continentally but beginning regionally is a good thing," Lumumba said.
Listen to P L O Lumumba in the audio clip attached below:

Here's How Much Liposuction In Mexico Might Cost YouLiposuction In Mexico | Search Ads
Cost of Apartments for Sale in Dubai Might Totally Surprise YouDubai Villas | Search AdsSearch Now
Diabetes Is Not Caused by Sweetness! Find the Enemy of Diabetes!Food World Blog
Top 30 Most Beautiful Women in the Worldhealthnfits.com
Unmute