Hilda Baci cooked for record-breaking 100 hours only to find out she could have sat
MyJoyOnlineMay 22, 2023 9:03 AM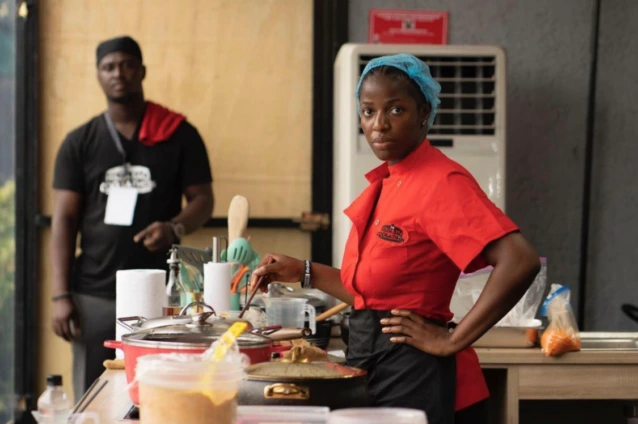 Hilda Effiong Bassey, the talented Nigerian chef widely known as Hilda Baci, has revealed that she had no idea she could sit while attempting to break the Guinness World Record.
Hilda, who recently completed a remarkable 100-hour cooking marathon, made this revelation during an interview on Friday, May 19, 2023.
She told the press that she chose to stand for the entire 100-hour duration because the previous record-holder did the same. It was only after completing the challenge that she realized she had the option to sit.
https://www.google.com/afs/ads?psid=5134551505&channel=AutoRsVariant&cx=9d449ff4a772956c6&fexp=44789923%2C21404%2C17300003%2C17301182%2C17301183&client=pub-1883810847636355&r=m&sct=ID%3D8d48dfc20b4fbbe2%3AT%3D1663995891%3AS%3DALNI_MYBQ_1mRlbaYMdncuO4-jaN5s_Fpg&sc_status=6&hl=en&rpbu=http%3A%2F%2Fgoogle.com&rpqp=q&type=3&rs_tt=c&oe=UTF-8&ie=UTF-8&format=r5&nocache=5571684824973444&num=0&output=afd_ads&domain_name=cdn-af.feednews.com&v=3&bsl=10&pac=0&u_his=2&u_tz=0&dt=1684824973456&u_w=360&u_h=806&biw=360&bih=674&psw=360&psh=3271&frm=0&cl=532122288&uio=-&cont=autors-container-0&jsid=csa&jsv=532122288&rurl=https%3A%2F%2Fcdn-af.feednews.com%2Fnews%2Fdetail%2F8a49a36eba2e0db0a4e0ad72bb1e74c5%3Ffeatures%3D2114057%26country%3Dgh%26uid%3D08c1e53bf8ea5f4e83fb533f6407a12207298822%26like_count%3D0%26client%3Dmini%26language%3Den&adbw=master-1%3A318
"I didn't know I could sit while cooking. I only discovered it after I completed the challenge," Hilda admitted.
One of the reasons Hilda decided to document the entire process was due to a scarcity of resources when she initially researched the challenge. She explained that she could only find three videos online, which influenced her decision to stand throughout the marathon.
@theculturejoint The point where 🇳🇬Hilda Baci almost broke down hours to breaking the World Cooking record. #rootingforhildabaci ♬ original sound – theculturejoint
"I didn't know I could sit because, when I checked the videos of the previous chef, she was standing," Hilda elaborated. "It was only after the attempt that I found a clip of her sitting. Perhaps, until now, nobody believed it was possible to stand for 100 hours while cooking. But since someone has done it, it means it's possible and achievable."
Hilda's unintentional discovery has sparked conversations within the culinary community, highlighting the importance of thorough research and sharing knowledge among aspiring record-breakers.
Her dedication and commitment to the challenge, despite not knowing she could sit, have further solidified her reputation as an exceptional chef.
As Hilda Baci continues to inspire others with her remarkable achievements, the culinary world eagerly awaits her next endeavor, where she can showcase her talent and passion once again.

13 Famous People Who Have Opened up About Living With Mental IllnessLoveMyFamilyMag.com
Strangest Cat Behaviours Finally ExplainedHandy Tricks
Man Finds Palm Tree On The Beach And He Accidentally Spots Creatures Hiding In The Roots NFTscores.io
Dog Refuses to Let Baby Sleep Alone – Then Parents Discover the Reason WhyBestFamilyMag.com
https://s.adx.opera.com/aframe
null
Unmute
https://googleads.g.doubleclick.net/pagead/html/r20230518/r20110914/zrt_lookup.html?fsb=1#RS-1-&adk=1812271802&client=ca-pub-1883810847636355&fa=2&ifi=6&uci=a!6&btvi=3&xpc=eECqzocZUf&p=https%3A//cdn-af.feednews.com