Jose Mourinho: 'Man City have €70m players on the bench. We spent €7m and we are in the final'
tribuna.comMay 20, 2023 7:19 PM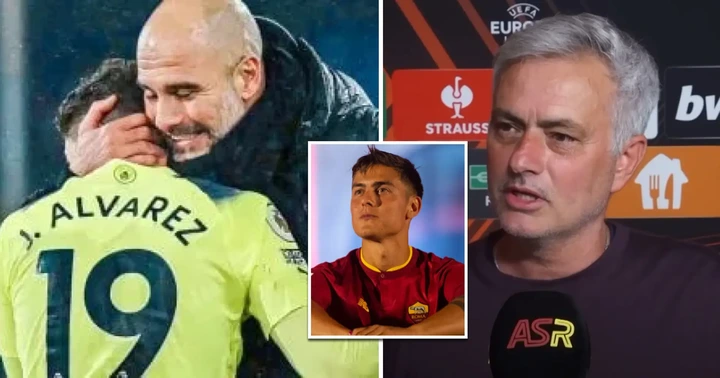 AS Roma held Bayer Leverkusen to a nil-nil draw in the most unexciting fashion possible in a Europa League semifinal, just a day after Manchester City did scary things to Real Madrid in the Champions League.
Naturally, Jose Mourinho was asked about the manner in which his team won the tie and made another European final, in view of what his former enemy Pep Guardiola is doing. Jose pointed to the transfer spending.
He is quoted by Mirror: "The only teams that do not suffer are exceptional teams that have on the bench €40m or €70m players.
"If you look at City's semi-final, they brought on Julian Alvarez, Phil Foden and Riyad Mahrez in the second half.
"If we lose four or five players then we suffer. That is natural. At Roma, we have players out injured and others who have not had transfer fees must come in.
https://www.google.com/afs/ads?psid=5134551505&channel=AutoRsVariant&cx=9d449ff4a772956c6&fexp=44789923%2C21404&client=pub-1883810847636355&r=m&sct=ID%3D8d48dfc20b4fbbe2%3AT%3D1663995891%3AS%3DALNI_MYBQ_1mRlbaYMdncuO4-jaN5s_Fpg&sc_status=6&hl=en&rpbu=http%3A%2F%2Fgoogle.com&rpqp=q&type=3&rs_tt=c&oe=UTF-8&ie=UTF-8&format=r5&nocache=51684618165857&num=0&output=afd_ads&domain_name=cdn-af.feednews.com&v=3&bsl=10&pac=0&u_his=3&u_tz=0&dt=1684618165861&u_w=360&u_h=806&biw=360&bih=674&psw=360&psh=2212&frm=0&cl=532122288&uio=-&cont=autors-container-0&jsid=csa&jsv=532122288&rurl=https%3A%2F%2Fcdn-af.feednews.com%2Fnews%2Fdetail%2F074c7b56b40065f350c92453f37b3654%3Ffeatures%3D2114057%26country%3Dgh%26uid%3D08c1e53bf8ea5f4e83fb533f6407a12207298822%26like_count%3D0%26client%3Dmini%26language%3Den&adbw=master-1%3A318
"We spent €7m in the transfer market and we are in the final. What we have done is extraordinary."
AS Roma have been kind of hit by injuries this season, with key players Paulo Dybala and Georginio Wijnaldum missing quite a lot of games.
Nonetheless, the team are in the Europa League final and have a chance to clinch their second European trophy in a row which would be the stuff of dreams not just for AS Roma, but for any Italian team these days.

Strangest Cat Behaviours Finally ExplainedHandy Tricks
38 secrets you never knew about flyingGenius-Story.com
Rescue Kitten Thinks She Is a Dog!BestFamilyMag.com
Old Woman Predicted Many Things Of 2022 And Reveals Shocking Truth About 2023Housediver
Unmute