Ghana's programme with IMF not sustainable, says Bokpin
asaaseradio.comMay 20, 2023 7:18 AM
The IMF executive board approved Ghana's request for a US$3 billion bailout to support the country's economic recovery on 17 May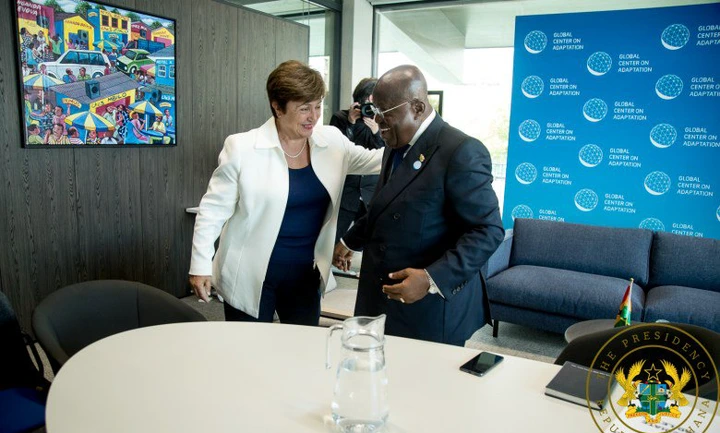 Prof Godfred Bokpin, an economist with the University of Ghana Business School, is concerned about Ghana's current programme with the International Monetary Fund (IMF), saying it is not sustainable.
The IMF executive board approved Ghana's request for a US$3 billion bailout to support the country's economic recovery on 17 May.
The Fund said its support programme for the country will focus on reining in inflation and rebuilding the country's foreign reserve buffers.
However, speaking to Benjamin Offei-Addo, the sit-in host of the Asaase Breakfast Show on Friday (19 May), Bokpin said the programme is heavily based on revenue generation, which makes it unsustainable.
Worse-off
"The programme approval represents positive news, but it is not an end to itself," Bokpin said. "If you look through the programme totally, it will only return us faster to the IMF if the programme ends."
"If a programme is designed under fiscal consolidation that is heavily predicated on revenue handles, it tells you it is not sustainable," Bokpin added.
about:blank
Listen to Prof Godfred Bokpin in the attached audio clip below:
Inclusive growth
A deputy Finance Minister, Abena Osei-Asare, disagrees. She said the IMF programme is not only about revenue, but promoting inclusive growth.
"Clearly you can see that, there has been an increase in the poverty gap, so what government is trying to do with this particular IMF programme is also to promote inclusive growth and protect the poor and vulnerable," she said.
"And as part of this, we expected that within five years, we bring our debt to GDP ratio down to 55% and also, we are expected to make sure that the revenue that we use to service our debt does not go beyond 18%" Osei-Asare said.
Listen to Abena Osei-Asare in the attached audio clip below:

Strangest Cat Behaviours Finally ExplainedHandy Tricks
Here's What Unsold Dubai Villas Might Cost You In 2023! (See Prices)Dubai VillasSearch Now
Old Woman Predicted Many Things Of 2022 And Reveals Shocking Truth About 2023Housediver
Canada Lowered The Immigration Restrictions. Check Your EligibilityMigration To Canada | Search Ads
https://s.adx.opera.com/aframe
Unmute