Court Orders For Anas' Apartments, Glass Factory To Be Demolished
ghanafeed.comMay 15, 2023 10:34 AM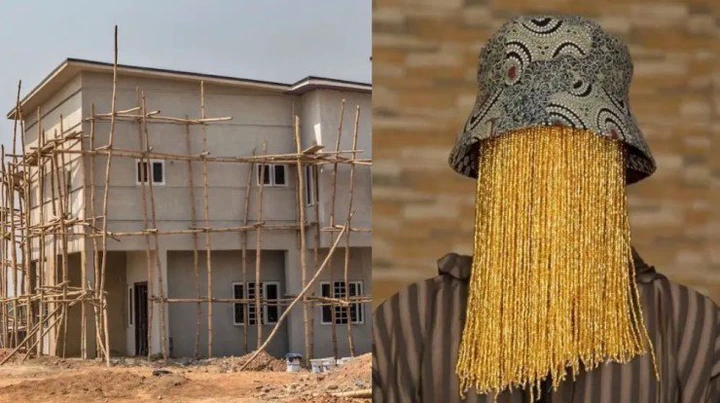 In pursuance to a court order, plans are underway to demolish a glass factory situated in Tse-Ado and a collection of apartment buildings constructed and owned by investigative journalist Anas Aremeyaw Anas.
Following a court order instructing investigative journalist Anas Aremeyaw Anas to halt construction on a disputed land until the resolution of the said dispute, the journalist proceeded with his construction project, leading to the Court's decision to demolish the structures.
After the issuance of a final judgment that ruled against Anas Aremeyaw Anas, the owner of the land, Adolf Tetteh Adjei, is planning to dismantle the structures and projects belonging to Anas on the premises.
https://www.google.com/afs/ads?psid=5134551505&channel=AutoRsVariant&cx=9d449ff4a772956c6&fexp=44789923%2C21404%2C17301140%2C17301144%2C17301146&client=pub-1883810847636355&r=m&sct=ID%3D8d48dfc20b4fbbe2%3AT%3D1663995891%3AS%3DALNI_MYBQ_1mRlbaYMdncuO4-jaN5s_Fpg&sc_status=6&hl=en&rpbu=http%3A%2F%2Fgoogle.com&rpqp=q&type=3&rs_tt=c&oe=UTF-8&ie=UTF-8&format=r5&nocache=2711684150981911&num=0&output=afd_ads&domain_name=cdn-af.feednews.com&v=3&bsl=10&pac=0&u_his=2&u_tz=0&dt=1684150981917&u_w=360&u_h=806&biw=360&bih=674&psw=360&psh=2831&frm=0&cl=528505921&uio=-&cont=autors-container-0&jsid=csa&jsv=528505921&rurl=https%3A%2F%2Fcdn-af.feednews.com%2Fnews%2Fdetail%2Fe72ba9e5c545777ee00b03e23c548a42%3Ffeatures%3D2114057%26country%3Dgh%26uid%3D08c1e53bf8ea5f4e83fb533f6407a12207298822%26like_count%3D0%26client%3Dmini%26language%3Den&adbw=master-1%3A318
Justice Kwame Gyamfi Osei, the presiding judge, granted Ghs100,000 to Adolf Tetteh Adjei, stating that the landowner should utilize the funds for the demolition rather than Anas Aremeyaw Anas personally conducting the dismantling.
After the court's decision, Anas Aremeyaw Anas reportedly made multiple attempts to negotiate with the landowner and offer full payment for the land in order to prevent the demolition of his factory and apartments.
However, Adolf Tetteh Adjei has expressed his lack of interest in selling the land to Anas. He cited the years of alleged harassment and intimidation by Anas Aremeyaw Anas, including the involvement of land guards and police, as the reason for his refusal to engage in any land transaction with Anas.

Do this before bed and watch your stomach shrinkStudent Discovery
Congratulation To Our New Winner Who Won An iPhone13 on MSport Lucky Draw, Try Your Luck Now.MSport Online BettingSign Up
Mastering Work-Life BalanceRemote Health by SafetyWing
6 Best Universities For An MBA Degree In The USANewsclicks24Click Here
null
Unmute