I'm disappointed in Akufo-Addo's government – Otiko Djaba
Pulse.com.ghMay 2, 2023 3:34 PM
Otiko Afisa Djaba, a former Minister for Gender and Children Affairs has lashed out at the Akufo-Addo government for its treatment of school-feeding caterers.
She said the New Patriotic Party (NPP) government has to set things right with the people of Ghana.
According to her, Ghanaians entrusted their lives and future in the hands of the ruling government when they decided to vote for the NPP in the 2020 elections and therefore it falls on the government to sit up and do better with its decisions.
Her comments come on the back of an outcry by some caterers in the Ashanti Region who have expressed displeasure about the delay in payment of their arrears and the 97 pesewas granted to children.
"I am very angry with my government. That issues like this, in terms of the caterers, prompt action is not being taken," she said.
"When 1 million people give their votes to you, you must do the right thing by them. This is not about politics, this is about the development of the people, with the people. Giving them the necessary information. Where you cannot meet them, talk to them. They are human beings; they will understand because the NPP is a listening government. These are serious times and we need serious decisions to be taken.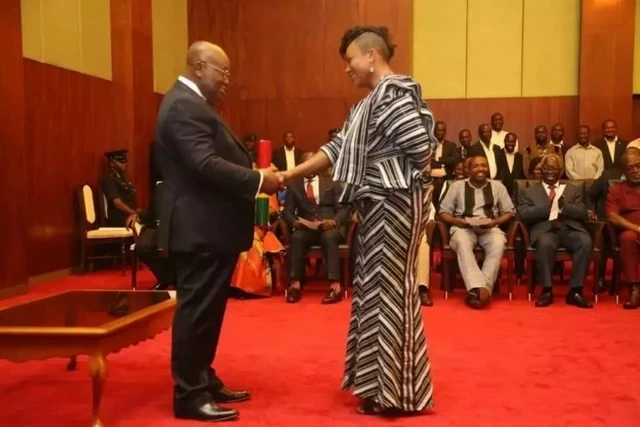 "Food prices are like that all over the world, it's not only Ghana but why are you a leader? You are a leader to solve the problems," she added.
"I have nothing to be peeved about, I have so much joy about my party and I'm very proud of them. Akyia, emmu y3! But we must be serious and understand that it is a privilege to be in this position, you will never get it again. Out of the 30 million Ghanaians, you have been given the single privilege to take Ghana to the next level.
"Let's die trying, let's put in the structures, the fight that we fought during the campaign, let's reignite it, and open fire, then the people of Ghana will understand that, we are serious about their development and we will win back their trust. Take the apathy out. Yes, there are issues but which life hasn't got issues? It is our time to get it right and we must die getting it right and that is why I am so angry and I want all the ministers and appointees and everybody that believes in Ghana to get angry enough. And the government should not take it as somebody is shaming them oh, criticism is good to prepare you to get it right.
"The people of Ghana are waiting for us to do the right thing and by God if we are alive today, let's do everything we can. All the challenges, are opportunities for us to think outside the box and get it right. Ghana deserves it, you and I deserve it," she added.
The former Minister also, while emphasizing the fact that her utterances have nothing to do with personal grievances, said she is merely bothered that the party appears to have lost the trust of Ghanaians with some of their decisions, urging for them to do the right thing rather than focus on political gains.

Congratulation To Our New Winner Who Won An iPhone13 on MSport Lucky Draw, Try Your Luck Now.MSportSign Up
Prices of Used Cars in Accra Could Surprise YouUsed Cars | Search adsSearch Now
Unsold Cars From 2021 Are Almost Being Given AwayUnsold Cars | Search AdsRead More
There are only a few deals left on washer & dryers in Accra, check nowWasher & Dryer Deals | Search Ads