Anthropologist Professor Emeritus Nukunya buried
Ghana Business NewsApr 24, 2023 3:45 PM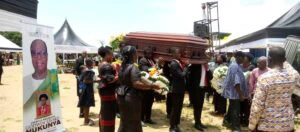 Anthropologist Professor Emeritus Godwin Kwaku Nukunya has been laid to rest in his hometown, Woe, in the Volta Region. He was 88.
It followed a pre-burial service held for him in Accra which attracted people from all walks of life especially the academia and the clergy.
Reverend Dr Yohanes Ahiabu, Synod Clerk of the Global Evangelical Church in a sermon during the burial service for the late former Pro-Vice-Chancellor of the University of Ghana, admonished all to accept Jesus Christ and to speak to others about Him so they could come to Him.
Reading the scriptures from Mark chapter six, he said it was important to have Jesus as one's Lord and personal Saviour, be good stewards and live the life well to impact society to be guaranteed eternal life even after one's exit from the earth.
Mad Ophelia Aku Mana Ziwu, the widow in a tribute, described her late husband as "a man of great character" who she was privileged to have spent 57 years of her life with saying, though she would deeply miss his presence, "the love we shared will always remain in my heart.
"Your strength of character and dedication to good values have served as a beacon of light that guided not only you, but our entire family and others who were fortunate to know you.
"In this chapter, without you, I will uphold these morals and never forget them," she said.
Mr Godwin Elorm Nukunya, the eldest son referred to the late Sociologist as a hero who loved, cared for, and protected him and his other siblings.
He recalled instances where the late father encouraged and nurtured his potential as well as the fun times they had together and concluded, "I miss you so much Daddy, that I doubt my heart can ever heal."
Prof Emeritus Divine Amenumey of the Department of History, University of Cape Coast in his tribute, recounted fun times with the late author who he called Kwaku throughout their 64 years of friendship which started from Commonwealth Hall, UG through to the University of London and thereafter.
"Kwaku regularly regaled us with tales from his Sociology classes and his reading… In fact, Kwaku and I, being closer to each other, developed a joking relationship and called each other by names from the wild animal kingdom."
Mr Seth C.K. Amedofu, a cousin, called the deceased a family builder, philanthropist, and helper to the poor and needy whose greatest virtues were humility, love, and forgiveness, for which he would be sorely missed.
"Our last conversation was on Monday, January 2nd, 2023, with a promise for me to visit him on Friday. By January 6, alas! My brother was called by the Lord to glory. My wife, children and I will remember him as he was like a father to us," he said.
Professor Emeritus Nukunya who held visiting positions at various American, British, and Nigerian universities; received several awards for his work in Anthropology and published numerous academic journals and as well, had national appointments and international assignments, left behind a wife and five sons.
Source: GNA

Solar Panels: See How Much It Will Cost To Install Them (Search Prices)Solar SystemsLearn More
The Prices of Unsold Laptops Might Surprise You (See Prices)Unsold Laptops | Search Ads
Tired of joint pain? Check out this recovery method!Joints Health
Looking to Study in Canada? See Options For GhanaStudy In Canada | Search AdsLearn More
https://s.adx.opera.com/aframe
Unmute