The resources expended on the fight against galamsey is amounted to a financial loss to the state—Vitus Azeem
apexnewsgh.comApr 20, 2023 10:28 AM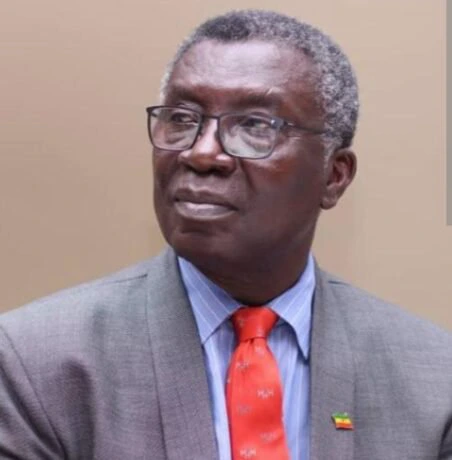 An Anti-Corruption Crusader, Vitus Azeem has said, government expenditure on the so-called fight against galamsey is a good example of causing financial loss to the State.
The anti-corruption crusader was responding to the report released by Professor Kwabena Frimpong Boateng.
The former Minister for Environment, Science, Technology and Innovation Profession Kwabena Frimpong Boateng in his report has mentioned some names within the corridor of power who has contributed in making the fight against galamsey unsuccessful during his time as a minister.
Meanwhile, speaking about the controversial excavator issue, the Minister said, there was a calculated scheme even within the NPP party in government to get him out of office.
Responding to the report, Mr. Vitus Azeem told Apexnewsgh.com in an Interview that "When you appoint people into very important positions of State and they seem to be thinking more of themselves than the State then definitely, you don't expect anything good to our so-called fight against galamsey. The people mentioned are an indictment on the whole government not just on those individuals and because of that, am looking at the past experience because we are not likely to come out with any serious actions against those involved in these allegations".
He believes: "We are not fighting galamsey, we are talking about galamsey, nobody is fighting galamsey, and like I always say about corruption we just talk about it. The people who are supposed to be fighting the galamsey themselves are involved in galamsey as the report shows. So, how can we be claiming of fighting galamsey. There is a wide gap between what we say and what we do and that is very unfortunate for us as a country".
"Why should we pump resources in human and financial resources in something we call fighting galamsey and those we spend the resources on them for the fight against galamsey are implicated in the fight. We send soldiers there, when you send soldiers out to the field the amount of money you spend feeding them and other things is quite a huge amount of money, then you get impound some bulldozers and they will vanish. We need bulldozers on our roads and yet they vanish. How can we be talking about galamsey when that effort is been done? We are causing financial loss to the state and this is endorsed by the people we have elected to manage the resources we have generated as a country. He stressed

Do You Speak English? Work a USA Job From Home Work from Home | Search
Tired of joint pain? Check out this recovery method!Joints Health
Are You From Ghana? A Work From Home Job Might Pay More Than You ThinkWork from Home | Search Ads
Unsold Never-Driven Cars Now Almost Being Given Away: See PricesUnsold Cars | Search AdsLearn More
Unmute