Things you need to know about new Chelsea coach
blueprint.ngApr 2, 2023 9:49 PM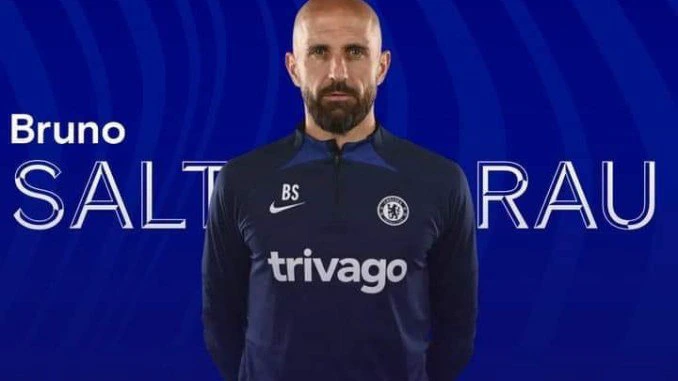 Graham Potter was sacked by Chelsea on April 2 and a short statement that announced the decision by new owner Todd Boehly ended with the words "Bruno Saltor will take charge of the team as Interim Head Coach." But just who is the new head coach of Chelsea?
Bruno Saltor, 42, was a right-back who started his career off in Espanyol's youth system in Spain. He was promoted from the B team to the first team yet played just once at senior level, instead being loaned out to Gimnàstic. From there, he moved to Lleida then Almería, amassing over 100 games for each club, before a move to Valencia.
Bruno makes his name in England
came calling in 2012, when Bruno was signed by Brighton & Hove Albion, where he made his name playing in a developing team that eventually won promotion to the Premier League in 2017 when the right-back was 36 years old.
He was a stalwart for The Seagulls, and was well known in England for his defensive capability, despite his age, staying as first-choice from the Championship to the Premier League. It was only injuries that forced the player to give up his place in the side, even into his late 30s.
In 2019, Bruno announced his retirement as a player and went to work behind the scenes as a player development coach at Brighton, under the leadership of then-manager Graham Potter.
In September 2022, after Potter had secured in his new role as Chelsea manager, Bruno was cherry picked from Brighton and made the move to the London club to serve as an assistant to his boss.
https://afs.googlesyndication.com/afs/ads?psid=5134551505&channel=AutoRsVariant&fexp=44786015%2C21404%2C17300002%2C17301081%2C17301082&client=pub-1883810847636355&r=m&sct=ID%3D8d48dfc20b4fbbe2%3AT%3D1663995891%3AS%3DALNI_MYBQ_1mRlbaYMdncuO4-jaN5s_Fpg&sc_status=6&hl=en&rpbu=http%3A%2F%2Fgoogle.com&rpqp=q&type=3&rs_tt=c&oe=UTF-8&ie=UTF-8&format=r5&nocache=5261680501650585&num=0&output=afd_ads&domain_name=cdn-af.feednews.com&v=3&bsl=10&pac=2&u_his=2&u_tz=0&dt=1680501650593&u_w=360&u_h=806&biw=360&bih=674&psw=360&psh=2683&frm=0&cl=520018305&uio=-&cont=autors-container-0&jsid=csa&jsv=520018305&rurl=https%3A%2F%2Fcdn-af.feednews.com%2Fnews%2Fdetail%2F0acdd9de83ca808d7e6487521ff1b746%3Ffeatures%3D2114057%26country%3Dgh%26uid%3D08c1e53bf8ea5f4e83fb533f6407a12207298822%26like_count%3D4%26client%3Dmini%26language%3Den&adbw=master-1%3A318
After the sacking of Graham Potter in April 2023, Bruno was named Interim Head Coach of Chelsea.

Celebrating Partnership With Borussia Dortmund, Win iPhone13 and Up To GHS5000 VouchersMSportSign Up
Do this before bed and watch your stomach shrinkStudent Discovery
People with high blood pressure and cholesterol should know this!publick-blog.online
The Most Lavish Apartments in Dubai: 5 Contendersincredible-dubai
null
https://googleads.g.doubleclick.net/pagead/html/r20230329/r20110914/zrt_lookup.html?fsb=1#RS-1-&adk=1812271802&client=ca-pub-1883810847636355&fa=2&ifi=5&uci=a!5&btvi=2&xpc=Z91rD14bdg&p=https%3A//cdn-af.feednews.com