Histories That Could Repeat Themselves If Julian Nagelsmann Becomes Chelsea Head Coach (Explained)
tribuna.comApr 2, 2023 10:49 PM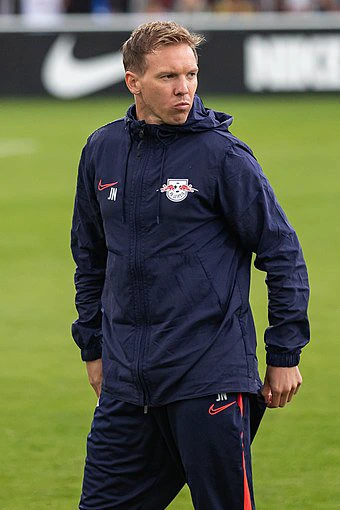 Following the update shared recently about Chelsea being in contact with Julian Nagelsmann to be the next coach in Chelsea, some major histories that look rather interesting might repeat themselves if the German takes up the Blues job.
Before then, for those who do not know who Julian Nagelsmann is, he is a 35 year old young coach from Germany, who started his coach career early after he stopped playing football at the age of 20 – owing to series of injuries. He started coaching senior teams in 2015, where he coached the senior team of 1899 Hoffenheim.
Nagelsmann ended his tenure at Bayern with 71.4% winning rate, with only Pep Guardiola, Hansi Flick and Carlo Ancelotti averaging more Bundesliga points than him.
Interestingly, some of the major histories that that is likely to repeat itself if this young man becomes Chelsea coach include:
1. He would be the youngest coach in Premier League now: Like I said earlier, Nagg is just 35 years old and the youngest coach in EPL right now is Mikel Arteta, who is 40 years plus.
2. Avoiding relegation and Champions League qualification: Although Chelsea is kinda far from relegation and still have two possible lifelines to qualify for Champions League next season (that is, winning the Champions League this season and winning all at least seven of out the ten matches remaining in our EPL fixtures). Yet, Nagg may perform the tricks he used during his first year in 1899 Hoffenheim. When Nagelsmann took over the club in February 2016, Hoffenheim were 17th in the table, 7 points from the safety of 15th spot and facing relegation. Under Nagelsmann, they avoided relegation by winning 7 of their remaining 14 matches and finished a point above the relegation playoff spot.
Right now, Chelsea are in 11th position with 38 points (12 points away from Manchester United, who are currently sitting at the 4th position) and we have Real Madrid to contend with in the UEFA Champions League quarterfinals. Can he possibly repeat this history with Chelsea if he is appointed?
3. Being the Youngest Manager to Coach Chelsea Team at the UEFA Champions League Quater Finals: If given the appointment before we meet Real Madrid on the 12 of April, Nagelsmann will be Chelsea's first youngest coach in the UEFA Champions League quarterfinals, if not the first in the history of EPL.
4. Facing His Boss Again in a Very Competitive Match: If Nagelsmann signs a contract with Chelsea before meeting Real Madric, and he is able to pick up a win, then he will have to face his former boss during his playing career in Augsburg, Thomas Tuchel.
The first time was on 18 August, 2020 when he was a coach in RB Leipzig. Nagelsmann's team played against Paris Saint-Germain in the Champions League semi-finals, where he faced Thomas Tuchel. However, RB Leipzig lost 3–0 to Paris Saint-Germain.
Nagelsmann was sacked by Bayern and was replaced by his former Augsburg coach and ex-Chelsea Coach, Thomas Tuchel. Bayern Munich will be playing Manchester City in the Champions League quarterfinals and if they both win, there is every possibility of facing each other again.
Check the brief Managerial Records of Julian Nagelsmann in the picture below:


Celebrating Partnership With Borussia Dortmund, Win iPhone13 and Up To GHS5000 VouchersMSportSign Up
Do this before bed and watch your stomach shrinkStudent Discovery
People with high blood pressure and cholesterol should know this!publick-blog.online
The Most Lavish Apartments in Dubai: 5 Contendersincredible-dubai