US 'killed our leaders' and now teaching us about democracy: Zambian Opposition Leader
republicworld.comApr 1, 2023 4:05 PM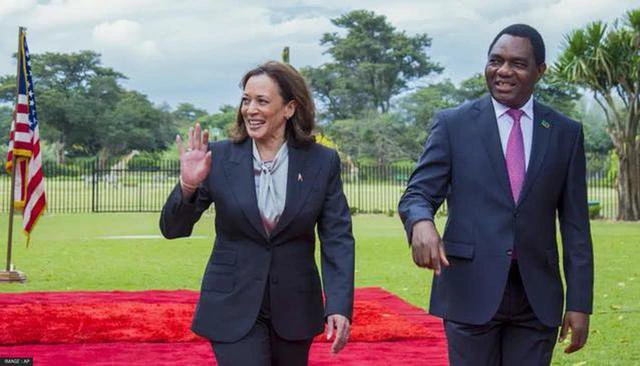 One of Zambia's leaders had a harsh criticism of American politicians' ongoing colonial attitudes towards the continent, which has now gone viral on social media, as many Zambians react to Kamala Harris' visit to Africa with indifference, Sputnik reported.
As US Vice President Kamala travels to the area in an effort to control African countries that have chosen an independent foreign policy course and refused to join Western economic sanctions against Russia, an African politician's vehement condemnation of the American government "killers" who ordered many of the continent's governments overthrow and slaughter of their leaders has gone viral.
"The killers (US)… are coming to teach us about democracy," says Zambian opposition leader
"The killers of Patrice Lumumba, those who toppled Kwame Nkrumah, those who killed Nasser, those who killed Muammar Gaddafi, today are coming to teach us about democracy," explained Fred M'membe, president of the Socialist Party of Zambia, in a speech given March 23 at the International Forum on Democracy in Beijing.
Videos of the speech's parts were shared on US social media on Friday, and they rapidly garnered hundreds of millions of views.
"A country that has toppled so many governments in Africa, that has led so many coups in Africa and other parts of the world, a country that has killed so many of our leaders in Africa and other parts of the world," M'membe added, in a scathing critique of American hypocrisy.
As the lawmaker from Zambia pointed out incredulously, "a country that has been built on brutal force, on the enslavement of other human beings, on the humiliation of Africans, the exploitation of Africans, the plunder of Africa, today is coming to teach us about democracy," reported Sputnik.
"If you have no respect for the dignity of others, if you have no respect for the sovereignty of other countries, you cannot claim to be a champion of democracy," he further explained.
M'membe also criticised the continuous "anti-China crusade" of the US government in remarks made to American state-affiliated media last week. "It's not democracy and human rights they are pursuing in Africa. They are pursuing their geopolitical interests. They are pursuing their own economic interests. It is not for us—it is for them."

Register & Receive GHS3000 Welcome Bonus ImmediatelyMSportSign Up
People with high blood pressure and cholesterol should know this!publick-blog.online
Do You Speak English? Work a USA Job From HomeWork a Usa Job from Home | Search
Villas Prices In Dubai Might Be More Affordable Than You Think.Villa's in Dubai | Search