If LGBTQI+ is a human rights issue, allow armed robbers and Jihadists to operate in your countries – Sam George to foreign countries
rainbowradioonline.comMar 31, 2023 12:30 PM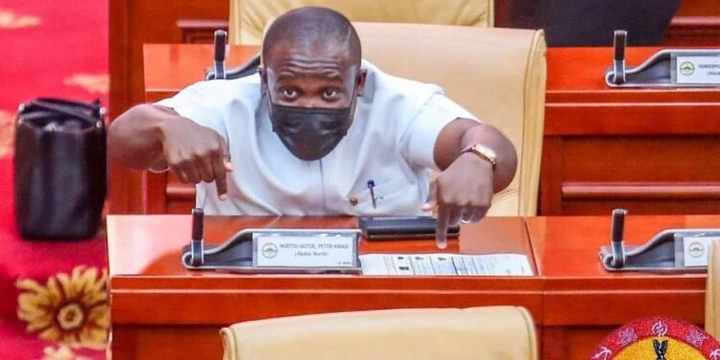 Samuel Nartey George, the Member of Parliament for Ningo-Prampram, says the argument that homosexuality is a human rights issue and persons who identify as such should be allowed to express themselves is a failed and weak argument.
He stated that if this is the argument of homosexual advocates, then it would also be appropriate to allow armed robbers and other criminals to steal and rob others because their excuse is hunger.
Mr. Nartey George was speaking via a telephone interview on Rainbow Radio 92.4Fm in the United Kingdom.
He asserted that such arguments do not make sense, and if that is the argument people will make, then prostitutes should be allowed to also engage in the criminal act.
"Shouldn't we get to the stage where prostitution should be allowed and legalised…Shouldn't we get to the stage where we should tolerate religious extremists, that is, the person who feels that the best way to practice his religion is to blow up a train and the London underground as his own form of Jihad to purge the UK of sinners."
He stated that society must operate under laws and norms that the majority of people accept.
https://www.google.com/afs/ads?psid=5134551505&channel=AutoRsVariant&fexp=44786015%2C21404&client=pub-1883810847636355&r=m&sct=ID%3D8d48dfc20b4fbbe2%3AT%3D1663995891%3AS%3DALNI_MYBQ_1mRlbaYMdncuO4-jaN5s_Fpg&sc_status=6&hl=en&rpbu=http%3A%2F%2Fgoogle.com&rpqp=q&type=3&rs_tt=c&oe=UTF-8&ie=UTF-8&format=r5&nocache=1291680294204635&num=0&output=afd_ads&domain_name=cdn-af.feednews.com&v=3&bsl=10&pac=0&u_his=2&u_tz=0&dt=1680294204642&u_w=360&u_h=806&biw=360&bih=674&psw=360&psh=2444&frm=0&cl=518347065&uio=-&cont=autors-container-0&jsid=csa&jsv=518347065&rurl=https%3A%2F%2Fcdn-af.feednews.com%2Fnews%2Fdetail%2F64b8bfa2b64e5d1929c57f9c34274952%3Ffeatures%3D2114057%26country%3Dgh%26uid%3D08c1e53bf8ea5f4e83fb533f6407a12207298822%26like_count%3D4%26client%3Dmini%26language%3Den&adbw=master-1%3A318
He said that there would be aberrations and deviants in every society, and that tolerance of deviants is the beginning of society's collapse.
He was responding to Vice President of the United States Kamala Harris' claim that homosexuality is a human rights issue.
To him, homosexuality is a threat to human life and public health, as well as a tax burden due to the negative effects of same-sex activities.
By: Rainbowradioonline.com/Ghana

If your blood pressure is 140/90 or higher use thispublick-blog.online
Work from Home in GhanaWork from Home | Search
Unsold Home Furniture! You Will Be Surprised With The Prices!Furniture OutletRead More
Prices of American Used Cars In Kumasi Could Surprise YouAmerican Used Cars | Search Ads
Unmute