Russia ready to help African nations with critical products; Over $20 bn debt written off
republicworld.comMar 20, 2023 4:49 PM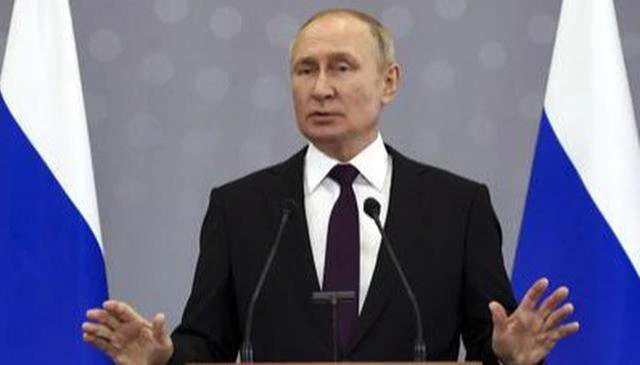 Russian President Vladimir Putin has reiterated his country's commitment to meeting its obligations on supplies of food products, fertilisers, fuel and other critical products to African countries. Speaking at the international parliamentary conference 'Russia-Africa in a Multipolar World' on Monday, March 20, Putin said that Russia is playing a key role in ensuring food and energy security in the continent. "I should stress that our country conscientiously meets all its obligations on supplies of food products, fertilisers, fuel and other products critical for the countries of the continent, thus contributing to ensuring their food and energy security," Putin said.
The Russian President also expressed his country's readiness to supply fertilisers to African nations for free, but added that obstacles are being thrown in their way by the West. "You know that we are ready to supply part of our resources frozen in European countries, including fertilisers, to countries in need for free, with first batches already delivered. However, unfortunately, obstacles are thrown in our way here," he said, as per a report from TASS.
Russia writes off debt of African nations
Additionally, Putin announced that Russia has written off debts of African nations amounting to more than $20 billion. "Russia wrote off debts of African states in the amount over $20 bln," he said. According to Putin, the mutual trade turnover between Russia and African nations is growing from year to year, and reached almost $18 billion as of the last year-end. "The more vigorous transition to national currencies in financial settlements and the establishment of new transport and logistics chains will facilitate the development of countertrade turnovers," Putin added.
The international parliamentary conference 'Russia-Africa in a Multipolar World' is aimed at strengthening ties between Russia and African nations and promoting cooperation in various sectors, including trade, energy, healthcare and education. The conference is being attended by lawmakers from Russia and African countries, as well as representatives of international organisations and businesses.
Why Russia is a crucial node in the international fertiliser market
Russia plays an important role in the international fertiliser market due to several factors, including its abundant natural resources, strong production capacity, and strategic location. Firstly, Russia is rich in natural resources, including large deposits of potash, phosphate, and nitrogen, which are key raw materials for producing fertilisers. Russia is one of the world's largest producers and exporters of potash, accounting for around 20% of global production. It also ranks among the top five producers of nitrogen and phosphate fertilisers.
Secondly, Russia has a strong production capacity for fertilisers, with several large chemical companies and fertiliser producers operating in the country. These companies have invested heavily in modernising their production facilities and improving the efficiency of their operations, enabling them to compete effectively in the global market.
Thirdly, Russia's strategic location between Europe and Asia, and its access to major shipping routes and transportation networks, make it a natural hub for trade in fertilisers. This has enabled Russian fertiliser producers to establish strong relationships with buyers and distributors in key markets, including China, India, and Europe.
https://www.google.com/afs/ads?psid=5134551505&channel=AutoRsVariant&fexp=44786015%2C21404%2C17300003%2C17301075%2C17301076%2C17301099&client=pub-1883810847636355&r=m&sct=ID%3D8d48dfc20b4fbbe2%3AT%3D1663995891%3AS%3DALNI_MYBQ_1mRlbaYMdncuO4-jaN5s_Fpg&sc_status=6&hl=en&rpbu=http%3A%2F%2Fgoogle.com&rpqp=q&type=3&rs_tt=c&oe=UTF-8&ie=UTF-8&format=r5&nocache=9111679344581570&num=0&output=afd_ads&domain_name=cdn-af.feednews.com&v=3&bsl=10&pac=0&u_his=2&u_tz=0&dt=1679344581571&u_w=360&u_h=806&biw=360&bih=674&psw=360&psh=3545&frm=0&cl=516558706&uio=-&cont=autors-container-0&jsid=csa&jsv=516558706&rurl=https%3A%2F%2Fcdn-af.feednews.com%2Fnews%2Fdetail%2F2887daca0bcd1f78692e26a972f6dd1f%3Ffeatures%3D2114057%26country%3Dgh%26uid%3D08c1e53bf8ea5f4e83fb533f6407a12207298822%26like_count%3D0%26client%3Dmini%26language%3Den&adbw=master-1%3A318
In addition to its strong position in the global fertiliser market, Russia has also been actively promoting its fertilisers and other agricultural products to emerging markets in Africa, Asia, and Latin America. The country has established close partnerships with several African countries, offering them favourable financing terms and other incentives to import Russian fertilisers and other products.

Do this before bed and watch your stomach shrinkStudent Discovery
Fact! That's how my joints stopped hurting!Joints Health
How To Play the USA Mega Millions From Your Mobile?24lottosPlay Now
It Is Recommended To Always Travel Wearing Redinvesting.com
Sponsored Linkshttps://s.adx.opera.com/aframe
null
https://googleads.g.doubleclick.net/pagead/html/r20230315/r20110914/zrt_lookup.html?fsb=1#RS-1-&adk=1812271802&client=ca-pub-1883810847636355&fa=2&ifi=5&uci=a!5&btvi=3&xpc=vRNdckhYL7&p=https%3A//cdn-af.feednews.com