You Didn't Go Alone, Part Of Me Left With You – Christian Atsu's Wife Delivers Touching Tribute
Ghanacelebrities.comMar 17, 2023 9:36 AM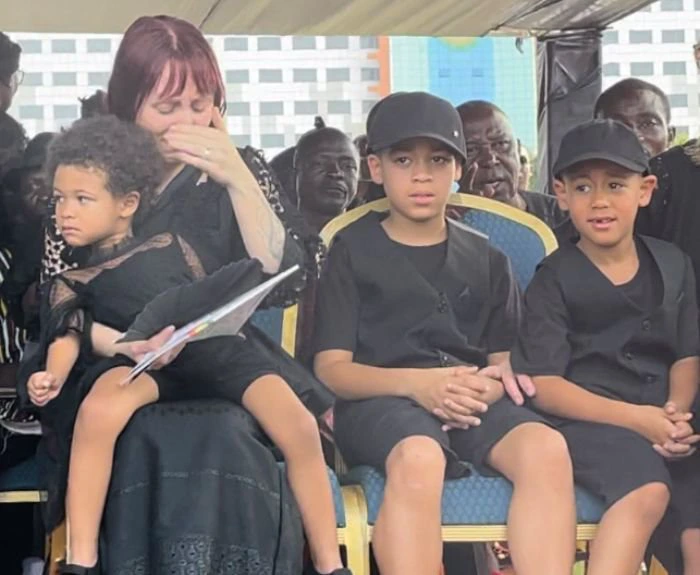 The late Black Stars footballer Christian Atsu's funeral is currently being held at the forecourt of the State House.
Scores of Ghanaians have gathered to mourn the kind-hearted footballer.
Currently, his German wife, Marie-Claire Rupio and his 3 children have all come to Ghana to mourn with their Ghanaian family and also to say a final goodbye to their beloved husband/father.
Christian Atsu's wife's emotional tribute to him has surfaced on the internet.
The aggrieved wife expressed that a part of her is dead with her husband and that he didn't go alone.
She also shared with the world that she has indeed lost a caring and loving husband.
Check out the tribute below;
https://www.instagram.com/p/Cp3kRDFo_ZE/embed/captioned/?cr=1&v=14&wp=652&rd=https%3A%2F%2Fcdn-af.feednews.com&rp=%2Fnews%2Fdetail%2Fff400d1d2e4ffc40264c6323017073e3%3Ffeatures%3D2114057%26country%3Dgh%26uid%3D08c1e53bf8ea5f4e83fb533f6407a12207298822%26like_count%3D51%26client%3Dmini%26language%3Den#%7B%22ci%22%3A0%2C%22os%22%3A6141.9000000003725%7D

Do this before bed and watch your stomach shrinkStudent Discovery
This recipe will help you with your joint pain.Joints Health
How To Play the USA Mega Millions From Your Mobile?24lottosPlay Now
Boost Your Winnings With Up To 500 GHS Akwaaba Bonus. Join Now!ParimatchSign Up