West 'wasting time' with gay rights push, Museveni says
ghanasummary.comMar 17, 2023 6:56 AM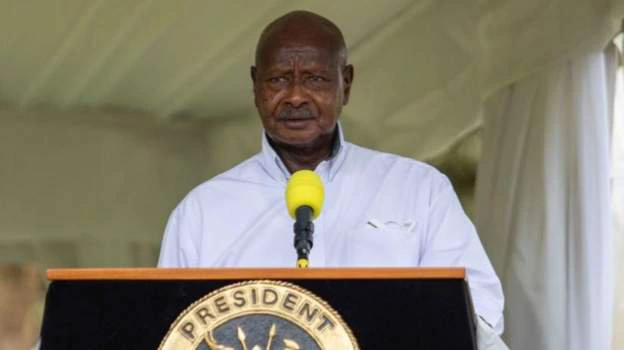 Uganda's President Yoweri Museveni has accused Western countries of imposing gay rights on African nations as lawmakers in the country prepare to vote on an anti-LGBT bill.
The bill, introduced earlier this month, proposes tougher penalties for same-sex relations in a country where homosexuality is already illegal.
It has sparked criticism from human rights groups.
In an address to parliament on Thursday, President Museveni said Western threats of sanctions to African countries opposed to homosexuality were hypocritical because the West also has some "weird cultures".
"Western countries should stop wasting the time of humanity by trying to impose their practices on other people," Mr Museveni said.
"Europeans and other groups marry cousins and near relatives.
This is not our job," he added.
Mr Museveni referred to gay people deviants and urged more debate on the matter.
Under the proposed law, anyone who engages in same-sex activity or who identifies as LGBT could face up to 10 years in jail.
Western governments and aid agencies working in Uganda are routinely accused of "promoting homosexuality" in the country, and have repeatedly defended the LGBT community from attacks related to their identity.
https://www.google.com/afs/ads?psid=5134551505&channel=AutoRsVariant&fexp=44786015%2C21404&client=pub-1883810847636355&r=m&sct=ID%3D8d48dfc20b4fbbe2%3AT%3D1663995891%3AS%3DALNI_MYBQ_1mRlbaYMdncuO4-jaN5s_Fpg&sc_status=6&hl=en&rpbu=http%3A%2F%2Fgoogle.com&rpqp=q&type=3&rs_tt=c&oe=UTF-8&ie=UTF-8&format=r5&nocache=9331679041729911&num=0&output=afd_ads&domain_name=cdn-af.feednews.com&v=3&bsl=10&pac=0&u_his=2&u_tz=0&dt=1679041729913&u_w=360&u_h=806&biw=360&bih=674&psw=360&psh=2289&frm=0&cl=514460633&uio=-&cont=autors-container-0&jsid=csa&jsv=514460633&rurl=https%3A%2F%2Fcdn-af.feednews.com%2Fnews%2Fdetail%2F18140b0933512e74b8bc8b3d743acdeb%3Ffeatures%3D2114057%26country%3Dgh%26uid%3D08c1e53bf8ea5f4e83fb533f6407a12207298822%26like_count%3D0%26client%3Dmini%26language%3Den&adbw=master-1%3A318
Uganda has not prosecuted anyone for consensual same-sex acts in recent years despite strict anti-gay laws.

Do this before bed and watch your stomach shrinkStudent Discovery
Expert Opinion: If you have aching joints use this.Joints Health
How To Play the US Megamillion One Billion Jackpot from Your Mobile?24lottosPlay Now
Villas Prices In Dubai Might Be More Affordable Than You Think.Villa's in Dubai | Search
Sponsored Linkshttps://s.adx.opera.com/aframe
null
Unmute