Rename Order of Volta Awards 'Order of Birem' — Gen. Mosquito, Says It's 'Mad, Dirty'
MyNewsGHMar 17, 2023 12:39 PM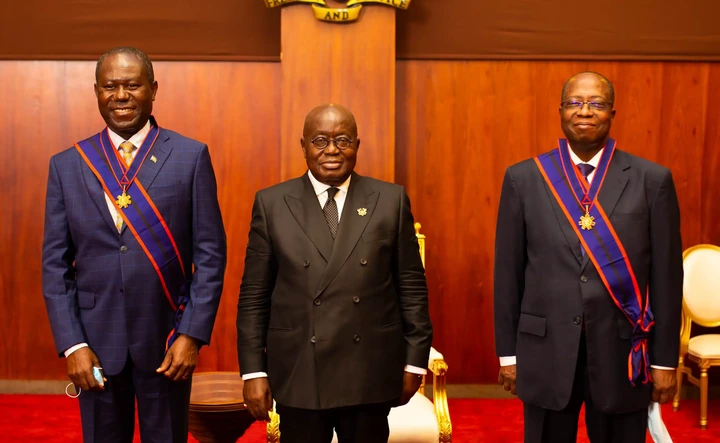 National Chairman of the National Democratic Congress NDC Johnson Asiedu Nketiah has said agreeing to receive the Order of Volta Awards is like a sane person agreeing to be awarded with Mad people.
According to him, the country is so messed up that the Award and Honours should be renamed from "Order of the Volta" to "Order of the Birem" because River Volta is clean but Birem is dirty.
Using parables to describe why he wouldn't have accepted the awards, the seasoned politician, joining Mad people for an award shows the co-recipient is also a Mad person so you should avoid it.
Mr. Asiedu Nketiah was speaking on Asempa FM Ekosii Sen Thursday Restreamed by MyNewsGh.com.
"So you O.B with all due respect, if you hear they are giving mad people awards, and they invite you as a co-recipient, would you go? It would mean you are also mad? You get me?" He said proverbially.
General Mosquito explained that he has been avoiding a lot of international honorary awards for that reason.
Asiedu Nketiah said the rejection of the awards by some key NDC figures scheduled to receive it was not a party decision but the individuals may not want to be associated with it for obvious reasons.
The NEC leader's remarks follows the award of Individuals, institutions and partners who distinguished themselves in the country over the past 7 years.
The President also awarded distinguished persons for their role in the fight against the COVID-19 pandemic all as part of the National Honours and Awards 2023.
Receiving awards were members of the legal team of men and women, who were charged with ensuring that the maritime boundary dispute with Cote D'Ivoire, ended favourably for Ghana.
In all, some 19,557 frontline health workers received certificates and plaques for their dedicated services in the line of duty.
Additionally, about 50 individuals and entities also received the Order of the Volta – Companion awards, comprising Members of the National COVID-19 Taskforce, Trustees of the Ghana COVID-19 Private Sector Fund, and International Tribunal for the Law of the Sea (ITLOS) Technical Team and Legal Advisors.
about:blank
The national awards are presented to persons who have made immense and recognized contributions in sectors such as the civil service, military, prisons service, education and public health, agriculture, commerce and industry, the judiciary, scientific and other research, sports, culture and the arts, and the financial sector.
Thanks for reading from MyNewsGH as a news publishing website from Ghana. You are free to share this story via the various social media platforms and follow us on; Facebook, Twitter, Instagram etc.
Send your news stories to [email protected] and via WhatsApp on +233 202452509

Here are women who like to show off their beautiful legsHaircuts Magazine
Fact! That's how my joints stopped hurting!Joints Health
Win More with Welcome Bonus!Parimatch
6 Surprising Uses of Dishwasher tablets Around the HouseHome Tricks
Sponsored Linkshttps://s.adx.opera.com/aframe
Unmute