Lawyer Fui Tsikata explains why he rejected national award
ghanasummary.comMar 15, 2023 8:32 PM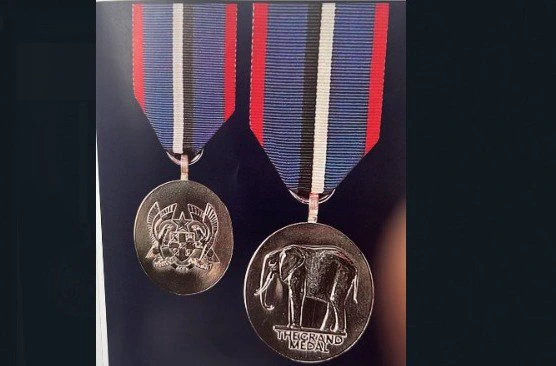 Fui Tsikata has explained why he rejected his nomination for the national award.
According to the lawyer, he did not understand the criteria for selecting the awardees.
He explained that there are other persons who contributed greatly to winning the maritime dispute between Ghana and Cote D'Ivoire in 2017, which success formed the basis for the honour, and hence should have been recognised as well.
"It is impossible to understand the criteria which excluded the names of Nana Asafu-Adjaye, Thomas Manu, Ayaa Armah, Kojo Agbenor-Efunam, Nana Appia Kyei and Nii Adzei Akpor.
"Even Professor Martin Tsamenyi is left out.
It was his work that led to the creation of the Maritime Boundary Secretariat, which coordinated the litigation.
Tsikata said he prefers to celebrate the collective effort of the team and the leadership that promoted collaboration and stifled disruptive elements, to receiving the award.
"The unforgettable images of Marietta Brew Appiah-Opong handing over to Gloria Akuffo symbolise that and remain indelible," he stressed.
National Honours are the highest awards that a citizen can receive for dedicated service to a country.Kwasi Twum and other Trustees of Ghana Covid-19 Private Sector Fund receive national award
However, upon being nominated, Mr.
Tsikata debunked the assertion, "I understand that my decision to decline the offer of a national award is being interpreted as motivated by partisan political considerations.
"In my letter of 2 November 2022 to the Solicitor-General, in response to hers informing me of the offer of an award, I explained that "I have long and deeply held convictions about not accepting recognition in the form of national honours." Those who know me will confirm these convictions as well as my inclination to avoid grand public gestures and the fuss around them," he stated.
Mr.
Tsikata added that, "If anything tarnishes the awards, it is not my rejection of the offer to me, but rather the unfortunate selectivity in deciding those involved in the maritime boundary litigation to whom awards would be given."
The former Attorney-General and Minister of Justice, Mrs.
Marietta Brew Appiah-Oppong also rejected the honour.
On Tuesday March 14, 2023, President Akufo-Addo conferred national honours on Some Ghanaians who have excelled in various fields of national endeavour over the years.
They were presented with awards for their meritorious services, hard work, sacrifices and contribution to national development.Strip Agyeman Manu, others of National Awards – Minority
Members of the Ghanaian legal team that represented the country during the adjudication of the maritime boundary dispute between Ghana and Cote D'Ivoire were also nominated for awards.
DISCLAIMER: The Views, Comments, Opinions, Contributions and Statements made by Readers and Contributors on this platform do not necessarily represent the views or policy of Multimedia Group Limited.
Fui Tsikata national award

Do you Know How Much Do Electrician's Get Paid in the US? See Salaries HereElectrician's Job | Search Ads
Boost Your Winnings With Up To 500 GHS Akwaaba Bonus. Join Now!ParimatchSign Up
Expert Opinion: If you have aching joints use this.Joints Health
Are You From Ghana? A Work From Home Job Might Pay More Than You ThinkWork from Home | Search Ads
Sponsored Linkshttps://s.adx.opera.com/aframe
null
Unmute