Ghana begged for childhood vaccines from Nigeria/Cote D'Ivoire – Ablakwa claims
MyNewsGHMar 14, 2023 8:31 AM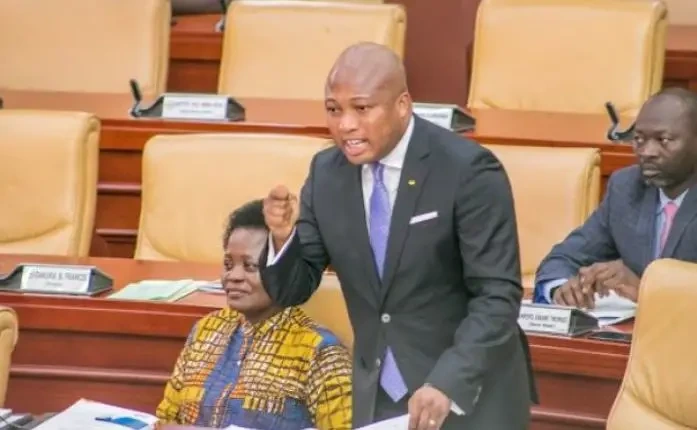 Member of Parliament (MP) of North Tongu Samuel Okudzeto Ablakwa has said that rather than seeking to conceal the source of Ghana's latest consignment of childhood vaccines, Government must make public the fact that it begged Nigeria and La Cote D'Ivoire.
He disclosed the vaccines were given to Ghana so that she could replace them when she gets her own consignment later. The lawmaker insisted that the latest consignment was generously offered to the country by Nigeria following a widespread shortage in Ghana and Ghana's plea for the vaccines.
Following the receipt of the vaccines, Government has not formally acknowledged or disclosed information regarding any engagement with sister countries for the products. But Mr Ablakwa has asserted that Nigerian offered the product and must be acknowledged and thanked in the spirit of good neighborliness.
"The Akufo-Addo/Bawumia government should not be embarrassed to admit that it reached out to Nigeria and Côte d'Ivoire for an urgent bailout on Ghana's avoidable and indefensible shortage of childhood vaccines.
Yesterday's consignment came in from Nigeria as a benevolent gesture which the Ghanaian government has promised to replace when it finally puts its house in order.
There is absolutely nothing wrong saying THANK YOU to a neighbor who exhibits superior public health policies, better prioritization, and who responds positively and swiftly when you come begging," he asserted on social media.
Mr Ablakwa admonished officials against hiding the source of the product which smacks of ungratefulness, adding that the shortage of the vaccines has been caused by the Akufo-Addo administration's failure to heed to warnings from the World Health Organization.
"Ghanaian officials should not be concealing this fact and therefore appearing ungrateful within the comity of nations even though I acknowledge that an honest and transparent narrative from the government will further expose false claims by President Akufo-Addo during his Message on the State of the Nation last week that childhood vaccine shortage was a global phenomenon.
Ghana's childhood vaccine crisis could have been prevented if the Akufo-Addo government had not ineptly ignored WHO stock-out warnings since July last year.
We must be profoundly grateful to Nigeria for their kindness, however, I do hope the Akufo-Addo/Bawumia administration will find a permanent solution as the Nigerian donation can only last for 6 weeks," he concluded
Widespread shortages of childhood vaccines across the country had left mothers and the general public worried, especially as measles and other preventable diseases were being recorded.
Thanks for reading from MyNewsGH as a news publishing website from Ghana. You are free to share this story via the various social media platforms and follow us on; Facebook, Twitter, Instagram etc.
Send your news stories to [email protected] and via WhatsApp on +233 202452509

Take this every morning and reduce belly fat in a few weeksStudent Discovery
This recipe will help you with your joint pain.Joints Health
How To Play the US Megamillion $1 Billion Jackpot from Your Mobile?24lottosPlay Now
Take A Deep Breath Before You See Who Joanna Lumley Is Married ToStylereads.com
Sponsored Linkshttps://s.adx.opera.com/aframe
null
Unmute