'We met in 2014, you brought 4 eagle legs and Sabroso and I did rituals for you' – Obofour exposés Adom Kyei Duah
GhBase.comMar 10, 2023 7:12 AM
Rev. Obofour and Prophet Stephen Adom Kyei Duah, two gospel pastors from Ghana, have been generating headlines online for months due to their constant self-attacks.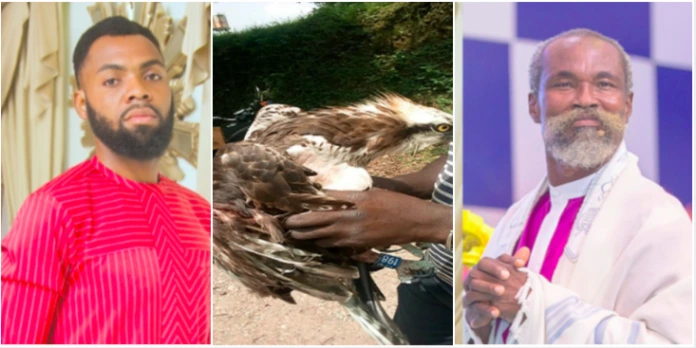 'You came to me, begged for huge money and drunk my Sobolo' – Adom Kyei Duah exposes Rev Obofour as he dares him
The conflict started when Rev. Obofour made some cryptic comments about the leader of the Philadelphia-based Believers Prayer Center, also known as Second Chance Church or Philadelphia Temple.
According to Reverend Obofour, only Adom Kyei Duah behaves like an oracle sent from God.
Sobolo is a knockoff of Reverend Obofour's 'Yesu Mogya' miraculous object, which Obofour claims he copied.
Several times on his television station, the head of the Anointed Palace Chapel (APC) can be seen gently mocking Adom Kyei Duah.
Consequently, Prophet Adom Kyei Duah responded and challenged Rev. Obofour to use his name in any future televised attacks.
Adom Kyei Duah recounted how Obofour once came to do him and begged for a huge loan and enjoyed his infamous 'Sobolo' accordingly.
https://www.google.com/afs/ads?psid=5134551505&channel=AutoRsVariant&fexp=44786015%2C21404%2C17301075%2C17301076&client=pub-1883810847636355&r=m&sct=ID%3D8d48dfc20b4fbbe2%3AT%3D1663995891%3AS%3DALNI_MYBQ_1mRlbaYMdncuO4-jaN5s_Fpg&sc_status=6&hl=en&rpbu=http%3A%2F%2Fgoogle.com&rpqp=q&type=3&rs_tt=c&oe=UTF-8&ie=UTF-8&format=r5&nocache=8971678436713887&num=0&output=afd_ads&domain_name=cdn-af.feednews.com&v=3&bsl=10&pac=0&u_his=2&u_tz=0&dt=1678436713894&u_w=360&u_h=806&biw=360&bih=674&psw=360&psh=2624&frm=0&cl=514460633&uio=-&cont=autors-container-0&jsid=csa&jsv=514460633&rurl=https%3A%2F%2Fcdn-af.feednews.com%2Fnews%2Fdetail%2F924eb005fe0ee4c43f357e6d760db191%3Ffeatures%3D2114057%26country%3Dgh%26uid%3D08c1e53bf8ea5f4e83fb533f6407a12207298822%26like_count%3D0%26client%3Dmini%26language%3Den&adbw=master-1%3A318
Fast forward, Rev. Obofour of Anointed Palace Chapel has clapped back accordingly confirming that Adom Kyei Duah used to be his bosom friend until things fall apart.
In a live stream, Rev. Obofour recounted how he once used 4 legs of an Eagle and Sabroso oil to perform some deadly rituals for Prophet Adom Kyei Duah to get more church members somewhere in 2014.
Rev Obofour, therefore, admonished Prophet Adom Kyei Duah to seize fire else more deadly secrets will come out as they met 11 times for serious discussions until their friendship turned sour.
Watch the video below for more:

Do this before bed and watch your stomach shrinkStudent Discovery
This cheap recipe relieves joint pain.Joints Health
Don't Dress Yourself Old – These 17 Fashion Items Make You Look OlderHabit Tribe
Family Thought They Had Adopted a 'dog', but When the Vet Sees Him, He Calls the Police.TheWorldReads.com
Sponsored Linkshttps://s.adx.opera.com/aframe
null
Unmute