Menu ›
Ghana monetized COVID-19 pandemic; weak fundamentals exposed – Prof. Bokpin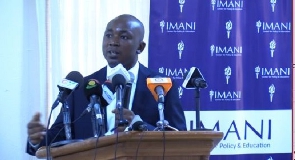 Prof. Godfred Bokpin of the University of Ghana
Fri, 10 Mar 2023Source: www.ghanaweb.com
An economist, Godfred Bokpin, has stated that the government used the COVID-19 pandemic as an avenue to overspend, therefore resulting in the aftershocks being experienced in the economy currently.
According to him, when pandemics and natural occurrences like this happen, they test the country's fundamentals and the policies it is running on.

He explained that a country's inability to withstand shocks exposes its shortcomings.

"It's as though you are majoring in the minor, and the reason we are saying [this] is that Russia-Ukraine is a global issue, and the impact is pervasive. COVID-19 is a pandemic; the impact is pervasive; you also see marginality in how countries were affected by this twin development.

"It is in the level of the marginality that you are able to see the difference in the resilience of one economy compared to the other economy," he is quoted by myjoyonline.com.

According to Prof. Bokpin, "it takes shocks of this global proportions to reveal local vulnerabilities, so you see economies that are sustained by words and propaganda and the once that are real on the ground. So, when pandemics of this nature strike, you will see countries that have pursued good and sound policies over the years."

The economist also intimated that Ghana did not manage its resources judiciously, as it used the pandemic as an opportunity to overspend.
"Ghana, unlike any other country, decided to monetise the virus. Ghana took advantage of the virus to mess up. In the name of COVID, we overspent, actually trying to win over electorates in the 2020 elections… Whilst Cote Ivoire and the others were running deficits in the same Covid year of far less than 10 %, Ghana did an excess of 15 %… How do you explain this?" he quizzed.

Watch the latest edition of BizTech and Biz Headlines below:

https://cdn.jwplayer.com/players/CXS8HEio-2sdeRpL8.html

https://cdn.jwplayer.com/players/kcZiaAJR-2sdeRpL8.html

https://www.youtube.com/embed/NU0NAE7eNHQ

https://www.youtube.com/embed/GV4bjA92erc
Watch the latest edition of Business Moments below:

https://cdn.jwplayer.com/players/4QW5pUBu-eqk5XVg5.html

https://www.youtube.com/embed/IFxhhpDX5y4

SSD/FNOQ
Source: www.ghanaweb.com
NDC Primaries: Meet the three academics ditching lecture halls for parliament
Dying passenger 'thrown out' of commercial vehicle on Accra to Kumasi Highway
Sperm Merchants: The cartels harvesting and selling used condoms for rituals in Ghana
How policeman 'saved' sick passenger ejected from commercial bus
Ashaiman swoop: Five key things Mahama addressed in his statement to military
How I heard about my son's death – Mother of slain soldier recounts
Man beaten to death for attempting to steal 'VIP bus' at Kumasi
The official and unofficial reasons slain soldier went to Ashaiman
Akufo-Addo in parliament for 2023 SoNA
Ghana Armed Forces issues statement on Ashaiman swoop
Related Articles:
Explore GhanaWeb
NewsSportsBusinessEntertainmentGhanaWeb TVAfricaCountryWall
Copyright © 1994 – 2023 GhanaWeb. All rights reserved.