Soldier allegedly killed after visiting girlfriend
The Ghanaian TimesMar 7, 2023 8:32 AM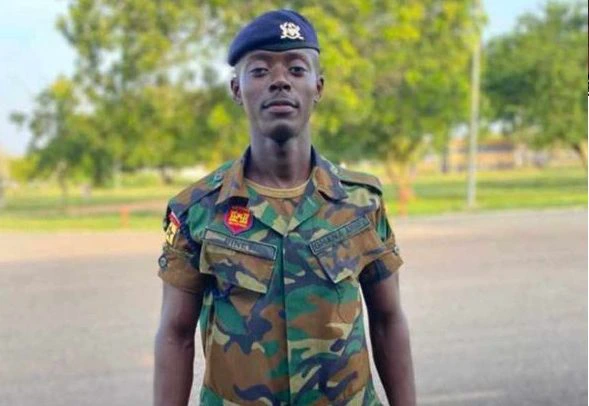 A soldier belonging to 3rd Battalion Infantry in Sunyani, has been allegedly murdered in Tafia, a suburb of Ashaiman, in the Greater Accra region, on Friday.
Imoro Sheriff, 21, was allegedly killed by a gang after he visited his girlfriend in the vicinity.
Imoro, whose rank could not be immediately verified, was attacked with knives and other weapons, immediately after leaving the girl­friend's home.
It was said that Imoro visited the girlfriend anytime he went to Ashaiman where he was born and raised.
When the Ghanaian Times visited the family home of Imoro, at Zongolika, a suburb of Ashaiman, on Monday, mourners were in the state of shock.
The father of the deceased, Asa­nubu Imoro, confirmed the dead of his son, saying he heard it via social media.
https://www.google.com/afs/ads?psid=5134551505&channel=AutoRsVariant&fexp=44786015%2C21404%2C17300002&client=pub-1883810847636355&r=m&sct=ID%3D8d48dfc20b4fbbe2%3AT%3D1663995891%3AS%3DALNI_MYBQ_1mRlbaYMdncuO4-jaN5s_Fpg&sc_status=6&hl=en&rpbu=http%3A%2F%2Fgoogle.com&rpqp=q&type=3&rs_tt=c&oe=UTF-8&ie=UTF-8&format=r5&nocache=8471678221266127&num=0&output=afd_ads&domain_name=cdn-af.feednews.com&v=3&bsl=10&pac=2&u_his=2&u_tz=0&dt=1678221266128&u_w=360&u_h=806&biw=360&bih=674&psw=360&psh=2461&frm=0&cl=513568616&uio=-&cont=autors-container-0&jsid=csa&jsv=513568616&rurl=https%3A%2F%2Fcdn-af.feednews.com%2Fnews%2Fdetail%2F08d5036f9eb874a63e0a33680241eb0e%3Ffeatures%3D2114057%26country%3Dgh%26uid%3D08c1e53bf8ea5f4e83fb533f6407a12207298822%26like_count%3D52%26client%3Dmini%26language%3Den&adbw=master-1%3A318
Asanubu Imoro said the son, who was based in Sunyani, Bono Region, informed him that he was attending a military programme in Accra and will visit family mem­bers on Friday.
"We were expecting him. When we called his number late into the night, there was no response. Somebody showed me a video and asked, do you know this man, that was when I identified my son."
According to Asanubu Imoro, the military and other security agency have been in close contact with the family as investigation into the killing was on going.
When the Ghanaian Times con­tacted the Ashaiman Divisional Police Command concerning the incident, the authorities declined to speak on the matter, but indi­cated that 13 suspects had been arrested so far.
FROM IAN MOTEY, TEMA

Legon: Unsold Never-Driven Cars Now Almost Being Given Away: Search PricesCheap SUV Deals | Search Ads
Villas Prices In Legon Might Be More Affordable Than You ThinkVillas for Sale | Search ads
Dental Implant Spain Cost Might Be More Affordable Than Ever!Dental Implant Spain| Search Ads
Take this every morning and reduce belly fat in a few weeksStudent Discovery
Sponsored Linkshttps://s.adx.opera.com/aframe
null