Prof Gatsi calls for inclusion of stakeholders in quality education delivery
ghananewsonline.com.ghMar 5, 2023 9:19 AM
"I was surprised when at a point PTA levies and dues were banned as part of the Free SHS policy, given the many projects associated with PTAs…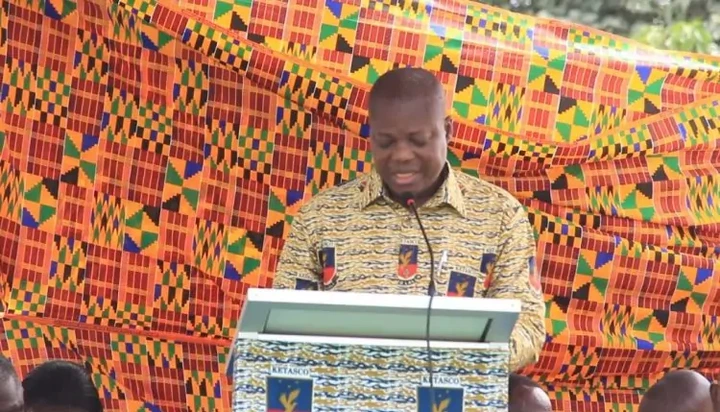 The Dean of Business Studies at the University of Cape Coast(UCC), Professor John Gatsi has said that the management and delivery of quality second cycle education was not the business of government alone but other stakeholders had a great role to play in providing same.
Professor Gatsi said this whiles delivering the keynote address at the 70th anniversary of Keta Senior High Technical School ( KETASCO).
According to him, since government announced the free Senior High School program, " the entire second cycle education was treated as if the second cycle students have become the property of the government, and that parents and teachers do not have a say in how students are taught, where they are taught, what they eat, whether or not they should have access to textbooks, and above all parents – teachers associations were relegated to background, as though PTA contribution was the major barrier to access."
He called for the separation of politics from the management of the schools.
"We know that targeting SHS students at the middle has implications for votes as many of them will qualify to vote by the time they are in their final years and first year in university and other tertiary institutions- However, quality educational implications will last longer when stakeholders play active roles," he said.
The Professor who is an old student of KETASCO, said that managers of the country's education "may design the mode, content, duration, pedagogical arrangements of second cycle education in Ghana but a measurable quality that will define the future contribution of graduates, to community and national development is a question of contribution by stakeholders and not government alone-The principle inherent in stakeholder engagement in second cycle education is for stakeholders to participate and contribute to curriculum development and provision of educational infrastructure and conscious support for staff and students welfare."
Professor Gatsi questioned the rationale behind the scrapping of PTA dues as those dues played a pivotal role in helping in addressing some of the infrastructure challenges in the schools.
"I was surprised when at a point PTA levies and dues were banned as part of the Free SHS policy, given the many projects associated with PTAs – In KETASCO, I have been informed that PTA dues and contributions have procured for the school completed projects and some uncompleted. Some of the projects are two story 12-unit block dormitory for the boys and Cold store project for the school. These are some of the roles played by the PTA as a stakeholder in contributing to educational infrastructure and delivery to Keta Secondary Technical School," he said.
The Professor said however that , accountability and transparency by PTAs to their members are key requirements to keep members committed.
He recommended that PTA dues be paid directly into a dedicated bank account and should not be left to some lone ranger honest person.
"In handling money nobody should be trusted with monies of a group without stringent set of rules-contributors are discouraged when the monies contributed are misused. Those who misapplied PTA dues must be punished to encourage commitment- Even though PTAs are independent from the Schools, the overall effects of the use of the funds directly affect the Schools.
He lamented the development where SHS two students had to be sent home on vacation after spending just 37 days in school.
"Recently, some of the SHS students spent 37 days in school and were asked to go on vacation for 56days. Students were surprised because their teachers, headmasters and headmistresses were not really aware.-The entire SHS system needs to be looked at again to achieve certainty of contact hours-The issue of contact ours is critical in educational delivery and should not be trivialized under the second cycle educational framework," he stressed.
He said the definition of quality education is a debatable topic in the country; "is it about the number of students who passed and the grade they obtained? is it about the skills acquired in school or both? Some countries are measuring quality of their educational system by the skills acquired (technological skills, data skills, creative skills and skills to attempt ventures ) and to ensure inclusive and equitable access to education that may promote life long learning."
"We used to have the concept of schools under trees. Now we have in addition to schools under trees in certain parts of the country, writing and learning on the floor, these pronounces inequality and inequity- There is overcrowding in many second cycle institutions that militates against quality. When the minimum standard of infrastructure, administrative staff and teachers are provided for all Schools, there will not be the need for parents to target specific schools for their children."
"Also, the minimum acceptable standards of quality education will be achieved wherever the student is placed. The UN SDG4 focusses on inclusiveness and equitable quality education, and these are to promote lifelong learning opportunities for all," he said.
Professor Gatsi said, Technology as promoter of quality education should be assessed and deployed.
"For instance, the curriculum for JHS students demand that they use phones and tablets at home to do most of their homework. We have accepted the catalyst effect of technology in education. Is it not time that we hold stakeholder engagement to discuss whether devices such as phones should be allowed in secondary schools to foster creative learning among our children? .The recent policy announced by the Vice President to provide a tablet to each SHS student reenforces the fact that there should be stakeholder engagement that will lead to the use of phones , tablets among SHS students to foster creative learning. We know Senior High Schools are not allowed to use phones nor tablets. The intention to supply Schools with tablets means a request for policy change. Even though technology is good, the negative use creates fertile grounds for cyber bullying such overloading students with sensitive text messages about sex, threat to life and blackmail. All these cause emotional distress for students and in an environment of weak structures to address such issues (guidance and counselling) quality is affected negatively," he said.
He further said that teachers are an important element in the chain of stakeholders. Availability and acquaintance with the curriculum by the teachers are a key requirement to contribute to quality education. Contact hours the students have with the teachers and the general environment provided for the teachers to deliver are required to ensure teacher productivity and quality delivery.
"Recently, parents have been forced to pay for arranged classes in the second cycle institutions whether approved or not for their children to have enough contact hours to be able to complete the syllabi . These create inequality because some teachers in some schools are not engaging in these arranged classes to help the student complete the syllabi. This is not the doing of the teachers; it is the doing of the authorities in charge of our educational system. When people are calling for a review or revision of the free SHS, these are some of the critical issues that they are talking about. Education goes through continuous improvement, and we must seek to understand this and help revise the way we organize things to ensure quality.
He said teachers are called upon to see their work not only as a job but as a calling to ignite commitment that will demonstrate to students that teachers are willing to help them achieve success.
He observed that teacher fatigue was killing many teachers slowly in many of the schools-Many of the teachers have just a minimal period for vacation, because when these badge leaves, another comes, and teachers don't get enough time to rest. The educational system should be arranged such that teachers get enough rest. Many teachers are now developing internal organ related diseases due to lack of rest.
He called on Ghanaian teachers to draw inspiration and lessons from the Universty of Cape Coast (UCC) anthem, that "teachers are the teachers of the nation, they learn to teach, they find and pass on, they counsel, they guide that all men may be enlighten, they are the bedrock of knowledge. They are the kindest of them all, they train, they mode to impact all virtues that Ghana may be strengthened."
He further called on the teachers to rise up to the call to step up their contributions to quality second cycle education
"Teachers indeed are indispensable stakeholders in educational delivery-Our teachers are encouraged to be role models and a motivational force to students. There should be cohesion among teachers. Empire building should be discouraged. Division, sectionalism, politics, and tribalism should not be encouraged," he said.
Professor Gatsi said academic knowledge is of less importance in the absence of appropriate value systems.
"It is therefore necessary for each teacher to evaluate their own methods and skills for improvement.
Quality should be seen holistically particularly at program levels-For example, if the science program is churning out good grades but home economics, General Arts and Technical programs are not, quality is not holistic," he said.
He advised students to shy away from indiscipline and other vices as that had the potential of tracking them down from the path of success.
"My students, indiscipline and disrespect towards students and staff, engagement in violence and immoral activities tracks you down from the path of succes-You are advised to be guided by your goals- You are a part of the effort to achieve quality in our educational delivery agenda. Do your part," Professor Gatsi advised.
The anniversary which brought together old students of the school, teachers, Parents, Chiefs and Elders of Keta and surrounding communities as well as representatives from sister Senior High Schools was marked under the theme: KETASCO at 70: Retrospect and Prospect.
By Leo Nelson || Ghananewsonline.com.gh
GOT A STORY? Share with us. Email: [email protected] or [email protected] WhatsApp: +233(0)244822034

Win More With 100% Akwaaba Bonus (Up to 500 GHS). Join Now!ParimatchPlay Now
Child Went To Say Goodbye To Mother – When He Said This, They Stopped The FuneralRich Houses
Real Estate Prices in Miami Might Surprise YouReal Estate Miami | Search
40 Dated Decor Trends That Scream 'Senior'Articles Stone
Sponsored Linkshttps://s.adx.opera.com/aframe
Unmute