2023 Kenkey Festival attracts thousands
gna.org.ghMar 4, 2023 5:30 PM
Accra, Mar. 4, GNA – More than 3,000 people, young and old, participated in this year's Kenkey Festival (Kenkey Fest) at Mantse Agbona, Jamestown in Accra.
The festival is part of activities to mark the annual Ghana Month in March.
It attracted kenkey sellers from across regions that have kenkey as their delicacy.
Kenkey Festival was conceived in 2016 by a group of friends at a kenkey 'sitting', and its first edition launched later that same year at Mantse Agbona, Jamestown in Accra.
Three other editions had been successfully held with this year's being the sixth and brought together vendors and lovers of kenkey, pork, fish, local beverages and clothing.
Kenkey is a Ghanaian dish and a delicacy of people in the Central, Greater Accra and Northern regions.
It is often eaten with proteins like fish, fried and boiled eggs, pork, shrimps, octopus and grinded pepper.
The variety of kenkey include the Fante kenkey from the Central Region, Ga Kenkey, from Accra and Millet Kenkey from Tamale.
Kenkey is sold in Ghanaian communities in Europe and Americas.
Kenkey can also be blended or mashed into a pudding, popularly known as " mashke" and eaten with groundnuts and milk.
It is believed that the stock of Ga kenkey called "Intishinu" could cure malaria.
Ms Valerie Baidoo, Coordinator of Food Vendors, encouraged the public to patronise local foods for economic growth.
She said despite the economic hardship and high cost of feeding, people still ate kenkey because of the energy it provided to the body.
Ms Caroline Sampson, a Journalist, and a participant, said she was a "wild lover" of kenkey and would always be present at the Festival.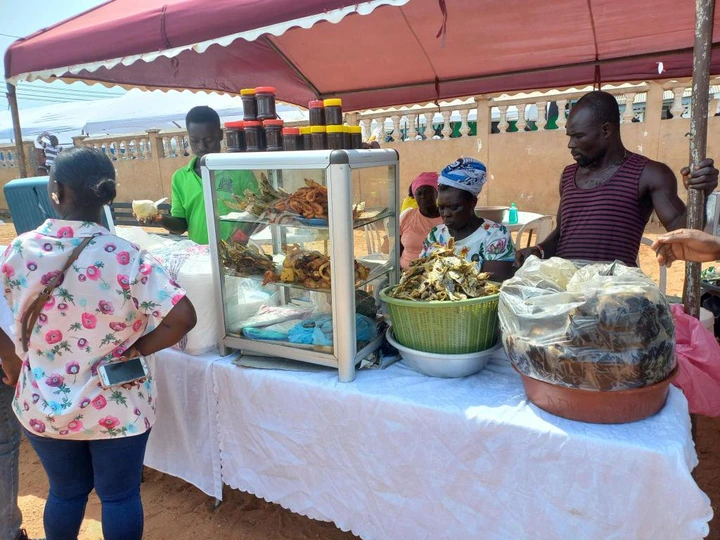 Mr Edward Ofori, another participant, urged the organisers to make the Festival a national and monthly event for the public to enjoy quality kenkey from Jamestown, the "home of tasty kenkey" .
Madam Angela Allotey, a Kenkey Vendor, said the Festival provided an opportunity for the diasporans to enjoy kenkey made in Ghana.
She said they made a lot of sales as many people enjoyed kenkey and fish as well as "intishinu" in bottles.

Do this before bed and watch your stomach shrinkStudent Discovery
This cheap recipe relieves joint pain.Joints Health
The 15 Easiest Dog Breeds To Look AfterHousediver
Canal Drained For First Time And They Find ThisStudent Sea
Sponsored Linkshttps://s.adx.opera.com/aframe
https://googleads.g.doubleclick.net/pagead/html/r20230301/r20110914/zrt_lookup.html?fsb=1#RS-1-&adk=1812271802&client=ca-pub-1883810847636355&fa=2&ifi=6&uci=a!6&btvi=3&xpc=Zu2vrY31oH&p=https%3A//cdn-af.feednews.com
Unmute