"I stand with Putin" – Read Reactions from Nigerians as Volodymyr Zelenskyy congratulates Tinubu
newswirengr.comMar 4, 2023 2:06 PM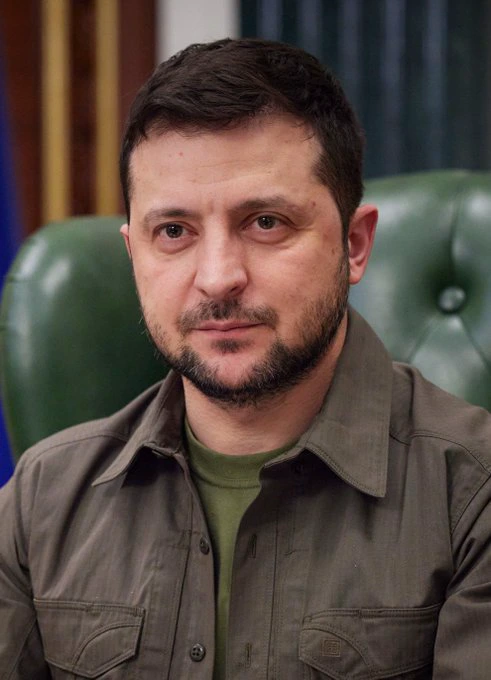 President of war-prone Ukraine, Volodymyr Zelenskyy has come under fire after he congratulated Nigeria's President-elect, Asiwaju Bola Tinubu, the winner of the February 25, 2023 presidential election.
Some Twitter users, mostly Nigerians, trolled the the Ukrainian President over his congratulatory tweet to Tinubu.
In a tweet on Thursday, Zelensky, while congratulating Tinubu, had said his country was ready to work with Nigeria to overcome global challenges including threats to food security.
His tweet reads, "Congratulations to @officialABAT on winning the Nigerian presidential election. I look forward to close cooperation. I'm convinced that bilateral interaction will be strengthened. (Ukraine) is ready to work together to overcome global challenges, including threats to food security!".
Read some of the reactions…
https://platform.twitter.com/embed/Tweet.html?dnt=true&embedId=twitter-widget-0&features=eyJ0ZndfdGltZWxpbmVfbGlzdCI6eyJidWNrZXQiOltdLCJ2ZXJzaW9uIjpudWxsfSwidGZ3X2ZvbGxvd2VyX2NvdW50X3N1bnNldCI6eyJidWNrZXQiOnRydWUsInZlcnNpb24iOm51bGx9LCJ0ZndfdHdlZXRfZWRpdF9iYWNrZW5kIjp7ImJ1Y2tldCI6Im9uIiwidmVyc2lvbiI6bnVsbH0sInRmd19yZWZzcmNfc2Vzc2lvbiI6eyJidWNrZXQiOiJvbiIsInZlcnNpb24iOm51bGx9LCJ0ZndfbWl4ZWRfbWVkaWFfMTU4OTciOnsiYnVja2V0IjoidHJlYXRtZW50IiwidmVyc2lvbiI6bnVsbH0sInRmd19leHBlcmltZW50c19jb29raWVfZXhwaXJhdGlvbiI6eyJidWNrZXQiOjEyMDk2MDAsInZlcnNpb24iOm51bGx9LCJ0ZndfZHVwbGljYXRlX3NjcmliZXNfdG9fc2V0dGluZ3MiOnsiYnVja2V0Ijoib24iLCJ2ZXJzaW9uIjpudWxsfSwidGZ3X3ZpZGVvX2hsc19keW5hbWljX21hbmlmZXN0c18xNTA4MiI6eyJidWNrZXQiOiJ0cnVlX2JpdHJhdGUiLCJ2ZXJzaW9uIjpudWxsfSwidGZ3X2xlZ2FjeV90aW1lbGluZV9zdW5zZXQiOnsiYnVja2V0Ijp0cnVlLCJ2ZXJzaW9uIjpudWxsfSwidGZ3X3R3ZWV0X2VkaXRfZnJvbnRlbmQiOnsiYnVja2V0Ijoib24iLCJ2ZXJzaW9uIjpudWxsfX0%3D&frame=false&hideCard=false&hideThread=false&id=1631907505117724672&lang=en&origin=https%3A%2F%2Fnews-af.feednews.com%2Fnews%2Fdetail%2F16367b010fc72bb29ebcd86ab2063c20&sessionId=cb86763572cb05f988b81042f392f51d56ddf535&theme=light&widgetsVersion=aaf4084522e3a%3A1674595607486&width=550px
Congratulations to Putin and the people of Russia.

I look forward to a victorious end. https://t.co/GZ4tE5welm— Sir Dickson (@Wizarab10) March 4, 2023
https://platform.twitter.com/embed/Tweet.html?dnt=true&embedId=twitter-widget-1&features=eyJ0ZndfdGltZWxpbmVfbGlzdCI6eyJidWNrZXQiOltdLCJ2ZXJzaW9uIjpudWxsfSwidGZ3X2ZvbGxvd2VyX2NvdW50X3N1bnNldCI6eyJidWNrZXQiOnRydWUsInZlcnNpb24iOm51bGx9LCJ0ZndfdHdlZXRfZWRpdF9iYWNrZW5kIjp7ImJ1Y2tldCI6Im9uIiwidmVyc2lvbiI6bnVsbH0sInRmd19yZWZzcmNfc2Vzc2lvbiI6eyJidWNrZXQiOiJvbiIsInZlcnNpb24iOm51bGx9LCJ0ZndfbWl4ZWRfbWVkaWFfMTU4OTciOnsiYnVja2V0IjoidHJlYXRtZW50IiwidmVyc2lvbiI6bnVsbH0sInRmd19leHBlcmltZW50c19jb29raWVfZXhwaXJhdGlvbiI6eyJidWNrZXQiOjEyMDk2MDAsInZlcnNpb24iOm51bGx9LCJ0ZndfZHVwbGljYXRlX3NjcmliZXNfdG9fc2V0dGluZ3MiOnsiYnVja2V0Ijoib24iLCJ2ZXJzaW9uIjpudWxsfSwidGZ3X3ZpZGVvX2hsc19keW5hbWljX21hbmlmZXN0c18xNTA4MiI6eyJidWNrZXQiOiJ0cnVlX2JpdHJhdGUiLCJ2ZXJzaW9uIjpudWxsfSwidGZ3X2xlZ2FjeV90aW1lbGluZV9zdW5zZXQiOnsiYnVja2V0Ijp0cnVlLCJ2ZXJzaW9uIjpudWxsfSwidGZ3X3R3ZWV0X2VkaXRfZnJvbnRlbmQiOnsiYnVja2V0Ijoib24iLCJ2ZXJzaW9uIjpudWxsfX0%3D&frame=false&hideCard=false&hideThread=false&id=1631974878877216769&lang=en&origin=https%3A%2F%2Fnews-af.feednews.com%2Fnews%2Fdetail%2F16367b010fc72bb29ebcd86ab2063c20&sessionId=cb86763572cb05f988b81042f392f51d56ddf535&theme=light&widgetsVersion=aaf4084522e3a%3A1674595607486&width=550px
The war is confusing him and he is seeking for support everywhere. He should handle his racist people first. https://t.co/OwbJuqyerr— Osaretin Victor Asemota (@asemota) March 4, 2023
https://platform.twitter.com/embed/Tweet.html?dnt=true&embedId=twitter-widget-2&features=eyJ0ZndfdGltZWxpbmVfbGlzdCI6eyJidWNrZXQiOltdLCJ2ZXJzaW9uIjpudWxsfSwidGZ3X2ZvbGxvd2VyX2NvdW50X3N1bnNldCI6eyJidWNrZXQiOnRydWUsInZlcnNpb24iOm51bGx9LCJ0ZndfdHdlZXRfZWRpdF9iYWNrZW5kIjp7ImJ1Y2tldCI6Im9uIiwidmVyc2lvbiI6bnVsbH0sInRmd19yZWZzcmNfc2Vzc2lvbiI6eyJidWNrZXQiOiJvbiIsInZlcnNpb24iOm51bGx9LCJ0ZndfbWl4ZWRfbWVkaWFfMTU4OTciOnsiYnVja2V0IjoidHJlYXRtZW50IiwidmVyc2lvbiI6bnVsbH0sInRmd19leHBlcmltZW50c19jb29raWVfZXhwaXJhdGlvbiI6eyJidWNrZXQiOjEyMDk2MDAsInZlcnNpb24iOm51bGx9LCJ0ZndfZHVwbGljYXRlX3NjcmliZXNfdG9fc2V0dGluZ3MiOnsiYnVja2V0Ijoib24iLCJ2ZXJzaW9uIjpudWxsfSwidGZ3X3ZpZGVvX2hsc19keW5hbWljX21hbmlmZXN0c18xNTA4MiI6eyJidWNrZXQiOiJ0cnVlX2JpdHJhdGUiLCJ2ZXJzaW9uIjpudWxsfSwidGZ3X2xlZ2FjeV90aW1lbGluZV9zdW5zZXQiOnsiYnVja2V0Ijp0cnVlLCJ2ZXJzaW9uIjpudWxsfSwidGZ3X3R3ZWV0X2VkaXRfZnJvbnRlbmQiOnsiYnVja2V0Ijoib24iLCJ2ZXJzaW9uIjpudWxsfX0%3D&frame=false&hideCard=false&hideThread=false&id=1631961777897340929&lang=en&origin=https%3A%2F%2Fnews-af.feednews.com%2Fnews%2Fdetail%2F16367b010fc72bb29ebcd86ab2063c20&sessionId=cb86763572cb05f988b81042f392f51d56ddf535&theme=light&widgetsVersion=aaf4084522e3a%3A1674595607486&width=550px
This is why I'm not against Russia. https://t.co/8FC6tvTVCU— Peter Obi's Feminine Voice (@itzz_blitz1) March 4, 2023
https://platform.twitter.com/embed/Tweet.html?dnt=true&embedId=twitter-widget-3&features=eyJ0ZndfdGltZWxpbmVfbGlzdCI6eyJidWNrZXQiOltdLCJ2ZXJzaW9uIjpudWxsfSwidGZ3X2ZvbGxvd2VyX2NvdW50X3N1bnNldCI6eyJidWNrZXQiOnRydWUsInZlcnNpb24iOm51bGx9LCJ0ZndfdHdlZXRfZWRpdF9iYWNrZW5kIjp7ImJ1Y2tldCI6Im9uIiwidmVyc2lvbiI6bnVsbH0sInRmd19yZWZzcmNfc2Vzc2lvbiI6eyJidWNrZXQiOiJvbiIsInZlcnNpb24iOm51bGx9LCJ0ZndfbWl4ZWRfbWVkaWFfMTU4OTciOnsiYnVja2V0IjoidHJlYXRtZW50IiwidmVyc2lvbiI6bnVsbH0sInRmd19leHBlcmltZW50c19jb29raWVfZXhwaXJhdGlvbiI6eyJidWNrZXQiOjEyMDk2MDAsInZlcnNpb24iOm51bGx9LCJ0ZndfZHVwbGljYXRlX3NjcmliZXNfdG9fc2V0dGluZ3MiOnsiYnVja2V0Ijoib24iLCJ2ZXJzaW9uIjpudWxsfSwidGZ3X3ZpZGVvX2hsc19keW5hbWljX21hbmlmZXN0c18xNTA4MiI6eyJidWNrZXQiOiJ0cnVlX2JpdHJhdGUiLCJ2ZXJzaW9uIjpudWxsfSwidGZ3X2xlZ2FjeV90aW1lbGluZV9zdW5zZXQiOnsiYnVja2V0Ijp0cnVlLCJ2ZXJzaW9uIjpudWxsfSwidGZ3X3R3ZWV0X2VkaXRfZnJvbnRlbmQiOnsiYnVja2V0Ijoib24iLCJ2ZXJzaW9uIjpudWxsfX0%3D&frame=false&hideCard=false&hideThread=false&id=1631960520453509121&lang=en&origin=https%3A%2F%2Fnews-af.feednews.com%2Fnews%2Fdetail%2F16367b010fc72bb29ebcd86ab2063c20&sessionId=cb86763572cb05f988b81042f392f51d56ddf535&theme=light&widgetsVersion=aaf4084522e3a%3A1674595607486&width=550px
Congratulations to Putin for invading Ukraine, since you don't want to have sense to shut up knowing fully well the election was a fraud. https://t.co/NyXOnGXfcB— Jeremy® (@JiRockxi) March 4, 2023
https://platform.twitter.com/embed/Tweet.html?dnt=true&embedId=twitter-widget-4&features=eyJ0ZndfdGltZWxpbmVfbGlzdCI6eyJidWNrZXQiOltdLCJ2ZXJzaW9uIjpudWxsfSwidGZ3X2ZvbGxvd2VyX2NvdW50X3N1bnNldCI6eyJidWNrZXQiOnRydWUsInZlcnNpb24iOm51bGx9LCJ0ZndfdHdlZXRfZWRpdF9iYWNrZW5kIjp7ImJ1Y2tldCI6Im9uIiwidmVyc2lvbiI6bnVsbH0sInRmd19yZWZzcmNfc2Vzc2lvbiI6eyJidWNrZXQiOiJvbiIsInZlcnNpb24iOm51bGx9LCJ0ZndfbWl4ZWRfbWVkaWFfMTU4OTciOnsiYnVja2V0IjoidHJlYXRtZW50IiwidmVyc2lvbiI6bnVsbH0sInRmd19leHBlcmltZW50c19jb29raWVfZXhwaXJhdGlvbiI6eyJidWNrZXQiOjEyMDk2MDAsInZlcnNpb24iOm51bGx9LCJ0ZndfZHVwbGljYXRlX3NjcmliZXNfdG9fc2V0dGluZ3MiOnsiYnVja2V0Ijoib24iLCJ2ZXJzaW9uIjpudWxsfSwidGZ3X3ZpZGVvX2hsc19keW5hbWljX21hbmlmZXN0c18xNTA4MiI6eyJidWNrZXQiOiJ0cnVlX2JpdHJhdGUiLCJ2ZXJzaW9uIjpudWxsfSwidGZ3X2xlZ2FjeV90aW1lbGluZV9zdW5zZXQiOnsiYnVja2V0Ijp0cnVlLCJ2ZXJzaW9uIjpudWxsfSwidGZ3X3R3ZWV0X2VkaXRfZnJvbnRlbmQiOnsiYnVja2V0Ijoib24iLCJ2ZXJzaW9uIjpudWxsfX0%3D&frame=false&hideCard=false&hideThread=false&id=1631955041958391808&lang=en&origin=https%3A%2F%2Fnews-af.feednews.com%2Fnews%2Fdetail%2F16367b010fc72bb29ebcd86ab2063c20&sessionId=cb86763572cb05f988b81042f392f51d56ddf535&theme=light&widgetsVersion=aaf4084522e3a%3A1674595607486&width=550px
Congratulations to Putin on his victory over the Nazis (People of Ukraine) the whole world is forever in your debt for what you did. Now bring this criminal to justice https://t.co/ptR1hea1mX— Workboi230 ???????????? (@Workboy411) March 4, 2023
https://platform.twitter.com/embed/Tweet.html?dnt=true&embedId=twitter-widget-5&features=eyJ0ZndfdGltZWxpbmVfbGlzdCI6eyJidWNrZXQiOltdLCJ2ZXJzaW9uIjpudWxsfSwidGZ3X2ZvbGxvd2VyX2NvdW50X3N1bnNldCI6eyJidWNrZXQiOnRydWUsInZlcnNpb24iOm51bGx9LCJ0ZndfdHdlZXRfZWRpdF9iYWNrZW5kIjp7ImJ1Y2tldCI6Im9uIiwidmVyc2lvbiI6bnVsbH0sInRmd19yZWZzcmNfc2Vzc2lvbiI6eyJidWNrZXQiOiJvbiIsInZlcnNpb24iOm51bGx9LCJ0ZndfbWl4ZWRfbWVkaWFfMTU4OTciOnsiYnVja2V0IjoidHJlYXRtZW50IiwidmVyc2lvbiI6bnVsbH0sInRmd19leHBlcmltZW50c19jb29raWVfZXhwaXJhdGlvbiI6eyJidWNrZXQiOjEyMDk2MDAsInZlcnNpb24iOm51bGx9LCJ0ZndfZHVwbGljYXRlX3NjcmliZXNfdG9fc2V0dGluZ3MiOnsiYnVja2V0Ijoib24iLCJ2ZXJzaW9uIjpudWxsfSwidGZ3X3ZpZGVvX2hsc19keW5hbWljX21hbmlmZXN0c18xNTA4MiI6eyJidWNrZXQiOiJ0cnVlX2JpdHJhdGUiLCJ2ZXJzaW9uIjpudWxsfSwidGZ3X2xlZ2FjeV90aW1lbGluZV9zdW5zZXQiOnsiYnVja2V0Ijp0cnVlLCJ2ZXJzaW9uIjpudWxsfSwidGZ3X3R3ZWV0X2VkaXRfZnJvbnRlbmQiOnsiYnVja2V0Ijoib24iLCJ2ZXJzaW9uIjpudWxsfX0%3D&frame=false&hideCard=false&hideThread=false&id=1631952484594769920&lang=en&origin=https%3A%2F%2Fnews-af.feednews.com%2Fnews%2Fdetail%2F16367b010fc72bb29ebcd86ab2063c20&sessionId=cb86763572cb05f988b81042f392f51d56ddf535&theme=light&widgetsVersion=aaf4084522e3a%3A1674595607486&width=550px
Congratulations to Russia for invading Ukraine.

We look forward to Putin turning Ukraine to poverty capital of the world. https://t.co/kw0Z0pXenu— IKECHUKWU (@iykimo) March 4, 2023
https://platform.twitter.com/embed/Tweet.html?dnt=true&embedId=twitter-widget-6&features=eyJ0ZndfdGltZWxpbmVfbGlzdCI6eyJidWNrZXQiOltdLCJ2ZXJzaW9uIjpudWxsfSwidGZ3X2ZvbGxvd2VyX2NvdW50X3N1bnNldCI6eyJidWNrZXQiOnRydWUsInZlcnNpb24iOm51bGx9LCJ0ZndfdHdlZXRfZWRpdF9iYWNrZW5kIjp7ImJ1Y2tldCI6Im9uIiwidmVyc2lvbiI6bnVsbH0sInRmd19yZWZzcmNfc2Vzc2lvbiI6eyJidWNrZXQiOiJvbiIsInZlcnNpb24iOm51bGx9LCJ0ZndfbWl4ZWRfbWVkaWFfMTU4OTciOnsiYnVja2V0IjoidHJlYXRtZW50IiwidmVyc2lvbiI6bnVsbH0sInRmd19leHBlcmltZW50c19jb29raWVfZXhwaXJhdGlvbiI6eyJidWNrZXQiOjEyMDk2MDAsInZlcnNpb24iOm51bGx9LCJ0ZndfZHVwbGljYXRlX3NjcmliZXNfdG9fc2V0dGluZ3MiOnsiYnVja2V0Ijoib24iLCJ2ZXJzaW9uIjpudWxsfSwidGZ3X3ZpZGVvX2hsc19keW5hbWljX21hbmlmZXN0c18xNTA4MiI6eyJidWNrZXQiOiJ0cnVlX2JpdHJhdGUiLCJ2ZXJzaW9uIjpudWxsfSwidGZ3X2xlZ2FjeV90aW1lbGluZV9zdW5zZXQiOnsiYnVja2V0Ijp0cnVlLCJ2ZXJzaW9uIjpudWxsfSwidGZ3X3R3ZWV0X2VkaXRfZnJvbnRlbmQiOnsiYnVja2V0Ijoib24iLCJ2ZXJzaW9uIjpudWxsfX0%3D&frame=false&hideCard=false&hideThread=false&id=1631946929541115904&lang=en&origin=https%3A%2F%2Fnews-af.feednews.com%2Fnews%2Fdetail%2F16367b010fc72bb29ebcd86ab2063c20&sessionId=cb86763572cb05f988b81042f392f51d56ddf535&theme=light&widgetsVersion=aaf4084522e3a%3A1674595607486&width=550px
I've always known Putin to be the good guy, Na emotions dey make me support Ukraine based on say they're being maltreated like a house maid living with an igbo barren woman.

I wanna use this medium to congratulate Russia & Putin respectfully, since we all are moving mad let's… https://t.co/nw4VTwAYtU— DUKE DARLS (@DukeDarls) March 4, 2023
https://platform.twitter.com/embed/Tweet.html?dnt=true&embedId=twitter-widget-7&features=eyJ0ZndfdGltZWxpbmVfbGlzdCI6eyJidWNrZXQiOltdLCJ2ZXJzaW9uIjpudWxsfSwidGZ3X2ZvbGxvd2VyX2NvdW50X3N1bnNldCI6eyJidWNrZXQiOnRydWUsInZlcnNpb24iOm51bGx9LCJ0ZndfdHdlZXRfZWRpdF9iYWNrZW5kIjp7ImJ1Y2tldCI6Im9uIiwidmVyc2lvbiI6bnVsbH0sInRmd19yZWZzcmNfc2Vzc2lvbiI6eyJidWNrZXQiOiJvbiIsInZlcnNpb24iOm51bGx9LCJ0ZndfbWl4ZWRfbWVkaWFfMTU4OTciOnsiYnVja2V0IjoidHJlYXRtZW50IiwidmVyc2lvbiI6bnVsbH0sInRmd19leHBlcmltZW50c19jb29raWVfZXhwaXJhdGlvbiI6eyJidWNrZXQiOjEyMDk2MDAsInZlcnNpb24iOm51bGx9LCJ0ZndfZHVwbGljYXRlX3NjcmliZXNfdG9fc2V0dGluZ3MiOnsiYnVja2V0Ijoib24iLCJ2ZXJzaW9uIjpudWxsfSwidGZ3X3ZpZGVvX2hsc19keW5hbWljX21hbmlmZXN0c18xNTA4MiI6eyJidWNrZXQiOiJ0cnVlX2JpdHJhdGUiLCJ2ZXJzaW9uIjpudWxsfSwidGZ3X2xlZ2FjeV90aW1lbGluZV9zdW5zZXQiOnsiYnVja2V0Ijp0cnVlLCJ2ZXJzaW9uIjpudWxsfSwidGZ3X3R3ZWV0X2VkaXRfZnJvbnRlbmQiOnsiYnVja2V0Ijoib24iLCJ2ZXJzaW9uIjpudWxsfX0%3D&frame=false&hideCard=false&hideThread=false&id=1631941157360992256&lang=en&origin=https%3A%2F%2Fnews-af.feednews.com%2Fnews%2Fdetail%2F16367b010fc72bb29ebcd86ab2063c20&sessionId=cb86763572cb05f988b81042f392f51d56ddf535&theme=light&widgetsVersion=aaf4084522e3a%3A1674595607486&width=550px
Congratulations to Putin for winning the war https://t.co/QeDbXoyUe5— Baby girl (@gracilala) March 4, 2023
https://platform.twitter.com/embed/Tweet.html?dnt=true&embedId=twitter-widget-8&features=eyJ0ZndfdGltZWxpbmVfbGlzdCI6eyJidWNrZXQiOltdLCJ2ZXJzaW9uIjpudWxsfSwidGZ3X2ZvbGxvd2VyX2NvdW50X3N1bnNldCI6eyJidWNrZXQiOnRydWUsInZlcnNpb24iOm51bGx9LCJ0ZndfdHdlZXRfZWRpdF9iYWNrZW5kIjp7ImJ1Y2tldCI6Im9uIiwidmVyc2lvbiI6bnVsbH0sInRmd19yZWZzcmNfc2Vzc2lvbiI6eyJidWNrZXQiOiJvbiIsInZlcnNpb24iOm51bGx9LCJ0ZndfbWl4ZWRfbWVkaWFfMTU4OTciOnsiYnVja2V0IjoidHJlYXRtZW50IiwidmVyc2lvbiI6bnVsbH0sInRmd19leHBlcmltZW50c19jb29raWVfZXhwaXJhdGlvbiI6eyJidWNrZXQiOjEyMDk2MDAsInZlcnNpb24iOm51bGx9LCJ0ZndfZHVwbGljYXRlX3NjcmliZXNfdG9fc2V0dGluZ3MiOnsiYnVja2V0Ijoib24iLCJ2ZXJzaW9uIjpudWxsfSwidGZ3X3ZpZGVvX2hsc19keW5hbWljX21hbmlmZXN0c18xNTA4MiI6eyJidWNrZXQiOiJ0cnVlX2JpdHJhdGUiLCJ2ZXJzaW9uIjpudWxsfSwidGZ3X2xlZ2FjeV90aW1lbGluZV9zdW5zZXQiOnsiYnVja2V0Ijp0cnVlLCJ2ZXJzaW9uIjpudWxsfSwidGZ3X3R3ZWV0X2VkaXRfZnJvbnRlbmQiOnsiYnVja2V0Ijoib24iLCJ2ZXJzaW9uIjpudWxsfX0%3D&frame=false&hideCard=false&hideThread=false&id=1631947641050259457&lang=en&origin=https%3A%2F%2Fnews-af.feednews.com%2Fnews%2Fdetail%2F16367b010fc72bb29ebcd86ab2063c20&sessionId=cb86763572cb05f988b81042f392f51d56ddf535&theme=light&widgetsVersion=aaf4084522e3a%3A1674595607486&width=550px
Here's the comedian president of Ukraine @ZelenskyyUa,whom the world rose to support because his people were supposedly suffering persecution in the hands of an "oppressor"

He just congratulated a drug dealer who's been oppressing a State since 1999 & seeks to make it nationwide https://t.co/sTvPXQspxS— The OBIdient Seeker (@The_Seeker76) March 4, 2023
https://platform.twitter.com/embed/Tweet.html?dnt=true&embedId=twitter-widget-9&features=eyJ0ZndfdGltZWxpbmVfbGlzdCI6eyJidWNrZXQiOltdLCJ2ZXJzaW9uIjpudWxsfSwidGZ3X2ZvbGxvd2VyX2NvdW50X3N1bnNldCI6eyJidWNrZXQiOnRydWUsInZlcnNpb24iOm51bGx9LCJ0ZndfdHdlZXRfZWRpdF9iYWNrZW5kIjp7ImJ1Y2tldCI6Im9uIiwidmVyc2lvbiI6bnVsbH0sInRmd19yZWZzcmNfc2Vzc2lvbiI6eyJidWNrZXQiOiJvbiIsInZlcnNpb24iOm51bGx9LCJ0ZndfbWl4ZWRfbWVkaWFfMTU4OTciOnsiYnVja2V0IjoidHJlYXRtZW50IiwidmVyc2lvbiI6bnVsbH0sInRmd19leHBlcmltZW50c19jb29raWVfZXhwaXJhdGlvbiI6eyJidWNrZXQiOjEyMDk2MDAsInZlcnNpb24iOm51bGx9LCJ0ZndfZHVwbGljYXRlX3NjcmliZXNfdG9fc2V0dGluZ3MiOnsiYnVja2V0Ijoib24iLCJ2ZXJzaW9uIjpudWxsfSwidGZ3X3ZpZGVvX2hsc19keW5hbWljX21hbmlmZXN0c18xNTA4MiI6eyJidWNrZXQiOiJ0cnVlX2JpdHJhdGUiLCJ2ZXJzaW9uIjpudWxsfSwidGZ3X2xlZ2FjeV90aW1lbGluZV9zdW5zZXQiOnsiYnVja2V0Ijp0cnVlLCJ2ZXJzaW9uIjpudWxsfSwidGZ3X3R3ZWV0X2VkaXRfZnJvbnRlbmQiOnsiYnVja2V0Ijoib24iLCJ2ZXJzaW9uIjpudWxsfX0%3D&frame=false&hideCard=false&hideThread=false&id=1631935332361949185&lang=en&origin=https%3A%2F%2Fnews-af.feednews.com%2Fnews%2Fdetail%2F16367b010fc72bb29ebcd86ab2063c20&sessionId=cb86763572cb05f988b81042f392f51d56ddf535&theme=light&widgetsVersion=aaf4084522e3a%3A1674595607486&width=550px
Putin is being to nice on you in Ukraine..

Russians carry on https://t.co/L1rf4KZHz9— Future (@adokwuandy) March 4, 2023
https://platform.twitter.com/embed/Tweet.html?dnt=true&embedId=twitter-widget-10&features=eyJ0ZndfdGltZWxpbmVfbGlzdCI6eyJidWNrZXQiOltdLCJ2ZXJzaW9uIjpudWxsfSwidGZ3X2ZvbGxvd2VyX2NvdW50X3N1bnNldCI6eyJidWNrZXQiOnRydWUsInZlcnNpb24iOm51bGx9LCJ0ZndfdHdlZXRfZWRpdF9iYWNrZW5kIjp7ImJ1Y2tldCI6Im9uIiwidmVyc2lvbiI6bnVsbH0sInRmd19yZWZzcmNfc2Vzc2lvbiI6eyJidWNrZXQiOiJvbiIsInZlcnNpb24iOm51bGx9LCJ0ZndfbWl4ZWRfbWVkaWFfMTU4OTciOnsiYnVja2V0IjoidHJlYXRtZW50IiwidmVyc2lvbiI6bnVsbH0sInRmd19leHBlcmltZW50c19jb29raWVfZXhwaXJhdGlvbiI6eyJidWNrZXQiOjEyMDk2MDAsInZlcnNpb24iOm51bGx9LCJ0ZndfZHVwbGljYXRlX3NjcmliZXNfdG9fc2V0dGluZ3MiOnsiYnVja2V0Ijoib24iLCJ2ZXJzaW9uIjpudWxsfSwidGZ3X3ZpZGVvX2hsc19keW5hbWljX21hbmlmZXN0c18xNTA4MiI6eyJidWNrZXQiOiJ0cnVlX2JpdHJhdGUiLCJ2ZXJzaW9uIjpudWxsfSwidGZ3X2xlZ2FjeV90aW1lbGluZV9zdW5zZXQiOnsiYnVja2V0Ijp0cnVlLCJ2ZXJzaW9uIjpudWxsfSwidGZ3X3R3ZWV0X2VkaXRfZnJvbnRlbmQiOnsiYnVja2V0Ijoib24iLCJ2ZXJzaW9uIjpudWxsfX0%3D&frame=false&hideCard=false&hideThread=false&id=1631936539277107200&lang=en&origin=https%3A%2F%2Fnews-af.feednews.com%2Fnews%2Fdetail%2F16367b010fc72bb29ebcd86ab2063c20&sessionId=cb86763572cb05f988b81042f392f51d56ddf535&theme=light&widgetsVersion=aaf4084522e3a%3A1674595607486&width=550px
You are expecting us to understand the suffering of Ukrainians, but the suffering of Nigerians and this sham of election doesn't concern you? https://t.co/7AnCDAsGRp— ? Blessed?? (@Girl_isBlessed) March 4, 2023
https://platform.twitter.com/embed/Tweet.html?dnt=true&embedId=twitter-widget-11&features=eyJ0ZndfdGltZWxpbmVfbGlzdCI6eyJidWNrZXQiOltdLCJ2ZXJzaW9uIjpudWxsfSwidGZ3X2ZvbGxvd2VyX2NvdW50X3N1bnNldCI6eyJidWNrZXQiOnRydWUsInZlcnNpb24iOm51bGx9LCJ0ZndfdHdlZXRfZWRpdF9iYWNrZW5kIjp7ImJ1Y2tldCI6Im9uIiwidmVyc2lvbiI6bnVsbH0sInRmd19yZWZzcmNfc2Vzc2lvbiI6eyJidWNrZXQiOiJvbiIsInZlcnNpb24iOm51bGx9LCJ0ZndfbWl4ZWRfbWVkaWFfMTU4OTciOnsiYnVja2V0IjoidHJlYXRtZW50IiwidmVyc2lvbiI6bnVsbH0sInRmd19leHBlcmltZW50c19jb29raWVfZXhwaXJhdGlvbiI6eyJidWNrZXQiOjEyMDk2MDAsInZlcnNpb24iOm51bGx9LCJ0ZndfZHVwbGljYXRlX3NjcmliZXNfdG9fc2V0dGluZ3MiOnsiYnVja2V0Ijoib24iLCJ2ZXJzaW9uIjpudWxsfSwidGZ3X3ZpZGVvX2hsc19keW5hbWljX21hbmlmZXN0c18xNTA4MiI6eyJidWNrZXQiOiJ0cnVlX2JpdHJhdGUiLCJ2ZXJzaW9uIjpudWxsfSwidGZ3X2xlZ2FjeV90aW1lbGluZV9zdW5zZXQiOnsiYnVja2V0Ijp0cnVlLCJ2ZXJzaW9uIjpudWxsfSwidGZ3X3R3ZWV0X2VkaXRfZnJvbnRlbmQiOnsiYnVja2V0Ijoib24iLCJ2ZXJzaW9uIjpudWxsfX0%3D&frame=false&hideCard=false&hideThread=false&id=1631933420451373056&lang=en&origin=https%3A%2F%2Fnews-af.feednews.com%2Fnews%2Fdetail%2F16367b010fc72bb29ebcd86ab2063c20&sessionId=cb86763572cb05f988b81042f392f51d56ddf535&theme=light&widgetsVersion=aaf4084522e3a%3A1674595607486&width=550px
I don't even blame people that are congratulating Russia because how are World leaders so blind to the situation on ground, Democracy was stolen from us https://t.co/aUZpL0VRzC— Roviel (@R0VIEL) March 4, 2023
https://platform.twitter.com/embed/Tweet.html?dnt=true&embedId=twitter-widget-12&features=eyJ0ZndfdGltZWxpbmVfbGlzdCI6eyJidWNrZXQiOltdLCJ2ZXJzaW9uIjpudWxsfSwidGZ3X2ZvbGxvd2VyX2NvdW50X3N1bnNldCI6eyJidWNrZXQiOnRydWUsInZlcnNpb24iOm51bGx9LCJ0ZndfdHdlZXRfZWRpdF9iYWNrZW5kIjp7ImJ1Y2tldCI6Im9uIiwidmVyc2lvbiI6bnVsbH0sInRmd19yZWZzcmNfc2Vzc2lvbiI6eyJidWNrZXQiOiJvbiIsInZlcnNpb24iOm51bGx9LCJ0ZndfbWl4ZWRfbWVkaWFfMTU4OTciOnsiYnVja2V0IjoidHJlYXRtZW50IiwidmVyc2lvbiI6bnVsbH0sInRmd19leHBlcmltZW50c19jb29raWVfZXhwaXJhdGlvbiI6eyJidWNrZXQiOjEyMDk2MDAsInZlcnNpb24iOm51bGx9LCJ0ZndfZHVwbGljYXRlX3NjcmliZXNfdG9fc2V0dGluZ3MiOnsiYnVja2V0Ijoib24iLCJ2ZXJzaW9uIjpudWxsfSwidGZ3X3ZpZGVvX2hsc19keW5hbWljX21hbmlmZXN0c18xNTA4MiI6eyJidWNrZXQiOiJ0cnVlX2JpdHJhdGUiLCJ2ZXJzaW9uIjpudWxsfSwidGZ3X2xlZ2FjeV90aW1lbGluZV9zdW5zZXQiOnsiYnVja2V0Ijp0cnVlLCJ2ZXJzaW9uIjpudWxsfSwidGZ3X3R3ZWV0X2VkaXRfZnJvbnRlbmQiOnsiYnVja2V0Ijoib24iLCJ2ZXJzaW9uIjpudWxsfX0%3D&frame=false&hideCard=false&hideThread=false&id=1631927959433928706&lang=en&origin=https%3A%2F%2Fnews-af.feednews.com%2Fnews%2Fdetail%2F16367b010fc72bb29ebcd86ab2063c20&sessionId=cb86763572cb05f988b81042f392f51d56ddf535&theme=light&widgetsVersion=aaf4084522e3a%3A1674595607486&width=550px
Stop congratulating Tinubu. Nigeria doesn't have any money to give you. We are in serious debt. https://t.co/ioEgILrJaE— IRUNNIA #OBIDIENT (@Irunnia_) March 4, 2023
https://platform.twitter.com/embed/Tweet.html?dnt=true&embedId=twitter-widget-13&features=eyJ0ZndfdGltZWxpbmVfbGlzdCI6eyJidWNrZXQiOltdLCJ2ZXJzaW9uIjpudWxsfSwidGZ3X2ZvbGxvd2VyX2NvdW50X3N1bnNldCI6eyJidWNrZXQiOnRydWUsInZlcnNpb24iOm51bGx9LCJ0ZndfdHdlZXRfZWRpdF9iYWNrZW5kIjp7ImJ1Y2tldCI6Im9uIiwidmVyc2lvbiI6bnVsbH0sInRmd19yZWZzcmNfc2Vzc2lvbiI6eyJidWNrZXQiOiJvbiIsInZlcnNpb24iOm51bGx9LCJ0ZndfbWl4ZWRfbWVkaWFfMTU4OTciOnsiYnVja2V0IjoidHJlYXRtZW50IiwidmVyc2lvbiI6bnVsbH0sInRmd19leHBlcmltZW50c19jb29raWVfZXhwaXJhdGlvbiI6eyJidWNrZXQiOjEyMDk2MDAsInZlcnNpb24iOm51bGx9LCJ0ZndfZHVwbGljYXRlX3NjcmliZXNfdG9fc2V0dGluZ3MiOnsiYnVja2V0Ijoib24iLCJ2ZXJzaW9uIjpudWxsfSwidGZ3X3ZpZGVvX2hsc19keW5hbWljX21hbmlmZXN0c18xNTA4MiI6eyJidWNrZXQiOiJ0cnVlX2JpdHJhdGUiLCJ2ZXJzaW9uIjpudWxsfSwidGZ3X2xlZ2FjeV90aW1lbGluZV9zdW5zZXQiOnsiYnVja2V0Ijp0cnVlLCJ2ZXJzaW9uIjpudWxsfSwidGZ3X3R3ZWV0X2VkaXRfZnJvbnRlbmQiOnsiYnVja2V0Ijoib24iLCJ2ZXJzaW9uIjpudWxsfX0%3D&frame=false&hideCard=false&hideThread=false&id=1631940143618695168&lang=en&origin=https%3A%2F%2Fnews-af.feednews.com%2Fnews%2Fdetail%2F16367b010fc72bb29ebcd86ab2063c20&sessionId=cb86763572cb05f988b81042f392f51d56ddf535&theme=light&widgetsVersion=aaf4084522e3a%3A1674595607486&width=550px
Congratulations to Putin and the Russian Federation. We look forward to a victorious end and the total annexation of Ukraine. Since @ZelenskyyUa don't have sense!!! https://t.co/5pgDQ0BRGC pic.twitter.com/PFc5FK6315— Eyes of the gods ? ? (@1king_son) March 4, 2023
https://platform.twitter.com/embed/Tweet.html?dnt=true&embedId=twitter-widget-14&features=eyJ0ZndfdGltZWxpbmVfbGlzdCI6eyJidWNrZXQiOltdLCJ2ZXJzaW9uIjpudWxsfSwidGZ3X2ZvbGxvd2VyX2NvdW50X3N1bnNldCI6eyJidWNrZXQiOnRydWUsInZlcnNpb24iOm51bGx9LCJ0ZndfdHdlZXRfZWRpdF9iYWNrZW5kIjp7ImJ1Y2tldCI6Im9uIiwidmVyc2lvbiI6bnVsbH0sInRmd19yZWZzcmNfc2Vzc2lvbiI6eyJidWNrZXQiOiJvbiIsInZlcnNpb24iOm51bGx9LCJ0ZndfbWl4ZWRfbWVkaWFfMTU4OTciOnsiYnVja2V0IjoidHJlYXRtZW50IiwidmVyc2lvbiI6bnVsbH0sInRmd19leHBlcmltZW50c19jb29raWVfZXhwaXJhdGlvbiI6eyJidWNrZXQiOjEyMDk2MDAsInZlcnNpb24iOm51bGx9LCJ0ZndfZHVwbGljYXRlX3NjcmliZXNfdG9fc2V0dGluZ3MiOnsiYnVja2V0Ijoib24iLCJ2ZXJzaW9uIjpudWxsfSwidGZ3X3ZpZGVvX2hsc19keW5hbWljX21hbmlmZXN0c18xNTA4MiI6eyJidWNrZXQiOiJ0cnVlX2JpdHJhdGUiLCJ2ZXJzaW9uIjpudWxsfSwidGZ3X2xlZ2FjeV90aW1lbGluZV9zdW5zZXQiOnsiYnVja2V0Ijp0cnVlLCJ2ZXJzaW9uIjpudWxsfSwidGZ3X3R3ZWV0X2VkaXRfZnJvbnRlbmQiOnsiYnVja2V0Ijoib24iLCJ2ZXJzaW9uIjpudWxsfX0%3D&frame=false&hideCard=false&hideThread=false&id=1631919487430672384&lang=en&origin=https%3A%2F%2Fnews-af.feednews.com%2Fnews%2Fdetail%2F16367b010fc72bb29ebcd86ab2063c20&sessionId=cb86763572cb05f988b81042f392f51d56ddf535&theme=light&widgetsVersion=aaf4084522e3a%3A1674595607486&width=550px
Russia we support what you're doing to Ukraine, destroy them since they want to destroy democracy in Nigeria https://t.co/w7CFritcHC pic.twitter.com/sQe1SBWb9b— ? Cypher.nft ???? (@cypher_12) March 4, 2023
https://platform.twitter.com/embed/Tweet.html?dnt=true&embedId=twitter-widget-15&features=eyJ0ZndfdGltZWxpbmVfbGlzdCI6eyJidWNrZXQiOltdLCJ2ZXJzaW9uIjpudWxsfSwidGZ3X2ZvbGxvd2VyX2NvdW50X3N1bnNldCI6eyJidWNrZXQiOnRydWUsInZlcnNpb24iOm51bGx9LCJ0ZndfdHdlZXRfZWRpdF9iYWNrZW5kIjp7ImJ1Y2tldCI6Im9uIiwidmVyc2lvbiI6bnVsbH0sInRmd19yZWZzcmNfc2Vzc2lvbiI6eyJidWNrZXQiOiJvbiIsInZlcnNpb24iOm51bGx9LCJ0ZndfbWl4ZWRfbWVkaWFfMTU4OTciOnsiYnVja2V0IjoidHJlYXRtZW50IiwidmVyc2lvbiI6bnVsbH0sInRmd19leHBlcmltZW50c19jb29raWVfZXhwaXJhdGlvbiI6eyJidWNrZXQiOjEyMDk2MDAsInZlcnNpb24iOm51bGx9LCJ0ZndfZHVwbGljYXRlX3NjcmliZXNfdG9fc2V0dGluZ3MiOnsiYnVja2V0Ijoib24iLCJ2ZXJzaW9uIjpudWxsfSwidGZ3X3ZpZGVvX2hsc19keW5hbWljX21hbmlmZXN0c18xNTA4MiI6eyJidWNrZXQiOiJ0cnVlX2JpdHJhdGUiLCJ2ZXJzaW9uIjpudWxsfSwidGZ3X2xlZ2FjeV90aW1lbGluZV9zdW5zZXQiOnsiYnVja2V0Ijp0cnVlLCJ2ZXJzaW9uIjpudWxsfSwidGZ3X3R3ZWV0X2VkaXRfZnJvbnRlbmQiOnsiYnVja2V0Ijoib24iLCJ2ZXJzaW9uIjpudWxsfX0%3D&frame=false&hideCard=false&hideThread=false&id=1631918198806159362&lang=en&origin=https%3A%2F%2Fnews-af.feednews.com%2Fnews%2Fdetail%2F16367b010fc72bb29ebcd86ab2063c20&sessionId=cb86763572cb05f988b81042f392f51d56ddf535&theme=light&widgetsVersion=aaf4084522e3a%3A1674595607486&width=550px
Congrats to Russia for invading Ukraine. The most racist country in the world. How does that sound? https://t.co/6uh3Cfd9Mr— Clark Kent (Freelance Writer) ?? ? (@LibraLord88) March 4, 2023
https://platform.twitter.com/embed/Tweet.html?dnt=true&embedId=twitter-widget-16&features=eyJ0ZndfdGltZWxpbmVfbGlzdCI6eyJidWNrZXQiOltdLCJ2ZXJzaW9uIjpudWxsfSwidGZ3X2ZvbGxvd2VyX2NvdW50X3N1bnNldCI6eyJidWNrZXQiOnRydWUsInZlcnNpb24iOm51bGx9LCJ0ZndfdHdlZXRfZWRpdF9iYWNrZW5kIjp7ImJ1Y2tldCI6Im9uIiwidmVyc2lvbiI6bnVsbH0sInRmd19yZWZzcmNfc2Vzc2lvbiI6eyJidWNrZXQiOiJvbiIsInZlcnNpb24iOm51bGx9LCJ0ZndfbWl4ZWRfbWVkaWFfMTU4OTciOnsiYnVja2V0IjoidHJlYXRtZW50IiwidmVyc2lvbiI6bnVsbH0sInRmd19leHBlcmltZW50c19jb29raWVfZXhwaXJhdGlvbiI6eyJidWNrZXQiOjEyMDk2MDAsInZlcnNpb24iOm51bGx9LCJ0ZndfZHVwbGljYXRlX3NjcmliZXNfdG9fc2V0dGluZ3MiOnsiYnVja2V0Ijoib24iLCJ2ZXJzaW9uIjpudWxsfSwidGZ3X3ZpZGVvX2hsc19keW5hbWljX21hbmlmZXN0c18xNTA4MiI6eyJidWNrZXQiOiJ0cnVlX2JpdHJhdGUiLCJ2ZXJzaW9uIjpudWxsfSwidGZ3X2xlZ2FjeV90aW1lbGluZV9zdW5zZXQiOnsiYnVja2V0Ijp0cnVlLCJ2ZXJzaW9uIjpudWxsfSwidGZ3X3R3ZWV0X2VkaXRfZnJvbnRlbmQiOnsiYnVja2V0Ijoib24iLCJ2ZXJzaW9uIjpudWxsfX0%3D&frame=false&hideCard=false&hideThread=false&id=1631950485136572416&lang=en&origin=https%3A%2F%2Fnews-af.feednews.com%2Fnews%2Fdetail%2F16367b010fc72bb29ebcd86ab2063c20&sessionId=cb86763572cb05f988b81042f392f51d56ddf535&theme=light&widgetsVersion=aaf4084522e3a%3A1674595607486&width=550px
Africa supports Russia. We cannot start World War 3 just because you and Joe Biden are greedily using the Ukrainian war to launder money. https://t.co/CJJ5V2vobq— Nahashon Kimemia (@NahashonKimemia) March 4, 2023
https://platform.twitter.com/embed/Tweet.html?dnt=true&embedId=twitter-widget-17&features=eyJ0ZndfdGltZWxpbmVfbGlzdCI6eyJidWNrZXQiOltdLCJ2ZXJzaW9uIjpudWxsfSwidGZ3X2ZvbGxvd2VyX2NvdW50X3N1bnNldCI6eyJidWNrZXQiOnRydWUsInZlcnNpb24iOm51bGx9LCJ0ZndfdHdlZXRfZWRpdF9iYWNrZW5kIjp7ImJ1Y2tldCI6Im9uIiwidmVyc2lvbiI6bnVsbH0sInRmd19yZWZzcmNfc2Vzc2lvbiI6eyJidWNrZXQiOiJvbiIsInZlcnNpb24iOm51bGx9LCJ0ZndfbWl4ZWRfbWVkaWFfMTU4OTciOnsiYnVja2V0IjoidHJlYXRtZW50IiwidmVyc2lvbiI6bnVsbH0sInRmd19leHBlcmltZW50c19jb29raWVfZXhwaXJhdGlvbiI6eyJidWNrZXQiOjEyMDk2MDAsInZlcnNpb24iOm51bGx9LCJ0ZndfZHVwbGljYXRlX3NjcmliZXNfdG9fc2V0dGluZ3MiOnsiYnVja2V0Ijoib24iLCJ2ZXJzaW9uIjpudWxsfSwidGZ3X3ZpZGVvX2hsc19keW5hbWljX21hbmlmZXN0c18xNTA4MiI6eyJidWNrZXQiOiJ0cnVlX2JpdHJhdGUiLCJ2ZXJzaW9uIjpudWxsfSwidGZ3X2xlZ2FjeV90aW1lbGluZV9zdW5zZXQiOnsiYnVja2V0Ijp0cnVlLCJ2ZXJzaW9uIjpudWxsfSwidGZ3X3R3ZWV0X2VkaXRfZnJvbnRlbmQiOnsiYnVja2V0Ijoib24iLCJ2ZXJzaW9uIjpudWxsfX0%3D&frame=false&hideCard=false&hideThread=false&id=1631918558522351616&lang=en&origin=https%3A%2F%2Fnews-af.feednews.com%2Fnews%2Fdetail%2F16367b010fc72bb29ebcd86ab2063c20&sessionId=cb86763572cb05f988b81042f392f51d56ddf535&theme=light&widgetsVersion=aaf4084522e3a%3A1674595607486&width=550px
You support rigging and electoral crimes but we are supposed to believe Russians are the bad guys https://t.co/03zFMppY53— Zubymbah (@iam_zuby) March 4, 2023
https://platform.twitter.com/embed/Tweet.html?dnt=true&embedId=twitter-widget-18&features=eyJ0ZndfdGltZWxpbmVfbGlzdCI6eyJidWNrZXQiOltdLCJ2ZXJzaW9uIjpudWxsfSwidGZ3X2ZvbGxvd2VyX2NvdW50X3N1bnNldCI6eyJidWNrZXQiOnRydWUsInZlcnNpb24iOm51bGx9LCJ0ZndfdHdlZXRfZWRpdF9iYWNrZW5kIjp7ImJ1Y2tldCI6Im9uIiwidmVyc2lvbiI6bnVsbH0sInRmd19yZWZzcmNfc2Vzc2lvbiI6eyJidWNrZXQiOiJvbiIsInZlcnNpb24iOm51bGx9LCJ0ZndfbWl4ZWRfbWVkaWFfMTU4OTciOnsiYnVja2V0IjoidHJlYXRtZW50IiwidmVyc2lvbiI6bnVsbH0sInRmd19leHBlcmltZW50c19jb29raWVfZXhwaXJhdGlvbiI6eyJidWNrZXQiOjEyMDk2MDAsInZlcnNpb24iOm51bGx9LCJ0ZndfZHVwbGljYXRlX3NjcmliZXNfdG9fc2V0dGluZ3MiOnsiYnVja2V0Ijoib24iLCJ2ZXJzaW9uIjpudWxsfSwidGZ3X3ZpZGVvX2hsc19keW5hbWljX21hbmlmZXN0c18xNTA4MiI6eyJidWNrZXQiOiJ0cnVlX2JpdHJhdGUiLCJ2ZXJzaW9uIjpudWxsfSwidGZ3X2xlZ2FjeV90aW1lbGluZV9zdW5zZXQiOnsiYnVja2V0Ijp0cnVlLCJ2ZXJzaW9uIjpudWxsfSwidGZ3X3R3ZWV0X2VkaXRfZnJvbnRlbmQiOnsiYnVja2V0Ijoib24iLCJ2ZXJzaW9uIjpudWxsfX0%3D&frame=false&hideCard=false&hideThread=false&id=1631932900256935936&lang=en&origin=https%3A%2F%2Fnews-af.feednews.com%2Fnews%2Fdetail%2F16367b010fc72bb29ebcd86ab2063c20&sessionId=cb86763572cb05f988b81042f392f51d56ddf535&theme=light&widgetsVersion=aaf4084522e3a%3A1674595607486&width=550px
Vladimir Zelensky congratulates the worst ever held (S)election in Nigeria history. Only the wicked congratulates the wicked.
No wonder Ukraine is being wiped out from the surface of earth.
Firstly, it was @RishiSunak & @JoeBiden.
Did you see the axis?

I STAND WITH RUSSIA ?? https://t.co/q1XjMXxYYj— Psalms Malachy (@PsalmsMalachy73) March 4, 2023
https://platform.twitter.com/embed/Tweet.html?dnt=true&embedId=twitter-widget-19&features=eyJ0ZndfdGltZWxpbmVfbGlzdCI6eyJidWNrZXQiOltdLCJ2ZXJzaW9uIjpudWxsfSwidGZ3X2ZvbGxvd2VyX2NvdW50X3N1bnNldCI6eyJidWNrZXQiOnRydWUsInZlcnNpb24iOm51bGx9LCJ0ZndfdHdlZXRfZWRpdF9iYWNrZW5kIjp7ImJ1Y2tldCI6Im9uIiwidmVyc2lvbiI6bnVsbH0sInRmd19yZWZzcmNfc2Vzc2lvbiI6eyJidWNrZXQiOiJvbiIsInZlcnNpb24iOm51bGx9LCJ0ZndfbWl4ZWRfbWVkaWFfMTU4OTciOnsiYnVja2V0IjoidHJlYXRtZW50IiwidmVyc2lvbiI6bnVsbH0sInRmd19leHBlcmltZW50c19jb29raWVfZXhwaXJhdGlvbiI6eyJidWNrZXQiOjEyMDk2MDAsInZlcnNpb24iOm51bGx9LCJ0ZndfZHVwbGljYXRlX3NjcmliZXNfdG9fc2V0dGluZ3MiOnsiYnVja2V0Ijoib24iLCJ2ZXJzaW9uIjpudWxsfSwidGZ3X3ZpZGVvX2hsc19keW5hbWljX21hbmlmZXN0c18xNTA4MiI6eyJidWNrZXQiOiJ0cnVlX2JpdHJhdGUiLCJ2ZXJzaW9uIjpudWxsfSwidGZ3X2xlZ2FjeV90aW1lbGluZV9zdW5zZXQiOnsiYnVja2V0Ijp0cnVlLCJ2ZXJzaW9uIjpudWxsfSwidGZ3X3R3ZWV0X2VkaXRfZnJvbnRlbmQiOnsiYnVja2V0Ijoib24iLCJ2ZXJzaW9uIjpudWxsfX0%3D&frame=false&hideCard=false&hideThread=false&id=1631924872837251072&lang=en&origin=https%3A%2F%2Fnews-af.feednews.com%2Fnews%2Fdetail%2F16367b010fc72bb29ebcd86ab2063c20&sessionId=cb86763572cb05f988b81042f392f51d56ddf535&theme=light&widgetsVersion=aaf4084522e3a%3A1674595607486&width=550px
Congratulations to @Russia for dealing with Ukraine please drop some more bombs for ur dear Nigerian people. This comedian guy just congratulated a drug lord who stole an election in Nigeria https://t.co/pv9x78PuYL— Art (@Artwoodkinx) March 4, 2023
https://platform.twitter.com/embed/Tweet.html?dnt=true&embedId=twitter-widget-20&features=eyJ0ZndfdGltZWxpbmVfbGlzdCI6eyJidWNrZXQiOltdLCJ2ZXJzaW9uIjpudWxsfSwidGZ3X2ZvbGxvd2VyX2NvdW50X3N1bnNldCI6eyJidWNrZXQiOnRydWUsInZlcnNpb24iOm51bGx9LCJ0ZndfdHdlZXRfZWRpdF9iYWNrZW5kIjp7ImJ1Y2tldCI6Im9uIiwidmVyc2lvbiI6bnVsbH0sInRmd19yZWZzcmNfc2Vzc2lvbiI6eyJidWNrZXQiOiJvbiIsInZlcnNpb24iOm51bGx9LCJ0ZndfbWl4ZWRfbWVkaWFfMTU4OTciOnsiYnVja2V0IjoidHJlYXRtZW50IiwidmVyc2lvbiI6bnVsbH0sInRmd19leHBlcmltZW50c19jb29raWVfZXhwaXJhdGlvbiI6eyJidWNrZXQiOjEyMDk2MDAsInZlcnNpb24iOm51bGx9LCJ0ZndfZHVwbGljYXRlX3NjcmliZXNfdG9fc2V0dGluZ3MiOnsiYnVja2V0Ijoib24iLCJ2ZXJzaW9uIjpudWxsfSwidGZ3X3ZpZGVvX2hsc19keW5hbWljX21hbmlmZXN0c18xNTA4MiI6eyJidWNrZXQiOiJ0cnVlX2JpdHJhdGUiLCJ2ZXJzaW9uIjpudWxsfSwidGZ3X2xlZ2FjeV90aW1lbGluZV9zdW5zZXQiOnsiYnVja2V0Ijp0cnVlLCJ2ZXJzaW9uIjpudWxsfSwidGZ3X3R3ZWV0X2VkaXRfZnJvbnRlbmQiOnsiYnVja2V0Ijoib24iLCJ2ZXJzaW9uIjpudWxsfX0%3D&frame=false&hideCard=false&hideThread=false&id=1631926868025700352&lang=en&origin=https%3A%2F%2Fnews-af.feednews.com%2Fnews%2Fdetail%2F16367b010fc72bb29ebcd86ab2063c20&sessionId=cb86763572cb05f988b81042f392f51d56ddf535&theme=light&widgetsVersion=aaf4084522e3a%3A1674595607486&width=550px
Imagine me coming here to say I congratulate Russia for invading Ukraine, that's what you just did now. https://t.co/OtvqzVzp6g— FAMES ?? (@eronsjohnson) March 4, 2023
https://platform.twitter.com/embed/Tweet.html?dnt=true&embedId=twitter-widget-21&features=eyJ0ZndfdGltZWxpbmVfbGlzdCI6eyJidWNrZXQiOltdLCJ2ZXJzaW9uIjpudWxsfSwidGZ3X2ZvbGxvd2VyX2NvdW50X3N1bnNldCI6eyJidWNrZXQiOnRydWUsInZlcnNpb24iOm51bGx9LCJ0ZndfdHdlZXRfZWRpdF9iYWNrZW5kIjp7ImJ1Y2tldCI6Im9uIiwidmVyc2lvbiI6bnVsbH0sInRmd19yZWZzcmNfc2Vzc2lvbiI6eyJidWNrZXQiOiJvbiIsInZlcnNpb24iOm51bGx9LCJ0ZndfbWl4ZWRfbWVkaWFfMTU4OTciOnsiYnVja2V0IjoidHJlYXRtZW50IiwidmVyc2lvbiI6bnVsbH0sInRmd19leHBlcmltZW50c19jb29raWVfZXhwaXJhdGlvbiI6eyJidWNrZXQiOjEyMDk2MDAsInZlcnNpb24iOm51bGx9LCJ0ZndfZHVwbGljYXRlX3NjcmliZXNfdG9fc2V0dGluZ3MiOnsiYnVja2V0Ijoib24iLCJ2ZXJzaW9uIjpudWxsfSwidGZ3X3ZpZGVvX2hsc19keW5hbWljX21hbmlmZXN0c18xNTA4MiI6eyJidWNrZXQiOiJ0cnVlX2JpdHJhdGUiLCJ2ZXJzaW9uIjpudWxsfSwidGZ3X2xlZ2FjeV90aW1lbGluZV9zdW5zZXQiOnsiYnVja2V0Ijp0cnVlLCJ2ZXJzaW9uIjpudWxsfSwidGZ3X3R3ZWV0X2VkaXRfZnJvbnRlbmQiOnsiYnVja2V0Ijoib24iLCJ2ZXJzaW9uIjpudWxsfX0%3D&frame=false&hideCard=false&hideThread=false&id=1631920493413449728&lang=en&origin=https%3A%2F%2Fnews-af.feednews.com%2Fnews%2Fdetail%2F16367b010fc72bb29ebcd86ab2063c20&sessionId=cb86763572cb05f988b81042f392f51d56ddf535&theme=light&widgetsVersion=aaf4084522e3a%3A1674595607486&width=550px
This guy don buy market. https://t.co/ZKlTA3Vrjd— Obinna Ukwueze (@ObinnaUkwueze) March 4, 2023
https://platform.twitter.com/embed/Tweet.html?dnt=true&embedId=twitter-widget-22&features=eyJ0ZndfdGltZWxpbmVfbGlzdCI6eyJidWNrZXQiOltdLCJ2ZXJzaW9uIjpudWxsfSwidGZ3X2ZvbGxvd2VyX2NvdW50X3N1bnNldCI6eyJidWNrZXQiOnRydWUsInZlcnNpb24iOm51bGx9LCJ0ZndfdHdlZXRfZWRpdF9iYWNrZW5kIjp7ImJ1Y2tldCI6Im9uIiwidmVyc2lvbiI6bnVsbH0sInRmd19yZWZzcmNfc2Vzc2lvbiI6eyJidWNrZXQiOiJvbiIsInZlcnNpb24iOm51bGx9LCJ0ZndfbWl4ZWRfbWVkaWFfMTU4OTciOnsiYnVja2V0IjoidHJlYXRtZW50IiwidmVyc2lvbiI6bnVsbH0sInRmd19leHBlcmltZW50c19jb29raWVfZXhwaXJhdGlvbiI6eyJidWNrZXQiOjEyMDk2MDAsInZlcnNpb24iOm51bGx9LCJ0ZndfZHVwbGljYXRlX3NjcmliZXNfdG9fc2V0dGluZ3MiOnsiYnVja2V0Ijoib24iLCJ2ZXJzaW9uIjpudWxsfSwidGZ3X3ZpZGVvX2hsc19keW5hbWljX21hbmlmZXN0c18xNTA4MiI6eyJidWNrZXQiOiJ0cnVlX2JpdHJhdGUiLCJ2ZXJzaW9uIjpudWxsfSwidGZ3X2xlZ2FjeV90aW1lbGluZV9zdW5zZXQiOnsiYnVja2V0Ijp0cnVlLCJ2ZXJzaW9uIjpudWxsfSwidGZ3X3R3ZWV0X2VkaXRfZnJvbnRlbmQiOnsiYnVja2V0Ijoib24iLCJ2ZXJzaW9uIjpudWxsfX0%3D&frame=false&hideCard=false&hideThread=false&id=1632003105461084160&lang=en&origin=https%3A%2F%2Fnews-af.feednews.com%2Fnews%2Fdetail%2F16367b010fc72bb29ebcd86ab2063c20&sessionId=cb86763572cb05f988b81042f392f51d56ddf535&theme=light&widgetsVersion=aaf4084522e3a%3A1674595607486&width=550px
I am from Nigeria.

Congratulations to Putin and the heroic people of Russia.

We hope for the defeat of Western hegemony in #Ukraine & the ending of the evil unipolar world order. Humanity will be better without US imperialism, arrogance & terrorism.@georgegalloway @mfa_russia https://t.co/SaT6hSGtSi— Harun Elbinawi (@HarunaNAbdullah) March 4, 2023
https://platform.twitter.com/embed/Tweet.html?dnt=true&embedId=twitter-widget-23&features=eyJ0ZndfdGltZWxpbmVfbGlzdCI6eyJidWNrZXQiOltdLCJ2ZXJzaW9uIjpudWxsfSwidGZ3X2ZvbGxvd2VyX2NvdW50X3N1bnNldCI6eyJidWNrZXQiOnRydWUsInZlcnNpb24iOm51bGx9LCJ0ZndfdHdlZXRfZWRpdF9iYWNrZW5kIjp7ImJ1Y2tldCI6Im9uIiwidmVyc2lvbiI6bnVsbH0sInRmd19yZWZzcmNfc2Vzc2lvbiI6eyJidWNrZXQiOiJvbiIsInZlcnNpb24iOm51bGx9LCJ0ZndfbWl4ZWRfbWVkaWFfMTU4OTciOnsiYnVja2V0IjoidHJlYXRtZW50IiwidmVyc2lvbiI6bnVsbH0sInRmd19leHBlcmltZW50c19jb29raWVfZXhwaXJhdGlvbiI6eyJidWNrZXQiOjEyMDk2MDAsInZlcnNpb24iOm51bGx9LCJ0ZndfZHVwbGljYXRlX3NjcmliZXNfdG9fc2V0dGluZ3MiOnsiYnVja2V0Ijoib24iLCJ2ZXJzaW9uIjpudWxsfSwidGZ3X3ZpZGVvX2hsc19keW5hbWljX21hbmlmZXN0c18xNTA4MiI6eyJidWNrZXQiOiJ0cnVlX2JpdHJhdGUiLCJ2ZXJzaW9uIjpudWxsfSwidGZ3X2xlZ2FjeV90aW1lbGluZV9zdW5zZXQiOnsiYnVja2V0Ijp0cnVlLCJ2ZXJzaW9uIjpudWxsfSwidGZ3X3R3ZWV0X2VkaXRfZnJvbnRlbmQiOnsiYnVja2V0Ijoib24iLCJ2ZXJzaW9uIjpudWxsfX0%3D&frame=false&hideCard=false&hideThread=false&id=1632015396357259264&lang=en&origin=https%3A%2F%2Fnews-af.feednews.com%2Fnews%2Fdetail%2F16367b010fc72bb29ebcd86ab2063c20&sessionId=cb86763572cb05f988b81042f392f51d56ddf535&theme=light&widgetsVersion=aaf4084522e3a%3A1674595607486&width=550px
No wonder Putin wan destroy your country… Common sense you do not have .

You are congratulating someone who didn't win election legitimately.

President PUTIN kindly delete this people completely… Congratulations to Putin! https://t.co/kcGyrUUir2— Starshine Entertainment ? (@Star_Ent1) March 4, 2023
https://platform.twitter.com/embed/Tweet.html?dnt=true&embedId=twitter-widget-24&features=eyJ0ZndfdGltZWxpbmVfbGlzdCI6eyJidWNrZXQiOltdLCJ2ZXJzaW9uIjpudWxsfSwidGZ3X2ZvbGxvd2VyX2NvdW50X3N1bnNldCI6eyJidWNrZXQiOnRydWUsInZlcnNpb24iOm51bGx9LCJ0ZndfdHdlZXRfZWRpdF9iYWNrZW5kIjp7ImJ1Y2tldCI6Im9uIiwidmVyc2lvbiI6bnVsbH0sInRmd19yZWZzcmNfc2Vzc2lvbiI6eyJidWNrZXQiOiJvbiIsInZlcnNpb24iOm51bGx9LCJ0ZndfbWl4ZWRfbWVkaWFfMTU4OTciOnsiYnVja2V0IjoidHJlYXRtZW50IiwidmVyc2lvbiI6bnVsbH0sInRmd19leHBlcmltZW50c19jb29raWVfZXhwaXJhdGlvbiI6eyJidWNrZXQiOjEyMDk2MDAsInZlcnNpb24iOm51bGx9LCJ0ZndfZHVwbGljYXRlX3NjcmliZXNfdG9fc2V0dGluZ3MiOnsiYnVja2V0Ijoib24iLCJ2ZXJzaW9uIjpudWxsfSwidGZ3X3ZpZGVvX2hsc19keW5hbWljX21hbmlmZXN0c18xNTA4MiI6eyJidWNrZXQiOiJ0cnVlX2JpdHJhdGUiLCJ2ZXJzaW9uIjpudWxsfSwidGZ3X2xlZ2FjeV90aW1lbGluZV9zdW5zZXQiOnsiYnVja2V0Ijp0cnVlLCJ2ZXJzaW9uIjpudWxsfSwidGZ3X3R3ZWV0X2VkaXRfZnJvbnRlbmQiOnsiYnVja2V0Ijoib24iLCJ2ZXJzaW9uIjpudWxsfX0%3D&frame=false&hideCard=false&hideThread=false&id=1631982710586482691&lang=en&origin=https%3A%2F%2Fnews-af.feednews.com%2Fnews%2Fdetail%2F16367b010fc72bb29ebcd86ab2063c20&sessionId=cb86763572cb05f988b81042f392f51d56ddf535&theme=light&widgetsVersion=aaf4084522e3a%3A1674595607486&width=550px
I'm happy for Russia https://t.co/qigyXwhWtW— FOUNDATIONAL IGBO WOMAN #OBIDATTI (@nwunyeegombute1) March 4, 2023
https://platform.twitter.com/embed/Tweet.html?dnt=true&embedId=twitter-widget-25&features=eyJ0ZndfdGltZWxpbmVfbGlzdCI6eyJidWNrZXQiOltdLCJ2ZXJzaW9uIjpudWxsfSwidGZ3X2ZvbGxvd2VyX2NvdW50X3N1bnNldCI6eyJidWNrZXQiOnRydWUsInZlcnNpb24iOm51bGx9LCJ0ZndfdHdlZXRfZWRpdF9iYWNrZW5kIjp7ImJ1Y2tldCI6Im9uIiwidmVyc2lvbiI6bnVsbH0sInRmd19yZWZzcmNfc2Vzc2lvbiI6eyJidWNrZXQiOiJvbiIsInZlcnNpb24iOm51bGx9LCJ0ZndfbWl4ZWRfbWVkaWFfMTU4OTciOnsiYnVja2V0IjoidHJlYXRtZW50IiwidmVyc2lvbiI6bnVsbH0sInRmd19leHBlcmltZW50c19jb29raWVfZXhwaXJhdGlvbiI6eyJidWNrZXQiOjEyMDk2MDAsInZlcnNpb24iOm51bGx9LCJ0ZndfZHVwbGljYXRlX3NjcmliZXNfdG9fc2V0dGluZ3MiOnsiYnVja2V0Ijoib24iLCJ2ZXJzaW9uIjpudWxsfSwidGZ3X3ZpZGVvX2hsc19keW5hbWljX21hbmlmZXN0c18xNTA4MiI6eyJidWNrZXQiOiJ0cnVlX2JpdHJhdGUiLCJ2ZXJzaW9uIjpudWxsfSwidGZ3X2xlZ2FjeV90aW1lbGluZV9zdW5zZXQiOnsiYnVja2V0Ijp0cnVlLCJ2ZXJzaW9uIjpudWxsfSwidGZ3X3R3ZWV0X2VkaXRfZnJvbnRlbmQiOnsiYnVja2V0Ijoib24iLCJ2ZXJzaW9uIjpudWxsfX0%3D&frame=false&hideCard=false&hideThread=false&id=1631980578198237184&lang=en&origin=https%3A%2F%2Fnews-af.feednews.com%2Fnews%2Fdetail%2F16367b010fc72bb29ebcd86ab2063c20&sessionId=cb86763572cb05f988b81042f392f51d56ddf535&theme=light&widgetsVersion=aaf4084522e3a%3A1674595607486&width=550px
Very soon 50 Thousand BAT Army will be sent to Ukraine. Hope the Abado boys are ready. I STAND WITH PUTIN https://t.co/VIQjeHkj0K— Tony Chris (@TonyChr92415499) March 4, 2023