National dialogue needed for Ghana's economic prosperity -Sophia Akuffo
citinewsroom.comMar 3, 2023 9:44 AM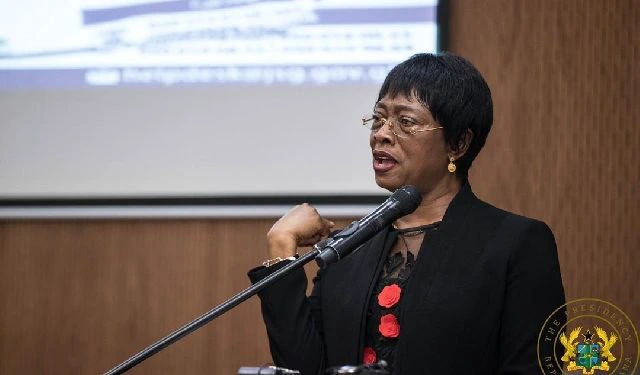 Former Chief Justice, Sophia Akuffo believes the country needs to hold a national discussion about how to move forward toward economic recovery.
Ghana's economy has recently taken a nosedive, with the government seeking $3 billion in IMF assistance while implementing a domestic debt exchange program to secure it.
Speaking at a public lecture on the country's 66th anniversary of independence, the former Chief Justice observed that Ghana's development has been uneven while urging citizens to contribute positively to the development and economic improvement.
"As a country, our development has been checkered -at times rapid, at times truncated or slowed but never entirely derailed because there has always been resilience. It could be that sometimes this resilience may be seen as apathy or cowardice or suffering quietly and hoping in the future that this too shall, and we will continue and make it better thereafter."
"So, we have been able to survive many adversities including political instability and economic crisis. Currently, there is the need to ignite national discussion and how to forge ahead to economic prosperity", she added.
Recently, Sophia Akuffo expressed disgust at the performance of all successive governments of Ghana since 1992.
In her view, both the New Patriotic Party (NPP) and the National Democratic Congress (NDC) governments have failed to move the nation forward.
about:blank
She also blamed both parties for eroding the standards and principles of the nation.
"I've been disappointed with every single government we have had under this Constitution. Because, after all that, we went through with the military and everything, and we centred the Constitution as the guiding principle, at least, constitutionalism should have been what should have been guiding us, but we have eroded so many standards, we've eroded so many principles.
"Yes, it's not only the NPP government, as far as I'm concerned, but every government has also failed us," the former Supreme Court Justice said.

Easy Play and Instant Wins At MSport Online Games.MSportSign Up
Move To Canada: Study On ScholarshipAssured StudyInstall Now
Take this every morning and reduce belly fat in a few weeksStudent Discovery
Do you have joint pain? Try using this cheap method.Joints Health
Sponsored Linkshttps://s.adx.opera.com/aframe
null
Unmute