We will not survive next economic crisis if we do not restore fiscal reforms, improve accounting standards – Terkper to government
theghanareport.comMar 2, 2023 7:35 PM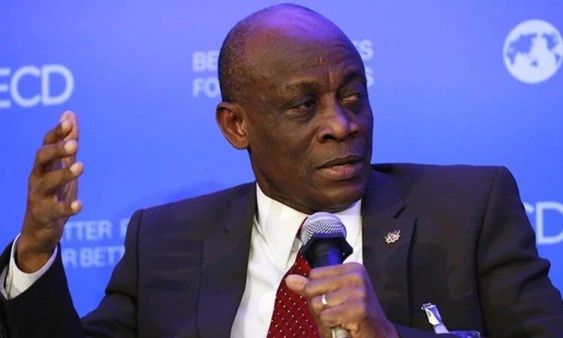 Former Finance Minister, Seth Terkper, is warning managers of the economy to restore fiscal reforms and improve accounting and fiscal standards in order to manage the next crisis that will hit the economy well.
According to him, the country cannot continue to operate in its current way, else it will not survive the next economic crisis.
Speaking to the media, Mr. Terkper, also called for the restoration of links in the fiscal framework such as deficits, fiscal balances, borrowing and financing.
"There is the need to address the following fiscal structures; restore fiscal reforms, improve on accounting and fiscal standards and restore credibility of Public Revenue Management Act and Public Financial Management Act with tightening of provisions. That is what I think need to be selected and also improve on in the country. We cannot operate in an environment where every minister will have a discretion spending as to what to include and what not to include."
https://www.google.com/afs/ads?psid=5134551505&channel=AutoRsVariant&fexp=44778204%2C21404&client=pub-1883810847636355&r=m&sc_status=6&hl=en&rpbu=http%3A%2F%2Fgoogle.com&rpqp=q&type=3&rs_tt=c&oe=UTF-8&ie=UTF-8&format=r5&nocache=6371677790741618&num=0&output=afd_ads&domain_name=cdn-af.feednews.com&v=3&bsl=10&pac=0&u_his=2&u_tz=0&dt=1677790741623&u_w=360&u_h=806&biw=360&bih=674&psw=360&psh=2346&frm=0&cl=511478063&uio=-&cont=autors-container-0&jsid=csa&jsv=511478063&rurl=https%3A%2F%2Fcdn-af.feednews.com%2Fnews%2Fdetail%2F1623fb408c54d7565a13393169b4a082%3Ffeatures%3D2114057%26country%3Dgh%26uid%3D08c1e53bf8ea5f4e83fb533f6407a12207298822%26like_count%3D0%26client%3Dmini%26language%3Den&adbw=master-1%3A318
"So we see credibility as a piece to a structural way of stabilising the economy. If we keep depleting and then using those funds, we will not be prepared for the next crisis [economic]. And we can't manage an economy without facing crises", he explained
"And then we need to restore the links in the fiscal frameworks [deficits, fiscal balances, borrowing, financing]. These are principles, they are in the IMF, the Ghana Fiscal Stabilisation Act and the public accounting standards", he added.
Independence of BoG
Mr. Terkper also called for the clarification of the role and independence of the Bank of Ghana, saying, the independence of the Central Bank must not be threatened
"We also need to clarify the rule and independence of the Bank of Ghana. I believe strongly that accountability has happened even in the mighty USA, UK where their Governors go to congress -their parliament – to be accountable. We need not to threaten the independence of the central bank.

20+ Fully Funded Scholarships In CanadaAssured StudyLearn More
Win More with Welcome Bonus!Parimatch
Expert Opinion: If you have aching joints use this.Joints Health
Horse Keeps Hugging Pregnant Woman – When Doctor Looks At Ultrasound He Discovers WhyTheWorldReads.com
Sponsored Linkshttps://s.adx.opera.com/aframe
null
Unmute