2023 Presidential Election: US Finally Reacts to Tinubu's Victory Sends Strong Message to Nigerians
legit.ngMar 2, 2023 7:57 AM
The emergence of Bola Ahmed Tinubu as Nigeria's president-elect has been acknowledged by the United States.
As reported by the Punch newspaper, the United States on Wednesday, March 1, congratulated Tinubu on his triumph at the presidential polls.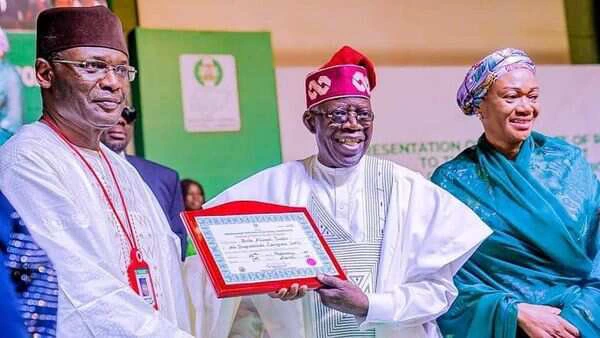 However, the United States has called for calm amongst aggrieved political parties amid allegations of technical issues encountered with the technology used during the election.
The US State department spokesperson, Ned Price, said:
"The United States congratulates the people of Nigeria, president-elect Tinubu and all the political leaders.
PAY ATTENTION: Follow us on Instagram – get the most important news directly in your favourite app!
"This competitive election represents a new period for Nigerian politics and democracy."
In his statement, Price acknowledged the agitations from different quarters contesting the validity of the election's outcome.
He urged aggrieved persons not to resort to violence but go through legal means to settle their displeasure.
He said:
"We understand that many Nigerians and some of the parties have expressed frustration about the manner in which the process was conducted," he said.
"Nigerians are clearly within their rights to have such concerns and should have high expectations for their electoral process.
"We call on all parties to refrain from violence or inflammatory rhetoric at this critical time."
Bola Tinubu was declared the winner of the 2023 presidential election after polling 8.8 million votes.
His opponent, Atiku Abubakar of the Peoples Democratic Party (PDP), polled 6.9 million while Labour Party bannerman Peter Obi polled 6.1 million votes to come in third place.
Source: Legit.ng

20+ Fully Funded Scholarships In CanadaAssured StudyLearn More
Do this before bed and watch your stomach shrinkStudent Discovery
Do you have joint pain? Try using this cheap method.Joints Health
How To Play the US Megamillion One Billion Jackpot from Your Mobile?24lottosPlay Now