Stop Jean Mensa's new C.I. now; It'll disenfranchise a lot of voters – KNUST's Prof. Brenya
myxyzonline.comMar 1, 2023 11:41 AM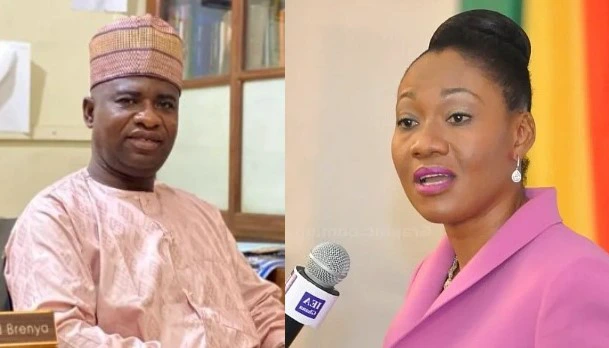 The Minority in Parliament has been urged to stop the Electoral Commission's proposed Constitutional Instrument (CI) in its entirety to prevent thousands of Ghanaians from being disenfranchised during the 2024 elections.
Prof. Edward Brenya, the Head of Political Science Department of the Kwame Nkrumah University of Science and Technology (KNUST), who made this call on Power FM said the C.I will be a disadvantage to typical rural dwellers.
The draft constitutional instrument entitled 'Public Elections (Registration of Voters) Regulations, 2021' has sparked controversy because a section of the draft seeks to make the Ghana Card the sole form of identification for eligible voters who want to get onto the national register.
In Parliament yesterday, EC Chairperson Jean Mensa justified her outfit's decision to make the Ghana Card the sole identification document for voter registration ahead of the 2024 polls.
Madam Mensa indicated that the Instrument seeks to ensure that voter registration becomes a continuous all-year-round registration of eligible voters at its district offices, adding the C.I will make registration flexible for eligible voters.
"Under the limited voters' registration process, registration was conducted at limited periods and was not done all year round. This made it such that, persons who turned 18 after the registration period could not do so after the time set for the limited registration, which usually within 2–3 weeks," she said.
https://www.google.com/afs/ads?psid=5134551505&channel=AutoRsVariant&fexp=44778204%2C21404%2C17300003&client=pub-1883810847636355&r=m&sc_status=6&hl=en&rpbu=http%3A%2F%2Fgoogle.com&rpqp=q&type=3&rs_tt=c&oe=UTF-8&ie=UTF-8&format=r5&nocache=5641677686024033&num=0&output=afd_ads&domain_name=cdn-af.feednews.com&v=3&bsl=10&pac=0&u_his=2&u_tz=0&dt=1677686024035&u_w=360&u_h=806&biw=360&bih=674&psw=360&psh=4617&frm=0&cl=511478063&uio=-&cont=autors-container-0&jsid=csa&jsv=511478063&rurl=https%3A%2F%2Fcdn-af.feednews.com%2Fnews%2Fdetail%2F8be8c4380fb8b13f70289240b5926e3c%3Ffeatures%3D2114057%26country%3Dgh%26uid%3D08c1e53bf8ea5f4e83fb533f6407a12207298822%26like_count%3D1%26client%3Dmini%26language%3Den&adbw=master-1%3A318
But Prof. Edward Brenya, who is wants to contest in the opposition NDC parliamentary primary in the Sekyere Afram Plains Constituency, vehemently kicked against the explanation of Jean Mensa and stated that would not work for rural folks who have not received their Ghana Cards.
For instance, he said a resident of Hiama Nkyene, a village surrounded by three rivers in his constituency, will spend more than 24 hours to get to the district capital, Drobonso, if one does not get help from farmers who have motorbikes to cover half of the journey.
"At Hiama Nkyene where they are surrounded by three different rivers where we had to recently mobilise to get them some canoes to help them cross the rivers to the other side, traveliling to the district capital to register with the NIA or electoral commission will be problematic," Prof. Brenya argued in Akan.
To him, the NIA still has not been able to deal with its basic challenges of printing cards at the district level and hastened that until those bottlenecks are dealt with.
"Most people in my area have no Ghana Cards. When the government started blocking the SIM cards of persons who had not registered them with the Ghana Card, I can tell you that about 30% of my people have lost their numbers. When you call them, they are unreachable and when you ask them, they say they don't have the Ghana Card." he told host Prince Minkah.
"To me, I think the primary document that shows that one is a Ghanaian is the birth certificate. The Ghana card doesn't…Let's be honest the Ghana Card system is fraudulent and if care is not taken, it will result in anger and chaos," Prof Brenya added.
Minority's Opposition
Meanwhile, The Minority in Parliament has refused to support the Electoral Commission's proposed Constitutional Instrument (CI) until the National Identification Authority (NIA) addresses issues with the acquisition of Ghana Cards (EC).
Speaking on the floor of Parliament following a presentation by the EC Boss and NIA Boss, Prof. Ken Attafuah, Minority Leader, Dr. Cassiel Ato Forson, said processes must be put in place to make the acquisition of Ghana Card flexible.
"Using the Ghana card as the only means of voter registration will negatively impact the electoral roll and deny some otherwise qualified persons from registering to vote. We cannot take assurances as the basis. Let the NIA resolve the challenges with the issuance of the Ghana card first. Until that, I am sorry, we can never be part of that."
This comes after the National Identification Authority (NIA), said it was set to print more Ghana cards as government has settled GH¢100 million debt owed creditors.
Printing of the cards was suspended following financial constraints faced by the NIA.
Appearing before Parliament on February 28, 2023, the Finance Minister, Ken Ofori-Atta disclosed that an amount of GH¢20 million has been paid to CalBank following the initial payment of GH¢80 million to ensure the NIA begins its operations to print more cards.
"I think that the main question was about the GH¢100 million to be transferred to CalBank IMS and as has been confirmed by the [Executive] Director for the NIA, we have indeed transferred the GH¢80 million and today with swift instructions the GH¢20 million has also been executed. That is the assurance we want to give that we will continue to work with the programme we have agreed with CalBank," the Finance Minister noted.
Source: Myxyzonline.com

Earn money easy from home – we help youFootmeterLearn More
Canada Scholarships For International StudentsAssured StudyLearn More
Do you have joint pain? Try using this cheap method.Joints Health
Win More with Welcome Bonus!Parimatch
Sponsored Linkshttps://s.adx.opera.com/aframe
Unmute