German Ambassador exposes Ghana's Us$5.7  billion debt secret.. China unwilling to meet Ken Ofori-Atta;Paris Club wants cuts in gov't size & other expenditures
HeraldFeb 27, 2023 9:19 AM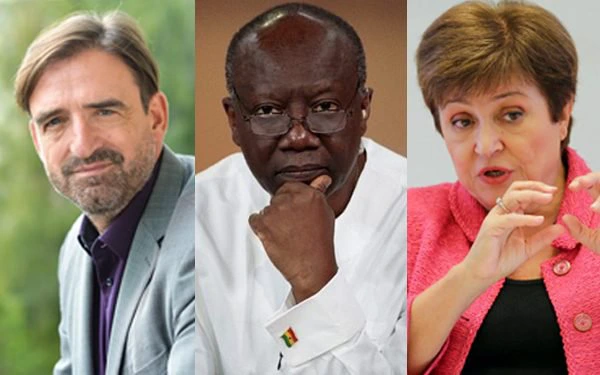 The German Ambassador to Ghana, has literally rubbished the reason Finance Minister, Ken Ofori Atta, gave for the termination of his planned trip to China, to beg the Chinese for debt cancellation.
Mr Ofori-Atta, had said that the planned high-level government delegation to China, had been postponed to late March 2023, owing to the upcoming National People's Congress of China meeting scheduled for early March, but Daniel Krull, explained that China, which is the biggest external creditor to Ghana, is refusing to participate in arrangements to deal with the West African country's external debts.
Ghana's total debt is hovering around US$5.7 billion, with China owed over US$1.7 billion, while US$1.9 billion is owed to some Paris Club members. The Akufo-Addo government is hoping the debt relief, would help the country meet conditions for an IMF bailout.
"The biggest elephant in the room is China. China is the largest creditor to Ghana and so far, it's not fully supporting the setting up of the creditor's committee where all the creditors will sit down and agree on a package for Ghana, Daniel Krull, said.
The Finance Minister, had said that bilateral talks will continue ahead of this important mission to China, but the revelation by the German Ambassador, shows that the Chinese are unwilling to play ball with the Akufo-Addo government.
The government, has been at pains seeking under the G20 Common Framework for Debt Treatment to get debt forgiveness from some bilateral and multilateral partners.
But Daniel Krull, warned of the possibility of Ghana not getting the US$3 billion International Monetary Fund (IMF) bailout it is seeking.
According to him, Ghana is currently having challenges dealing with its external debtors who are critical for the Akufo-Addo government to get the approval of the IMF board for the bailout it is seeking because of China.
"Time is of the essence; time is running out. Without this agreement with the bilateral creditors, the IMF package is in severe danger," the ambassador is quoted to have said in an interview on Foreign Affairs on the Joy News Channel.
Daniel Krull, therefore, urged every Ghanaian including Members of Parliament (MP) who have strong connections with China to try and convince the Chinese government to come onboard.
The government of Ghana is expected to start actively engaging external debtors with the view to getting debt cancellation, especially from the Paris club of creditors. The first stop of a government delegation seeking debt restructuring will be in China with the Minister of Finance leading the team expected in Beijing.
Mr Ofori-Atta, according to a media report, had told Svenja Schulze, the German Development Minister that, China has committed to a bilateral negotiation.
"The big elephant in the room is China as to how they will comport themselves in the comparability of treatment because China wants to do bilateral. We would be visiting China by the end of the week to really discuss how they can envelope as quickly as possible," he said.
Svenja Schulze on her part assured of German support in helping Ghana to get fair treatment at the Paris club. However, the German government says although it is willing to assist Ghana push through its proposal with its external creditors, especially China, some conditions must be met.
President Akufo-Addo also recently called on German Finance Minister, Christian Lindner, to "encourage" China to accept Ghana's proposal for debt relief with its largest external creditor, China.
Speaking at a press conference on Friday, February 24, 2023, the Ambassador noted that Ghana cannot be asking for external debt relief while refusing to cut its expenditure. He called on the Akufo-Addo government to consider a cut in its budget expenditure while it continues to seek debt relief from the country's creditors.
"Well, of course, it depends very much on what kind of expenditures you're looking at … I'm convinced this is true, for if I look at the budget of the German Foreign Ministry of the German government, I'm convinced there are important tasks that can be cut without hurting the economic development.
"And I'm convinced without going into details this also is true for Ghana. There are certain expenditures that can be lowered substantially and make an important impact and it has to be part of the package.
"I mean, I cannot go out to the international community and say I need help, but I'm not willing to cut my own budget expenditures. I have to be careful not to cut the social expenditures that are destroying lives and families. I have to be very careful not to take measures that might negatively impact economic growth.
"But I'm convinced there are many expenditures that could be looked at very carefully and can be lowered substantially," he said.
Comparing Ghana's situation to some countries including Germany, Mr Krull further called for a reduction in the size of Ghana's government.
about:blank
"I only can compare and with other countries like my own and I can just come to the conclusion that the number is much higher than in my country. So that might bring me to the conclusion that maybe there's room for improvement," he said.
He added that "Ghana has a very dense layer of institutions and responsibilities all over the country."
In the yet-to-be-aired interview on Foreign Affairs on the Joy News Channel, Mr. Krull told host, Blessed Sogah, that his country is willing to help only if certain conditions are met.
"First of all, we insist that those measures that can be taken here in this country have to be taken. The second condition is that, yes, we are willing to take our share of responsibility as one of the major bilateral donors to Ghana.
"But only if all the others also join in this effort. And there is a multilateral framework that was set up exactly for these kinds of crises and we urge and try to convince all stakeholders in this process to stick to this agreed framework. It's the G 20 framework," he said.
When asked to lay out the terms of the domestic conditions to be met by Ghana, Daniel Krull indicated that "Let me point to three elements. The biggest loss maker in Ghana is the energy sector.
In this sector alone, each year, $1.5 billion in new debt is piled up. So if that is not solved and you can ask the IMF for $10 Billion, you still will not solve the problem in the medium term.
"So there has to be an answer in Ghana to the 50% technical and non-technical losses in the energy sector. If that is not resolved, I don't see how we can make finding a sustainable solution for the financial problems of the country".
He added "the second part is on the other side of the budget and that is the revenues. Ghana has the lowest, one of the lowest tax to GDP ratios, not even 13%. So we have been cooperating with the local authorities and setting up a very smart system of property tax collection.
"So I think that is an important way forward and this has to be done and processes and decision making has to be faster to meet the goals, to be able to meet the targets that have been agreed with the IMF".
The Ambassador also noted that he's "still amazed on the procedures for how the budget is set up and how difficult it is to get an understanding of how this all works.
"And I think that is something that has to be improved. He is, however, confident that with the necessary political will, new opportunities will be created to enhance economic growth."
Managing Director of the IMF, Kristalina Georgieva, confirmed in January 2023 that Ghana became the fourth country to seek treatment under the Common Framework. This sent a signal that it was on the pathway for debt resolution.

Earn money easy from home – we help youFootmeterLearn More
Canada Scholarships For International StudentsAssured StudyLearn More
Do you have joint pain? Try using this cheap method.Joints Health
Win More with Welcome Bonus!Parimatch
Sponsored Linkshttps://s.adx.opera.com/aframe
null
Unmute