Afia Schwarzenegger And A Plus Mock Nigerians With An Embarrassing Photo Of Bola Tinubu
ghanafeed.comMar 1, 2023 1:30 PM
On March 1st, 2023, Bola Tinubu won Nigeria's presidential election by defeating his closest rival, Peter Obi, and other contestants.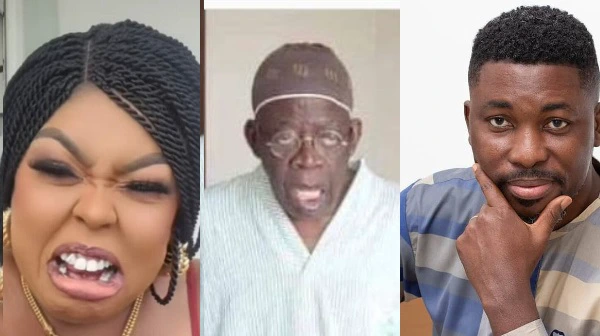 While many Nigerians celebrated Tinubu's victory, some were not pleased with the outcome.
Ghanaian socialite, Afia Schwarzenegger, and political analyst, Kwame A Plus, both posted on Instagram, expressing their views on the election results.
Afia Schwarzenegger's post, which featured a photo of the 70-year-old looking dejected and confused while wearing a Jalabia and a hat, suggested that Nigerians had made the wrong choice.
She wrote, "Okay ooo…Since this is what you want…Congratulations Nigerians…Africa is proud of you all."
Meanwhile, A Plus appeared to question the decision of Nigerians, writing, "Wei????‍♂️????‍♂️ Aaawell… Congratulations Sir," after asking if Tinubu was really the man Nigerians had voted for.
The posts by Afia and A Plus generated a lot of reactions from netizens, with some Nigerians accusing the pair of being ignorant of Nigerian politics and not understanding the election's significance.
https://www.google.com/afs/ads?psid=5134551505&channel=AutoRsVariant&fexp=44778204%2C21404%2C17300003&client=pub-1883810847636355&r=m&sc_status=6&hl=en&rpbu=http%3A%2F%2Fgoogle.com&rpqp=q&type=3&rs_tt=c&oe=UTF-8&ie=UTF-8&format=r5&nocache=5641677685203991&num=0&output=afd_ads&domain_name=cdn-af.feednews.com&v=3&bsl=10&pac=0&u_his=2&u_tz=0&dt=1677685203998&u_w=360&u_h=806&biw=360&bih=674&psw=360&psh=4214&frm=0&cl=511478063&uio=-&cont=autors-container-0&jsid=csa&jsv=511478063&rurl=https%3A%2F%2Fcdn-af.feednews.com%2Fnews%2Fdetail%2Fdbb6187fb4da1fa2744077eaee4830db%3Ffeatures%3D2114057%26country%3Dgh%26uid%3D08c1e53bf8ea5f4e83fb533f6407a12207298822%26like_count%3D3%26client%3Dmini%26language%3Den&adbw=master-1%3A318
This is not the first time Afia Schwarzenegger and Kwame A Plus have sparked controversy on social media. Their posts highlight the deep divisions in Nigerian politics and the polarizing nature of social media.
The election results underscore the contrasting views of Nigerians on Tinubu's leadership capabilities.
While some see him as a capable leader who can take Nigeria to the next level, others view him as a representative of the old political order that has failed to address the country's many problems.
https://www.instagram.com/p/CpPW858jJJO/embed/captioned/?cr=1&v=14&wp=652&rd=https%3A%2F%2Fcdn-af.feednews.com&rp=%2Fnews%2Fdetail%2Fdbb6187fb4da1fa2744077eaee4830db%3Ffeatures%3D2114057%26country%3Dgh%26uid%3D08c1e53bf8ea5f4e83fb533f6407a12207298822%26like_count%3D3%26client%3Dmini%26language%3Den#%7B%22ci%22%3A0%2C%22os%22%3A3685.199999999255%7D
https://www.instagram.com/p/CpPe7xUMr_F/embed/captioned/?cr=1&v=14&wp=652&rd=https%3A%2F%2Fcdn-af.feednews.com&rp=%2Fnews%2Fdetail%2Fdbb6187fb4da1fa2744077eaee4830db%3Ffeatures%3D2114057%26country%3Dgh%26uid%3D08c1e53bf8ea5f4e83fb533f6407a12207298822%26like_count%3D3%26client%3Dmini%26language%3Den#%7B%22ci%22%3A1%2C%22os%22%3A3699.199999999255%7D

Earn money easy from home – we help youFootmeterLearn More
Canada Scholarships For International StudentsAssured StudyLearn More
Do you have joint pain? Try using this cheap method.Joints Health
Win More with Welcome Bonus!Parimatch
Sponsored Linkshttps://s.adx.opera.com/aframe
null
Unmute