Pay us our matured bonds – Coalition of bondholders
citinewsroom.com
Feb 27, 2023 11:31 AM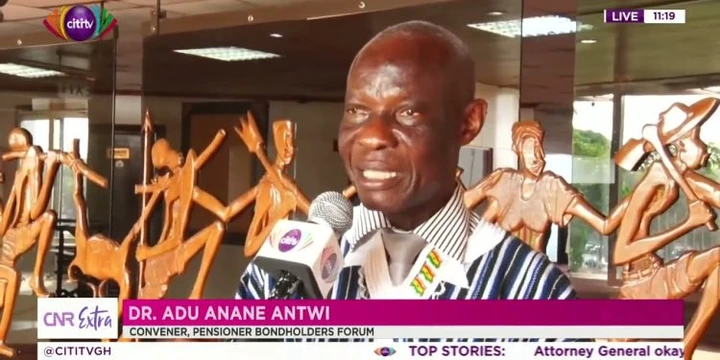 A coalition of Individual bondholders groups made up of the pensioner Bondholders Forum, the Individual Bondholders Association of Ghana and the Individual Bondholders Forum has called on the Finance Ministry to demand the payment of matured bonds that were not tendered under the domestic debt exchange programme (DDEP).
The government has failed to honour coupon and principal payments that matured on the 6th and 20th of February, although the Finance Minister promised to pay on February 21 after the settlement period of the DDEP.
A member of the coalition, Dr Adu Anane Antwi speaking to Citi News said the government has had enough time to compile the list of those who didn't tender in their bonds for the debt exchange for them to be paid.
He added that the Finance Minister, Ken Ofori-Atta has failed to communicate why their matured bonds have still not been paid despite his assurances.
https://www.google.com/afs/ads?psid=5134551505&channel=AutoRsVariant&fexp=44778204%2C21404%2C17300003&client=pub-1883810847636355&r=m&sc_status=6&hl=en&rpbu=http%3A%2F%2Fgoogle.com&rpqp=q&type=3&rs_tt=c&oe=UTF-8&ie=UTF-8&format=r5&nocache=301677504740819&num=0&output=afd_ads&domain_name=cdn-af.feednews.com&v=3&bsl=10&pac=0&u_his=2&u_tz=0&dt=1677504740825&u_w=360&u_h=806&biw=360&bih=674&psw=360&psh=2226&frm=0&cl=507651520&uio=-&cont=autors-container-0&jsid=csa&jsv=507651520&rurl=https%3A%2F%2Fcdn-af.feednews.com%2Fnews%2Fdetail%2F8896f326fb05591a32f27594f5f49ba0%3Ffeatures%3D2114057%26country%3Dgh%26uid%3D08c1e53bf8ea5f4e83fb533f6407a12207298822%26like_count%3D0%26client%3Dmini%26language%3Den&adbw=master-1%3A318
"The only thing that the government has to do now is to pay. You recall the minister promised that the government was going to pay on the 21st…now we have about six days gone and we are now on the 27th and so we have to come and we haven't heard a word from the Minister as to why those payments haven't been made," Dr Adu Anane told Citi News' Charles Kumi.

Learn to trade like a pro (Free ebook)Deriv.comDownload
Win More with Welcome Bonus!Parimatch
Belly fat will disappear if you drink this every dayStudent Discovery
This cheap recipe relieves joint pain.Joints Health