Govt's expenditure has gone up by GHS82bn – Minority Leader
3News
Feb 21, 2023 4:43 PM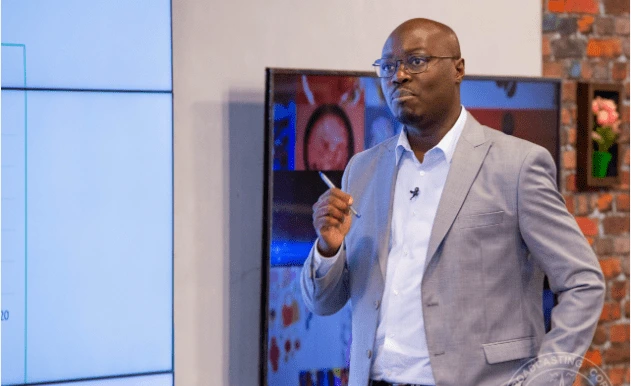 The Minority Leader Dr Cassiel Ato Forson has said that the government's expenditure has gone up by GHS82 billion.
In his view, this calls for a reduction in government spending.
He said this when he asked Deputy Minister nominee for Trade and Industry Dr Stephen Amoah during his vetting on Tuesday, February 21 whether he accept to sacrifice his salary in view of the rising government expenditure.
"Can you agree with me that the government, even though they are increasing taxes or increasing revenue through the introduction of taxes, needs to cut down on expenditure since expenditure has gone up by 82 billion Cedis? Dr Forson who is also lawmaker for Ajumako Enyan Essiam asked.
https://platform.twitter.com/embed/Tweet.html?dnt=true&embedId=twitter-widget-0&features=eyJ0ZndfdGltZWxpbmVfbGlzdCI6eyJidWNrZXQiOltdLCJ2ZXJzaW9uIjpudWxsfSwidGZ3X2ZvbGxvd2VyX2NvdW50X3N1bnNldCI6eyJidWNrZXQiOnRydWUsInZlcnNpb24iOm51bGx9LCJ0ZndfdHdlZXRfZWRpdF9iYWNrZW5kIjp7ImJ1Y2tldCI6Im9uIiwidmVyc2lvbiI6bnVsbH0sInRmd19yZWZzcmNfc2Vzc2lvbiI6eyJidWNrZXQiOiJvbiIsInZlcnNpb24iOm51bGx9LCJ0Zndfc2hvd19idXNpbmVzc192ZXJpZmllZF9iYWRnZSI6eyJidWNrZXQiOiJvbiIsInZlcnNpb24iOm51bGx9LCJ0ZndfbWl4ZWRfbWVkaWFfMTU4OTciOnsiYnVja2V0IjoidHJlYXRtZW50IiwidmVyc2lvbiI6bnVsbH0sInRmd19leHBlcmltZW50c19jb29raWVfZXhwaXJhdGlvbiI6eyJidWNrZXQiOjEyMDk2MDAsInZlcnNpb24iOm51bGx9LCJ0ZndfZHVwbGljYXRlX3NjcmliZXNfdG9fc2V0dGluZ3MiOnsiYnVja2V0Ijoib24iLCJ2ZXJzaW9uIjpudWxsfSwidGZ3X3ZpZGVvX2hsc19keW5hbWljX21hbmlmZXN0c18xNTA4MiI6eyJidWNrZXQiOiJ0cnVlX2JpdHJhdGUiLCJ2ZXJzaW9uIjpudWxsfSwidGZ3X3Nob3dfYmx1ZV92ZXJpZmllZF9iYWRnZSI6eyJidWNrZXQiOiJvbiIsInZlcnNpb24iOm51bGx9LCJ0ZndfbGVnYWN5X3RpbWVsaW5lX3N1bnNldCI6eyJidWNrZXQiOnRydWUsInZlcnNpb24iOm51bGx9LCJ0Zndfc2hvd19nb3ZfdmVyaWZpZWRfYmFkZ2UiOnsiYnVja2V0Ijoib24iLCJ2ZXJzaW9uIjpudWxsfSwidGZ3X3Nob3dfYnVzaW5lc3NfYWZmaWxpYXRlX2JhZGdlIjp7ImJ1Y2tldCI6Im9uIiwidmVyc2lvbiI6bnVsbH0sInRmd190d2VldF9lZGl0X2Zyb250ZW5kIjp7ImJ1Y2tldCI6Im9uIiwidmVyc2lvbiI6bnVsbH19&frame=false&hideCard=false&hideThread=false&id=1628060401270136832&lang=en&origin=https%3A%2F%2Fnews-af.feednews.com%2Fnews%2Fdetail%2F08b3fd2d0e9346d47a38ba3e80cd695e&sessionId=c6132b7d1e6fd0dc7f3fa9e1e518b930432cb021&theme=light&widgetsVersion=aaf4084522e3a%3A1674595607486&width=500px
Deputy Trade Minister-designate, Dr. Stephen Amoah responds to whether he will refuse his appointment to be minister as a contribution to reduce govt expenditure#3NewsGH pic.twitter.com/T4mHe48hPf

— #TV3GH (@tv3_ghana) February 21, 2023
Dr Stepoehn Amoah answered that he agrees with the suggestion by the Minority Leader.
"I agree with you Sir," he said.
Dr Forson asked again "Will you sacrifice your salary to reduce that expenditure?
The Nhyiaeso lawmaker responded again saying "Mr Chairman, I think I said something here, my knowledgeable Dr Ato Forson and I, the only difference is the hieight so the way we are brothers if he sees me on the corridor and he says brother let us cut [our salaries] and he cuts his, I will cut mine."
The Minority earlier accused the Akufo-Addo government of six years of economic mismanagement.
The opposition lawmakers say this has rendered life unbearable, almost impossible, for millions of Ghanaians who struggle daily to make ends meet. Many people struggle to afford even one meal a day.
Addressing a press conference in Parliament on Monday, February 20 to register their disapproval of the new ministers-designate, the Minority Leader Dr Cassiel Ato Forson said "The situation in respect of feeding in Senior High Schools across the country is even more disturbing.
"We are burdened with unsustainable debt. Currently, standing at over GHS 600 billion representing about 103% of our GDP, this is the highest level of indebtedness in
the 4th Republic. Inflation is galloping at hyper levels, and we are confronted with daily price increases beyond the reach of the majority of our people.
"Interest rates have sky-rocketed, and our currency has been in a free-fall counting among the worst performing in the world.
about:blank
"Since the beginning of this year alone it has fallen by about 20%. The Akufo-Addo/Bawumia government has amid this economic disaster essentially withheld interest and principal payments to millions of bondholders under a crude Debt Restructuring Programme. Pensioners who depend on the little they get from bond proceeds have been compelled in an unprecedented move, to stage public protest against the callous attempt to shortchange them after decades of devoted service to our country."
Dr Ato Forson further indicated that 17 banks and over 80% of insurance companies may be on the verge of collapse because of "an ill-conceived Debt Restructuring Programme.
"Let us be very clear that all this suffering and pain is because of the gross economic mismanagement by President AkufoAddo, Alhaji Bawumia and Ken Ofori-Atta in whose hands we entrusted the public purse In the midst of our economic crisis of such magnitude,
conventional wisdom teaches us that a responsible government must take basic steps and cut its coat according to its size, so its behavior must reflect the terrible times."
Regrettably, he added, "the Akufo-Addo/Bawumia government has carried on as usual, as though there is nothing at stake and continues to add onto the plight of the people with reckless abandon.
"At a time when they are unable to meet basic obligations such as interest and debt repayment owed to creditors including pensioners, they continue to do the very same things that brought us to this disastrous juncture. In Unison, Ghanaians have called for a reduction in the size of government, which is a major guzzler of public funds."

Study In Canada For FreeAssured StudyLearn More
Do this before bed and watch your stomach shrinkStudent Discovery
Do you have joint pain? Try using this cheap method.Joints Health
How To Play the USA Mega Millions From Your Mobile?24lottosPlay Now