Menu ›
Ghana's gold does not belong to us – Egyapa Mercer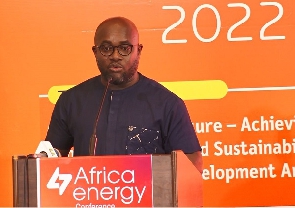 Andrew Egyapa Mercer is deputy energy minister
Fri, 17 Feb 2023Source: www.ghanaweb.com
The Deputy Minister for Energy, Andrew Egyapa Mercer, has explained that Ghana has gone under several agreements that have given ownership of its natural resources to foreign companies; therefore, the country only takes royalties from these resources.
His comments are a response to claims that the gold-for-oil policy is a ploy by the government to exploit the country's natural resources.

According to him, all Ghana has left is the royalties and taxes it collects from these mining companies.

Speaking on JoyNews on February 16, 2023, he said "When I hear people say, 'our gold, our gold', I ask what gold really are they talking about. We, all of a sudden, have forgotten that we signed agreements that have given concessions of all the natural resources, especially in the gold mining space to foreigners and some Ghanaian mining companies to explore the minerals and pay us royalties and if they make a profit pay corporate taxes."

He added "That's what belongs to us, but it was useful and prudent for us to have some reserves and so, the Bank of Ghana started the policy of buying gold. Then the thinking came about how we can ensure the commodity is available for the Ghanaian consumer at the pump in a way that does not adversely affect and also Bank of Ghana's ability to source fuel."

He stated that this was what led to the birth of the gold-for-oil policy.

The deputy minister also rebutted claims that the policy needs to go through parliamentary approval.
"On even the import side, BOST, before the commencement of this programme [Gold for Oil], if you like, imports petroleum products as part of their operations, do they take it to parliament for approval?" he asked.

Watch the latest edition of BizTech and Biz Headlines below:

https://cdn.jwplayer.com/players/HzRLS5cY-2sdeRpL8.html

https://www.youtube.com/embed/aIvGR-9kCSs

https://cdn.jwplayer.com/players/1airUb7N-2sdeRpL8.html

SSD/FNOQ
Source: www.ghanaweb.com
DDEP is not enough, Ghanaians want us to cut down on the V8s, ex-gratia and more – NPP MP
Sophia Akuffo explains 'my mouth has been ungagged' comment
Refurbished presidential jet returns, equipped for long haul flights – Report
DDEP: Be careful – Nyaho-Tamakloe, Nunoo-Mensah 'fire' Ofori-Atta
SP petitioned to investigate continued stay in office of 'retiree' GRA boss
3 cargo drivers transporting tomatoes, pepper shot at Bawku
Kofi Amoabeng reveals 'who' collapsed UT Bank, clears Ofori-Atta of blame
Kofi Amoabeng reveals 'who' collapsed UT Bank, clears Ofori-Atta of blame
Kofi Amoabeng reveals 'who' collapsed UT Bank, clears Ofori-Atta of blame
Related Articles:
Explore GhanaWeb
NewsSportsBusinessEntertainmentGhanaWeb TVAfricaCountryWall
Copyright © 1994 – 2023 GhanaWeb. All rights reserved.