Atsu's Body Arrives In Ghana
theghanareport.com
Feb 19, 2023 8:25 AM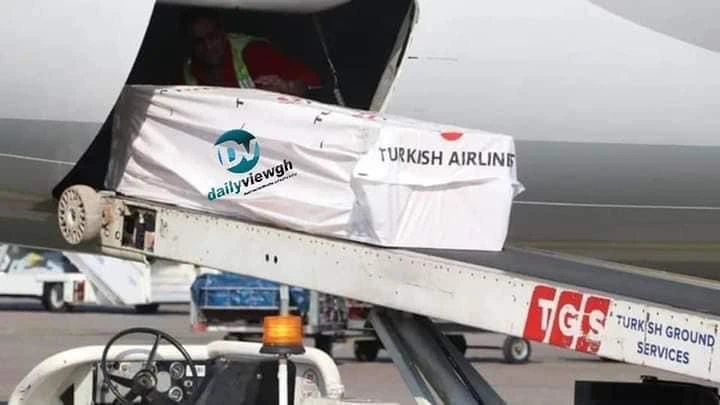 Reports say, the mortal remains of skillful footballer, Christian Atsu has arrived in Ghana, aboard a Turkish flight.
His death has become a widely-discussed topic in the wake of the dramatic tragic circumstances.
The Ghanaian international footballer had scored a goal for his Turkish club, only to meet his untimely death at home hours later.
He was killed in the devastating earthquake that struck Turkiye two weeks ago. Spéculations were rife as to what his fate was when he went missing. The waiting period came to an end Saturday 18, 2023, when his lifeless body was discovered within the heap of collapsed buildings.
Reports say, the search for the footballer was not easy, it amounted to looking for a needle in the haystack as casualties were trapped under a huge pile of rubble in the extensive disaster zone. He was reached through painstaking efforts amidst mounting anxiety.
At least, five other Ghanaian Footballers died whilst plying their trade outside Ghana. Christian Atsu is about the sixth on that list.
https://www.google.com/afs/ads?psid=5134551505&channel=AutoRsVariant&fexp=44778204%2C21404%2C17300002&client=pub-1883810847636355&r=m&sc_status=6&hl=en&rpbu=http%3A%2F%2Fgoogle.com&rpqp=q&type=3&rs_tt=c&oe=UTF-8&ie=UTF-8&format=r5&nocache=5721676802643821&num=0&output=afd_ads&domain_name=cdn-af.feednews.com&v=3&bsl=10&pac=2&u_his=4&u_tz=0&dt=1676802643828&u_w=360&u_h=806&biw=360&bih=674&psw=360&psh=2428&frm=0&cl=507651520&uio=-&cont=autors-container-0&jsid=csa&jsv=507651520&rurl=https%3A%2F%2Fcdn-af.feednews.com%2Fnews%2Fdetail%2F9da629f7612314bd4f9c7c6cc10ebe48%3Ffeatures%3D2114057%26country%3Dgh%26uid%3D08c1e53bf8ea5f4e83fb533f6407a12207298822%26like_count%3D0%26client%3Dmini%26language%3Den&adbw=master-1%3A318
Goalkeeper Ibrahim Dossey died in a fatal road accident in Romania, Junior Manuel Agogo in England upon suffering a stroke, defender Christian Atta Gyan from a terminal ailment whilst in Holland, Stephen Owusu died in Kenya, and George Gormashie died from an unknown illness during a professional stint in Belgium.

Arthrosis, arthritis, osteochondrosis? You must read thisChief Rheumatologist of Ghana
Study In Canada For FreeAssured StudyLearn More
This cheap recipe relieves joint pain.Joints Health
Do this before bed and watch your stomach shrinkStudent Discovery
Sponsored Linkshttps://s.adx.opera.com/aframe
null
https://googleads.g.doubleclick.net/pagead/html/r20230215/r20110914/zrt_lookup.html?fsb=1#RS-1-&adk=1812271802&client=ca-pub-1883810847636355&fa=2&ifi=5&uci=a!5&btvi=2&xpc=1ltGrnowq1&p=https%3A//cdn-af.feednews.com
Unmute