Menu ›
DDEP: Where is NPP's property-owning mantra? – Isaac Adongo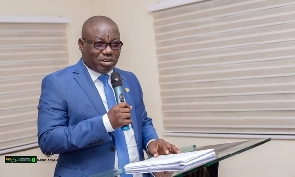 Isaac Adongo, MP Bolgatanga Central
Sat, 18 Feb 2023Source: classfmonline.com
The Ranking Member of the Finance Select Committee has questioned the whereabouts of the governing New Patriotic Party's (NPP) mantra of 'property-owning democracy' in the wake of the Domestic Debt Exchange Programme (DDEP).
Mr Isaac Adongo is of the view that the mantra of the governing party is missing due to Finance Minister Ken Ofori-Atta's decision to implement the DDEP.

According to Mr Adongo, the NPP prides itself in owning properties yet wants to take away people's bonds at all costs.

"You say you believe in people owning properties and the property of people including pensioners in the name of government bonds you want to take it voluntarily by force," he mocked.

The Bolgatanga Central Member of Parliament (MP) on the ticket of the main opposition National Democratic Congress (NDC) raised questions about the NPP's property-owning mantra while speaking in an interview on The Citizen Show hosted by Kwabena Bobie Ansah on Accra 100.5 FM on Thursday, February 16, 2023.

"It beats my imagination the party's mantra did not come to play in the implementation of the [DDE] programme.

"Is it a case [that] the party has thrown away its property-owning mantra in the wake of the programme?" he wondered.
He commended the leadership of the Pensioner Bondholders, and the Individual Bondholders for being resolute in their demands to be exempted from the exercise.

He singled out Mr Martin Kpebu, Dr Adu Anane Antwi, Senyo Horsi, Bright Simmons and Franklin Cudjoe for their efforts in the fight against the DDEP.

Watch the latest edition of BizTech and Biz Headlines below:

https://cdn.jwplayer.com/players/HzRLS5cY-2sdeRpL8.html

https://www.youtube.com/embed/aIvGR-9kCSs

https://cdn.jwplayer.com/players/1airUb7N-2sdeRpL8.html
Source: classfmonline.com
DDEP is not enough, Ghanaians want us to cut down on the V8s, ex-gratia and more – NPP MP
Sophia Akuffo explains 'my mouth has been ungagged' comment
Refurbished presidential jet returns, equipped for long haul flights – Report
DDEP: Be careful – Nyaho-Tamakloe, Nunoo-Mensah 'fire' Ofori-Atta
SP petitioned to investigate continued stay in office of 'retiree' GRA boss
3 cargo drivers transporting tomatoes, pepper shot at Bawku
Kofi Amoabeng reveals 'who' collapsed UT Bank, clears Ofori-Atta of blame
Kofi Amoabeng reveals 'who' collapsed UT Bank, clears Ofori-Atta of blame
Kofi Amoabeng reveals 'who' collapsed UT Bank, clears Ofori-Atta of blame
Related Articles:
Explore GhanaWeb
NewsSportsBusinessEntertainmentGhanaWeb TVAfricaCountryWall
Copyright © 1994 – 2023 GhanaWeb. All rights reserved.