Hot Video: Christian Atsu Trapped Underground – Insights
hotfmghana.com
Feb 17, 2023 1:54 AM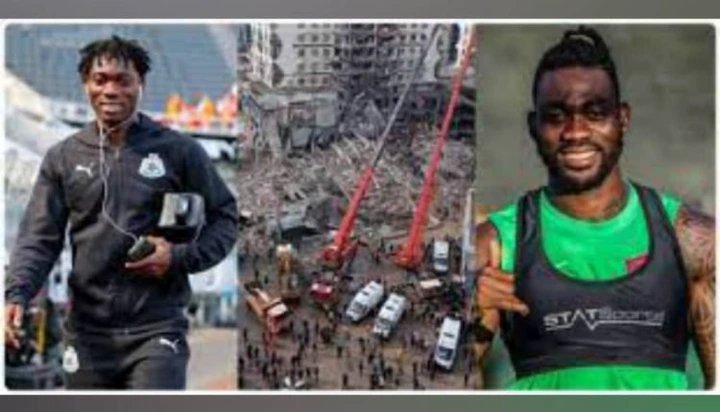 The Founder and Leader of the Calvary Cross Christ International Church, Reverend Prophetess Faith Ami Amewonu, has made a revelation on the whereabouts of Ghanaian-born footballer Christian Atsu.
According to the prophetess, she has been praying to God for answers on the whereabouts of the footballer, translating her revelations Biblically, the Reverend quoted Jeremiah 33:3.
Jeremiah 33:3:'Call to me and I will answer you and tell you great and unsearchable things you do not know.
Rev Faith proclaimed that God has answered her prayer, hence, Atsu's spirit appeared to her, showing her where he(Atsu) was hidden.
Again, Prophetess Amewonu alleged that Turkish Süper Lig club Hatayspor Management knew the whereabouts of the lost Ghanaian player, but, they allegedly declined to help him.
Furthermore, she stated that the reasons for Atsu's negligence by his club management were based on finances as the Turkish club feared the amount involved in risking the player alive.
It will be recalled that on Tuesday, in Atsu's agent Nana Sechere's statement released on his social media handles, he stated that It is unfortunate that the club is not on the ground with them, side by side, in the search for Christian.
"Things are moving incredibly slow and as a result of that many rescues are being delayed, and lives are being lost due to the lack of resources available to the workers. It is unfortunate that the club is not on the ground with us, side by side, in the search for Christian''…..@iamnana7 account stated on Twitter.
In an interview with St Jude, the host for the Hot Focal Sports aired on traditional radio HOT 93.9 FM in Accra, the prophetess also brings to light that Atsu had been injected and that rendered him moveless to catch the attention of rescuers in Turkey.
Rev Faith Ami Amewonu has declared that Atsu was hidden underground in a building and accused the Turkish club that knew whereabout the Ghanaian born but did no
The woman of God again described the door in which Atsu was locked up.
Furthermore, Rev Faith Ami Amewonu has testified that she also knows the particular place Atsu was hidden and was ready to help the rescue team discover the Ghanaian player.
She also urged the government to take urge in this matter as Atsu is not dead, his spirits want him opened.
"If it is not God's will for Atsu to die, the truth would be revealed", the prophetess concluded.
Kindly watch the video in the Twi language below during the interview on Hot 93.9 FM.