Bright Simons: The magic math of Ghana's debt games
ghanasummary.com
Feb 16, 2023 11:20 PM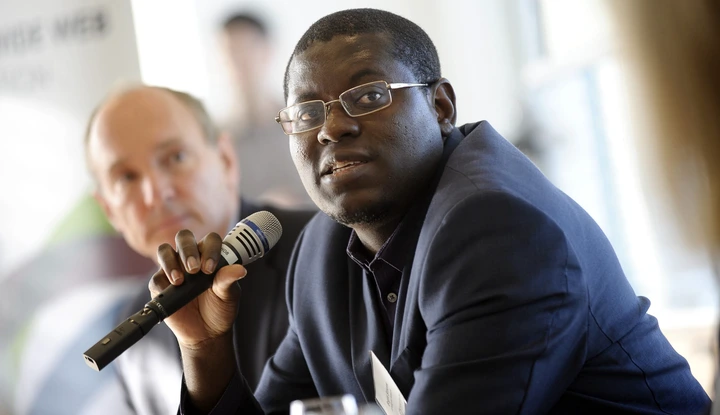 Regular readers of this page were puzzled when after weeks of projections by analysts of a final participation rate of between 60% and 65% in Ghana's domestic debt restructuring exercise (DDE), the government triumphantly announced a "more than 80%" figure this afternoon.
We shared our understanding on Twitter: the government was determined to announce a high participation rate and would thus adjust any necessary definitions to suit the objective, principally by altering the participation rate equation. But why is the participation rate even important in the first place?
The only reason why a government, or indeed any debtor, would seek to restructure their debt is because times are so hard for them that they cannot pay according to the original terms. A need therefore arises to reduce the amount they are obliged to pay from time to time, whether in interest, principal, or both.
Thus, for a debt restructuring exercise, two things matter above all else: the average haircut amount and the participation rate. The participation rate, crudely speaking, is the ratio of A) the face value of the restructured debt (so, in this case, the new bonds) to B) the face value of the original, unpaid, debt (or outstanding principal).
The participation rate together with the haircut amount thus determines the overall debt relief, the amount of money saved by the debtor, in this case the government, as a result of not having to service its debt according to the original, more burdensome, terms going forward.
When setting out to restructure debt, a debtor is always conscious of the entirety of debt that can be restructured. This is what is referred to as eligible debt. Think of, say, an individual seeking to sort out their personal debt after losing their job.
In such a situation, the mortgage and wedding loan constitute the eligible debt for that individual's restructuring effort.
When Ghana announced its debt restructuring exercise on 5th December 2022, it pegged the eligible debt being treated in the announced DDE program at roughly 137 billion GHS ($11 billion).
When things started to get rough and the government was forced to amend the offer to entice more creditors, it amended the eligible debt to roughly 130 billion GHS ($10.4 billion).
After a series of extensions, belated concessions, and veiled threats failed to break the front of holdouts smarting from the bizarre and incomprehensible failure of the government to engage creditors well ahead of the formal launch of the restructuring exercise, panic began to set in.
Finance Ministry Mandarins hunkered down with the expensive suits from Lazard Frères, the government's high end consultants in this exercise.
Ghostly smiles etched on lip corners as its simplicity and sheer elegance became clear.
The plan was that the government will choose whatever eligible debt number it wants when it wants to present the results of the DDE and do so in anyway it wants.
https://www.google.com/afs/ads?psid=5134551505&channel=AutoRsVariant&fexp=44778204%2C21404&client=pub-1883810847636355&r=m&sc_status=6&hl=en&rpbu=http%3A%2F%2Fgoogle.com&rpqp=q&type=3&rs_tt=c&oe=UTF-8&ie=UTF-8&format=r5&nocache=1181676606558483&num=0&output=afd_ads&domain_name=cdn-af.feednews.com&v=3&bsl=10&pac=0&u_his=2&u_tz=0&dt=1676606558488&u_w=360&u_h=806&biw=360&bih=674&psw=360&psh=5616&frm=0&cl=507651520&uio=-&cont=autors-container-0&jsid=csa&jsv=507651520&rurl=https%3A%2F%2Fcdn-af.feednews.com%2Fnews%2Fdetail%2F7f3b59627f9cd7be1c9283c16f4d2208%3Ffeatures%3D2114057%26country%3Dgh%26uid%3D08c1e53bf8ea5f4e83fb533f6407a12207298822%26like_count%3D0%26client%3Dmini%26language%3Den&adbw=master-1%3A318
No one leapt up to do a boogie-woogie, but the waltzing tunes from the adjoining antechamber became very audible very suddenly, stirring up some graceful head-bobbing.
Analysts who have been tracking every step of the DDE meanwhile kept issuing frantic updates to their audiences about the inevitability of a low participation rate, and thus a likely lackluster debt relief outturn.
One terse justification of the lastminute reduction in eligible debt is a claim that some investors have converted their bonds into treasury bills.
According to this theory, such derivatives are intertwined with a chunk of bonds such that any attempt to extend the maturity of those bonds would trigger serial defaults.
Whatever be the actual facts of the matter, and trust that they will be unveiled in due course, regular readers can rest assured that the debt relief analysis still holds in its entirety.
First, using a more expansive bracket of government marketable securities (such as what was indicated in the debt exchange memoranda) as the denominator, one obtains a participation rate of between:
83 billion GHS (new bonds)/137 billion GHS (original eligible debt) = 60%
or
83 billion GHS (new bonds)/130 billion GHS (in-program amended eligible debt) = 63%.
So, analysts' projections of a rate between 60% and 65% is far more robust than the government's preferred 85%.
Does it matter?
Well, review the government's own conduct following the last deadline of the exercise.

20+ Fully Funded Scholarships In CanadaAssured StudyLearn More
Expert Opinion: If you have aching joints use this.Joints Health
Villas Prices In Dubai Might Be More Affordable Than You Think.Villa's in Dubai | Search
Work a Job from Home Might Pay Better Than You ThinkWork from home | Search
Sponsored Linkshttps://s.adx.opera.com/aframe
null
https://googleads.g.doubleclick.net/pagead/html/r20230213/r20110914/zrt_lookup.html?fsb=1#RS-1-&adk=1812271802&client=ca-pub-1883810847636355&fa=2&ifi=7&uci=a!7&btvi=4&xpc=lLYSGJS5Z3&p=https%3A//cdn-af.feednews.com