Search for Christian Atsu continues after devastating earthquake
sundayworld.co.za
Feb 16, 2023 7:57 AM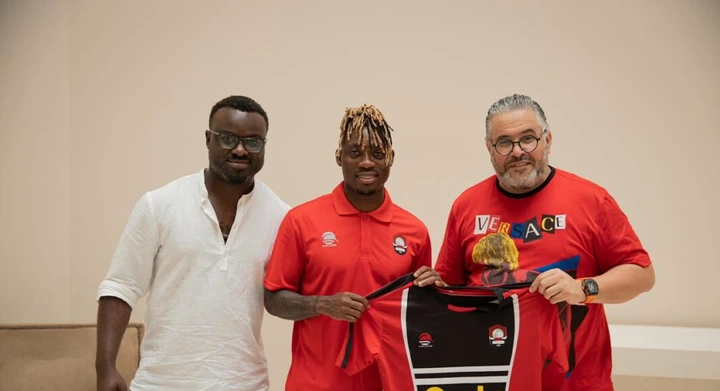 The search for Ghana's international football star Christian Atsu continues, 10 days after the devastating 7.8 earthquake rocked parts of Türkiye and Syria on Monday last week.
By Wednesday, at least 41 000 people in both countries had been confirmed dead and thousands others are still in the hospitals. Millions other people have been left homeless and others are still trapped under collapsed buildings.
Atsu's agent Nana Sachere took to Twitter to confirm that the 31-year-old midfielder has still not been found in the wrecked quake site in Hatay.
"It has been over a week since the earthquake, and we still have not located Christian," Sachere wrote in a Twitter post on Wednesday.
The former Chelsea FC and Newcastle United midfielder currently plays for Turkish outfit Hatayspor in the Süper Lig.
"I am at the quake site in Hatay with Christian's family. The scenes are unimaginable, and our hearts are broken for all the people affected. During my time here, we have been able to locate Christian Atsu's exact room location, and we have found two pairs of his shoes.
https://platform.twitter.com/embed/Tweet.html?dnt=true&embedId=twitter-widget-0&features=eyJ0ZndfdGltZWxpbmVfbGlzdCI6eyJidWNrZXQiOltdLCJ2ZXJzaW9uIjpudWxsfSwidGZ3X2ZvbGxvd2VyX2NvdW50X3N1bnNldCI6eyJidWNrZXQiOnRydWUsInZlcnNpb24iOm51bGx9LCJ0ZndfdHdlZXRfZWRpdF9iYWNrZW5kIjp7ImJ1Y2tldCI6Im9uIiwidmVyc2lvbiI6bnVsbH0sInRmd19yZWZzcmNfc2Vzc2lvbiI6eyJidWNrZXQiOiJvbiIsInZlcnNpb24iOm51bGx9LCJ0Zndfc2hvd19idXNpbmVzc192ZXJpZmllZF9iYWRnZSI6eyJidWNrZXQiOiJvbiIsInZlcnNpb24iOm51bGx9LCJ0ZndfbWl4ZWRfbWVkaWFfMTU4OTciOnsiYnVja2V0IjoidHJlYXRtZW50IiwidmVyc2lvbiI6bnVsbH0sInRmd19leHBlcmltZW50c19jb29raWVfZXhwaXJhdGlvbiI6eyJidWNrZXQiOjEyMDk2MDAsInZlcnNpb24iOm51bGx9LCJ0ZndfZHVwbGljYXRlX3NjcmliZXNfdG9fc2V0dGluZ3MiOnsiYnVja2V0Ijoib24iLCJ2ZXJzaW9uIjpudWxsfSwidGZ3X3ZpZGVvX2hsc19keW5hbWljX21hbmlmZXN0c18xNTA4MiI6eyJidWNrZXQiOiJ0cnVlX2JpdHJhdGUiLCJ2ZXJzaW9uIjpudWxsfSwidGZ3X3Nob3dfYmx1ZV92ZXJpZmllZF9iYWRnZSI6eyJidWNrZXQiOiJvbiIsInZlcnNpb24iOm51bGx9LCJ0ZndfbGVnYWN5X3RpbWVsaW5lX3N1bnNldCI6eyJidWNrZXQiOnRydWUsInZlcnNpb24iOm51bGx9LCJ0Zndfc2hvd19nb3ZfdmVyaWZpZWRfYmFkZ2UiOnsiYnVja2V0Ijoib24iLCJ2ZXJzaW9uIjpudWxsfSwidGZ3X3Nob3dfYnVzaW5lc3NfYWZmaWxpYXRlX2JhZGdlIjp7ImJ1Y2tldCI6Im9uIiwidmVyc2lvbiI6bnVsbH0sInRmd190d2VldF9lZGl0X2Zyb250ZW5kIjp7ImJ1Y2tldCI6Im9uIiwidmVyc2lvbiI6bnVsbH19&frame=false&hideCard=false&hideThread=false&id=1625486755796488194&lang=en&origin=https%3A%2F%2Fnews-af.feednews.com%2Fnews%2Fdetail%2F78de7ce52e823a0725378c833c969abd&sessionId=acb5711f528dd768a38c333bfd363571f761444f&theme=light&widgetsVersion=aaf4084522e3a%3A1674595607486&width=550px
It has been 9 days since the earthquake and we still have not located Christian.
I am at the quake site in Hatay with Christian's family. The scenes are unimaginable and our hearts are broken for all the people affected.

— Nana Sechere (@iAmNana7) February 14, 2023
"Yesterday, we received confirmation that thermal imagery was showing signs of up to five lives, however, I am told that the only real confirmation of life is through sight, smell and sound, and unfortunately we were not able to locate Christian.
"This is a difficult situation, and we are extremely grateful to all the Turkish and foreign rescue teams, local civilians and volunteers for their efforts and response in rescuing the survivors. However, we urgently need more resources, including a translator on the ground," he said.
about:blank
He explained further: "Things are moving incredibly slow, and as a result of that many rescues are being delayed and lives are being lost due to the lack of resources available to the workers. It is unfortunate that the club is not on the ground with us, side by side, in the search for Christian.
"Their position and influence, accompanied with their local knowledge would be extremely helpful. We implore the president of the club and mayor of Hatay, Lütfü Savaş, to provide additional resources to speed up the rescue efforts as a priority."
Meanwhile, Banyana Banyana landed in Instabul on Wednesday ahead of the Turkish Women's Cup tournament as part of their preparations for the month-long Fifa Women's World Cup set to be staged in Australia and New Zealand from July 20.
Coach Desiree Ellis and her charges received the green light for the SA Football Federation (Safa), which said it was granted the go-ahead by world football governing body Fifa.
Safa said in a statement that it consulted widely before allowing Banyana to travel to Türkiye ahead of their first fixture against Uzbekistan on Saturday. Other participating nations are Bulgaria, Estonia, Kosovo, Hong Kong, Jordan, North Macedonia, Slovenia, and Zambia.
Author

Study In Canada For FreeAssured StudyLearn More
Do you have joint pain? Try using this cheap method.Joints Health
Surprising Ways to Use VapoRub You Didn't Know AboutTheWorldReads.com
Work a Job from Home Might Pay Better Than You ThinkWork from home | Search
Sponsored Linkshttps://s.adx.opera.com/aframe
null
Unmute