Valentine's Day: Ghanaian Man Proposes To Pretty Doctor In Consulting Room: "Even The Patient Is Happy"
Yen.com.gh
Feb 14, 2023 6:32 PM
A Ghanaian man has earned the admiration of netizens after a video of him proposing marriage to his girlfriend surfaced online
In a video on TikTok, the young man paid a surprised visit to her girlfriend who was attending to a patient
Netizens who reacted to the video were left in awe as they congratulated the love birds and wished them all the best
PAY ATTENTION: Enjoy reading our stories? Join YEN.com.gh's Telegram channel for more!
A young Ghanaian man is trending after a video of him proposing marriage to his girlfriend who is a medical doctor surfaced online.
In a video sighted by YEN.com.gh on the TikTok handle of @akosuah_serwahgh, the young man was captured in the company of a few friends as he walked majestically into the consulting room where his girlfriend was attending to a patient.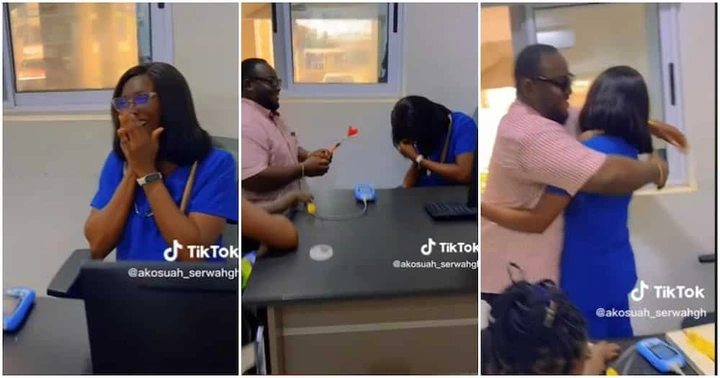 Eager to prove his love, the young man walked straight to his girlfriend, knelt down in front of her and then presented her with a flower, which she accepted.
After that, he took the hand of the beautiful doctor and placed a ring on her finger.
PAY ATTENTION: Follow us on Instagram – get the most important news directly in your favourite app!
The lovely moment drew cheers and applause from the patient and onlookers.
https://www.google.com/afs/ads?psid=5134551505&channel=AutoRsVariant&fexp=44778204%2C21404%2C17300002&client=pub-1883810847636355&r=m&sc_status=6&hl=en&rpbu=http%3A%2F%2Fgoogle.com&rpqp=q&type=3&rs_tt=c&oe=UTF-8&ie=UTF-8&format=r5&nocache=1171676455928563&num=0&output=afd_ads&domain_name=cdn-af.feednews.com&v=3&bsl=10&pac=2&u_his=7&u_tz=0&dt=1676455928566&u_w=360&u_h=806&biw=360&bih=674&psw=360&psh=3893&frm=0&cl=507651520&uio=-&cont=autors-container-0&jsid=csa&jsv=507651520&rurl=https%3A%2F%2Fcdn-af.feednews.com%2Fnews%2Fdetail%2F4aba743ba11d0c40aefbbaf232aa07dc%3Ffeatures%3D2114057%26country%3Dgh%26uid%3D08c1e53bf8ea5f4e83fb533f6407a12207298822%26like_count%3D5%26client%3Dmini%26language%3Den&adbw=master-1%3A318
The visibly excited medical doctor could also not hide her joy as she embraced her lover for the pleasant surprise.
Ghanaians comment on the marriage proposal
At the time of writing the report, the video had raked in over 3000 likes and 100 comments.
Some netizens who reacted to the video congratulated the love birds.
lady_anngie1:
The patient should have left before, all the same congrat
Slym_Dollar:
She is a Doctor….She needs a real rose …say yes
Nasco:
why did you force her to say Yes
see how the patient is happy
Man says he'll use ₵200 to stake bet than take a girl out
Earlier YEN.com.gh reported that a young man in Ghana revealed that he would not want to take a girl out on a date and spend GH₵200 just to eat and drink or have fun.
In a street interview that was conducted by Pulse Ghana with street quiz master Nanaday, the gentleman revealed that he would rather use the same amount to stake a bet on matches that would be played that day.

Study In Canada For FreeAssured StudyLearn More
Do you have joint pain? Try using this cheap method.Joints Health
People from Ghana Might Not Believe Used Car PricesUsed Cars | Search Ad
Work a Job From Home in Ghana Work from Home | Search Ads
Sponsored Linkshttps://s.adx.opera.com/aframe
null
Unmute