Our national coffers empty: Ofori-Atta has not done a good job; he's been disappointing – Sophia Akuffo
classfmonline.com
Feb 15, 2023 12:31 PM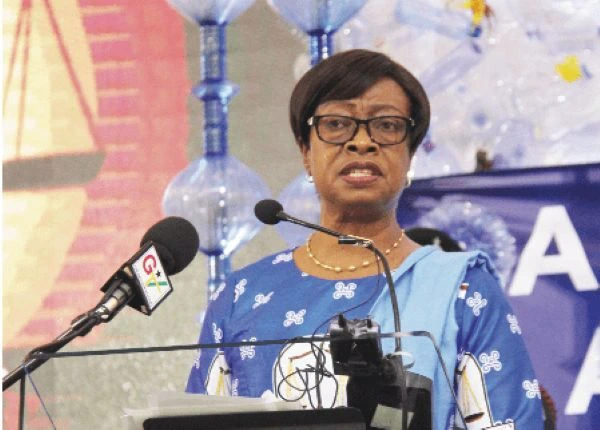 Former Chief Justice Sophia Akuffo has said Finance Minister Ken Ofori-Atta has not done a good job handling the economy since he took office some six years ago.
The ex-CJ, who was speaking on a yet-to-be-aired interviewed on Accra-based Joy News' Upfront programme, said the gulf between Mr Ofori-Atta's promise to protect the national kitty and the reality on the ground, leave much to desire.
"When Ken became minister of finance in 2017, I heard him on the TV, he was talking and he was saying that he sees his responsibility as being that of protecting the national coffers. Now, the promise and the achievement, the gap is too big and I need more explanation", Ms Akuffo told host Raymond Acquah, adding: "I think that's it".
"Normally", she noted: "When it comes to a lot of things, I take things from their most simplified format", explaining: "There's no need to be complex about all kinds of things. I'm not an economist, so, I'm not going to be able to argue all kinds of isms and so on and so forth, no".
"But, all I know is that you were going to protect the national coffers and they are now empty", she emphasised.
To the retired judge, "whether they were empty at that time or not, is neither here nor there because you were not going to be protecting the empty thing; you were going to protect it and make sure that everything that comes into it, henceforth, is going to be well-husbanded – I'm using that word in its old-fashioned term – and, so, we would go on and we would not sort of reverse again".
"So, it's been very disappointing [how the economy has turned out] and the fact is, whether it is Ken Ofori-Atta or it was Mr [Seth Terkper], if it were somebody else, if it would still have been the same, I would still feel the same", she noted, pointing out: "In public things, in things concerned with the Republic of Ghana, in things that are of public interest, I don't get personal; it's not personal".
"It's not Ken Ofori-Atta; it's the person who has been given the responsibility to manage the economy, I don't think has done a good job. That's it", she stressed the point.
Asked if she thought Mr Ofori-Atta should be removed, the former Chief Justice exclaimed, saying: "As for that one, I'm not his appointer".

Study In Canada For FreeAssured StudyLearn More
Do you have joint pain? Try using this cheap method.Joints Health
Ghana: Used Car Prices Might Surprise YouUsed Cars | Search Ad
Work a Job From Home in Ghana Work from Home | Search Ads