Gold For Oil: Bright Simons Alleges Brokers And Middlemen Linked To Bawumia's Office Profiting From Initiative
Yen.com.gh
Feb 9, 2023 5:30 PM
Policy analyst Bright Simons has said there are rife reports that middlemen linked to Dr Mahamudu Bawumia's office are profiting from the gold-for-oil policy
According to the vice president of IMANI Centre for Policy and Education, an anti-government media is preparing to release a major report on the policy
The gold-for-oil policy is the government's solution to tackling cedi depreciation and rampant fuel price increases
PAY ATTENTION: Enjoy reading our stories? Join YEN.com.gh's Telegram channel for more!
Policy analyst Bright Simons has said there are rife rumours that Ghanaian middlemen for the gold-for-oil barter are profiting off the deal that aims to reduce the pressure on the Ghana cedi.
Simons, who is also vice president of the think tank IMANI Centre for Policy and Education, said these middlemen are linked to the office of vice president Mahamudu Bawumia.
"Dark rumours swirling in Accra of non-mainstream anti-govt media investigators preparing to release reports accusing middlemen & brokers linked to the office of Ghana's Veep of profiting from Ghana's Gold-for-Oil program. It is unclear if these reports will be taken serious," he tweeted on Thursday, February 9, 2023.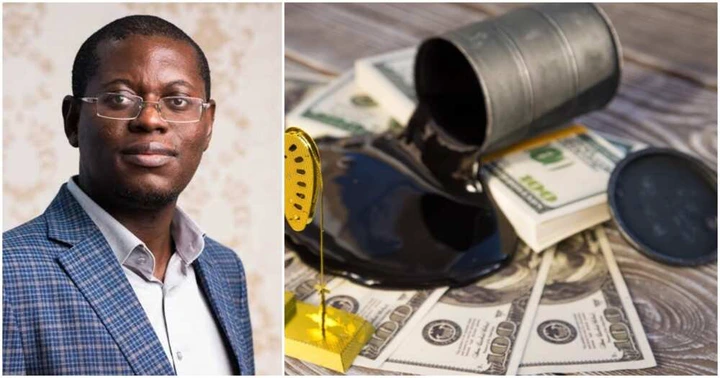 The claim is coming amid concerns the gold for oil police is a fluke by the government to steal money from the state.
PAY ATTENTION: Click "See First" under the "Following" tab to see YEN.com.gh News on your News Feed!
https://platform.twitter.com/embed/Tweet.html?dnt=false&embedId=twitter-widget-0&features=eyJ0ZndfdGltZWxpbmVfbGlzdCI6eyJidWNrZXQiOltdLCJ2ZXJzaW9uIjpudWxsfSwidGZ3X2ZvbGxvd2VyX2NvdW50X3N1bnNldCI6eyJidWNrZXQiOnRydWUsInZlcnNpb24iOm51bGx9LCJ0ZndfdHdlZXRfZWRpdF9iYWNrZW5kIjp7ImJ1Y2tldCI6Im9uIiwidmVyc2lvbiI6bnVsbH0sInRmd19yZWZzcmNfc2Vzc2lvbiI6eyJidWNrZXQiOiJvbiIsInZlcnNpb24iOm51bGx9LCJ0Zndfc2hvd19idXNpbmVzc192ZXJpZmllZF9iYWRnZSI6eyJidWNrZXQiOiJvbiIsInZlcnNpb24iOm51bGx9LCJ0ZndfbWl4ZWRfbWVkaWFfMTU4OTciOnsiYnVja2V0IjoidHJlYXRtZW50IiwidmVyc2lvbiI6bnVsbH0sInRmd19leHBlcmltZW50c19jb29raWVfZXhwaXJhdGlvbiI6eyJidWNrZXQiOjEyMDk2MDAsInZlcnNpb24iOm51bGx9LCJ0ZndfdGVhbV9ob2xkYmFja18xMTkyOSI6eyJidWNrZXQiOiJwcm9kdWN0aW9uIiwidmVyc2lvbiI6MTF9LCJ0ZndfZHVwbGljYXRlX3NjcmliZXNfdG9fc2V0dGluZ3MiOnsiYnVja2V0Ijoib24iLCJ2ZXJzaW9uIjpudWxsfSwidGZ3X3ZpZGVvX2hsc19keW5hbWljX21hbmlmZXN0c18xNTA4MiI6eyJidWNrZXQiOiJ0cnVlX2JpdHJhdGUiLCJ2ZXJzaW9uIjpudWxsfSwidGZ3X3Nob3dfYmx1ZV92ZXJpZmllZF9iYWRnZSI6eyJidWNrZXQiOiJvbiIsInZlcnNpb24iOm51bGx9LCJ0ZndfbGVnYWN5X3RpbWVsaW5lX3N1bnNldCI6eyJidWNrZXQiOnRydWUsInZlcnNpb24iOm51bGx9LCJ0Zndfc2hvd19nb3ZfdmVyaWZpZWRfYmFkZ2UiOnsiYnVja2V0Ijoib24iLCJ2ZXJzaW9uIjpudWxsfSwidGZ3X3Nob3dfYnVzaW5lc3NfYWZmaWxpYXRlX2JhZGdlIjp7ImJ1Y2tldCI6Im9uIiwidmVyc2lvbiI6bnVsbH0sInRmd190d2VldF9lZGl0X2Zyb250ZW5kIjp7ImJ1Y2tldCI6Im9uIiwidmVyc2lvbiI6bnVsbH19&frame=false&hideCard=false&hideThread=false&id=1623633663496781824&lang=en&origin=https%3A%2F%2Fnews-af.feednews.com%2Fnews%2Fdetail%2F7442571135c419a953b64b0ac9b4df11&sessionId=b013bc7730bfcf388a055c8eb32a2675408cc61e&theme=light&widgetsVersion=aaf4084522e3a%3A1674595607486&width=550px
Gold for oil is not a barter arrangement
Last week, an energy expert and politician Kwame Jantuah criticised the government's gold-for-oil policy as poorly thought-through.
The chairman of the political affairs committee of the Convention People's Party (CPP) said the policy touted as a solution to both the cedi depreciation and fuel price increases will not achieve its aims.
"The Bank of Ghana provides the money, they buy the gold through Precious Mineral Marketing Company, PMMC, they then sell the gold to a trader and the money is put in an extra account and that is used to purchase the oil", he explained.
He says that does not constitute a barter as the government had announced earlier.
Bank of Ghana assures country has enough reserves to sustain policy
Meanwhile, YEN.com.gh has reported in a separate story that the Bank of Ghana (BoG) assured Ghanaians earlier this year that the country has enough gold reserves.
The central bank said Ghana has sufficient quantities of gold bars to exchange for oil.
about:blank
The BoG assurance came after the government took delivery of the first consignment of the gold for oil deal.

Register with Yango and earn more with bonuses from partnersYango Pro AppInstall Now
Do the things you love at one go.Deriv.comLearn More
Study In Canada For FreeAssured StudyLearn More
Expert Opinion: If you have aching joints use this.Joints Health