Data Bank unable to pay school fees of student-investors
theindependentghana.com
Feb 9, 2023 11:07 AM
A letter sighted by The Independent Ghana indicates that Data Bank is currently struggling to pay the academic fees of students investing with the financial institution.
The bank in a letter dated January 31, 2023, asked the said tertiary institutions for a deadline extension in order to make payment for first semester fees.
According to Data Bank, "we are in the midst of a macroeconomic crisis, which is adversely affecting the investment industry."
"Due to the crisis and the Domestic Debt Exchange Programme, Databank has difficult selling Government of Ghana securities and cannot get the necessary cash to pay withdrawal requests. As a result, it is taking us much longer than expected to pay our clients when they ask to withdraw. Some of these clients are students of your institution who have requested the funds to pay their school fees," portions of the letter added.
https://www.google.com/afs/ads?psid=5134551505&channel=AutoRsVariant&fexp=44778204%2C21404%2C17300003&client=pub-1883810847636355&r=m&sc_status=6&hl=en&rpbu=http%3A%2F%2Fgoogle.com&rpqp=q&type=3&rs_tt=c&oe=UTF-8&ie=UTF-8&format=r5&nocache=4561675979394363&num=0&output=afd_ads&domain_name=cdn-af.feednews.com&v=3&bsl=10&pac=0&u_his=7&u_tz=0&dt=1675979394365&u_w=360&u_h=806&biw=360&bih=674&psw=360&psh=3124&frm=0&cl=507651520&uio=-&cont=autors-container-0&jsid=csa&jsv=507651520&rurl=https%3A%2F%2Fcdn-af.feednews.com%2Fnews%2Fdetail%2F5f0460036e94cf9ebe11edc6f2714dba%3Ffeatures%3D2114057%26country%3Dgh%26uid%3D08c1e53bf8ea5f4e83fb533f6407a12207298822%26like_count%3D3%26client%3Dmini%26language%3Den&adbw=master-1%3A318
Data Bank noted that it continues to engage stakeholders for liquidity relief and reiterated that "we would be grateful if the affected students could be given more time until we are able to pay them."
"Please note that we have provided these students with official letters to submit to their institutions. We will also reach out to you when we make payments," the letter signed by Gloria Peprah, a Branch Manager of Data Bank.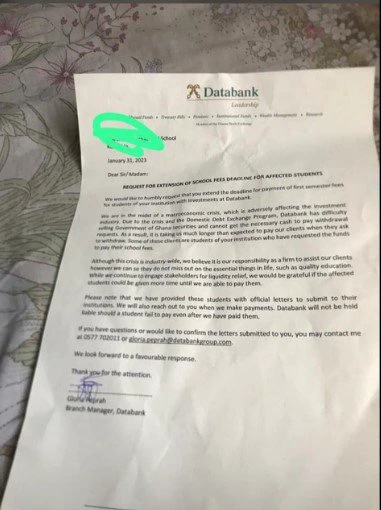 Databank, however, noted that it will not be held liable should a student fail to pay even after we have paid them.
Government is yet to implement the DDEP it launched in December last year due to concerns from individual bondholders and pensioners. Should the DDEP implementation continue to delay, Data Bank may struggle to ensure the fees of its investors are paid.
Continue Reading

Register with Yango and earn more with bonuses from partnersYango Pro AppInstall Now
Do the things you love at one go.Deriv.comLearn More
Study In Canada For FreeAssured StudyLearn More
Expert Opinion: If you have aching joints use this.Joints Health
Sponsored Linkshttps://s.adx.opera.com/aframe
null
Unmute