Adonko Director who awarded NYA Contract To Adonko While Serving As NYA Board Chair Cleared
MyNewsGH
Feb 8, 2023 6:18 AM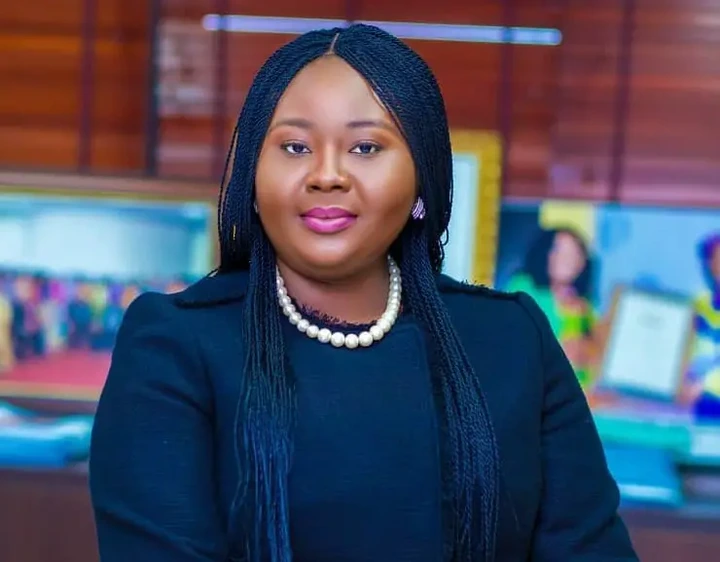 A Director of Angel Group, the owners of subsidiary Adonko has been cleared for awarding a juicy to Adonko while she served as Board Chairman of the National Youth Authority.
Francisca Oteng who is now a Deputy Minister of Gender, Children and Social Protection had come under fire for alleged conflict of interest for her role in approval of the deal.
The contract worth over more than Ghs1million was approved by Francisca Oteng to Adonko while she served as a Director of Adonko and still does.
But in a 111-page report signed by the Commissioner, Joseph Whittal, and released on 2 February 2023, CHRAJ dismissed the allegations on grounds that they lacked merit, as investigations conducted by the commission and evidence provided did not support the case of conflict of interest against Mensah.
The commission, presenting its findings, indicated that evidence showed that on 31 March 2020, at a board meeting chaired by Mensah, the board of the NYA had approved GHC 3 million to fund the 'Youth in COVID-19 Campaign' and related activities.
https://www.google.com/afs/ads?psid=5134551505&channel=AutoRsVariant&fexp=44778204%2C21404%2C17300003&client=pub-1883810847636355&r=m&sct=ID%3D8d48dfc20b4fbbe2%3AT%3D1663995891%3AS%3DALNI_MYBQ_1mRlbaYMdncuO4-jaN5s_Fpg&sc_status=6&hl=en&rpbu=http%3A%2F%2Fgoogle.com&rpqp=q&type=3&rs_tt=c&oe=UTF-8&ie=UTF-8&format=r5&nocache=141675846513052&num=0&output=afd_ads&domain_name=cdn-af.feednews.com&v=3&bsl=10&pac=0&u_his=4&u_tz=0&dt=1675846513057&u_w=360&u_h=806&biw=360&bih=674&psw=360&psh=3727&frm=0&cl=503972142&uio=-&cont=autors-container-0&jsid=csa&jsv=503972142&rurl=https%3A%2F%2Fcdn-af.feednews.com%2Fnews%2Fdetail%2F3b01e11ace362db09f1f8a5af37d7b82%3Ffeatures%3D2114057%26country%3Dgh%26uid%3D08c1e53bf8ea5f4e83fb533f6407a12207298822%26like_count%3D0%26client%3Dmini%26language%3Den&adbw=master-1%3A318
The NYA, it said, used part of the GHC 3 million to procure PPE for the fight against the COVID-19 pandemic and that the PPE consisted of alcohol-based hand sanitiser amounting to GHC 68,980.58 from Adonko Bitters Ltd, of which Mensah and her father were directors and shareholders.
However, there was no evidence that Mensah gave directives for the procurement of hand sanitiser from Adonko Bitters, and "that the allegation that the board chairperson was not only present at the 31 March board meeting but also participated, deliberated and presided over the purchase of hand sanitiser from Adonko Bitters Limited and failed to disclose her interest in the matter is not supported by the evidence".
"That the respondent was not under a duty to disclose her private capacity interest in Adonko Bitters Ltd at any of the March and June 2020 board meetings," the commission added.
It established that there were discrepancies in the processes of the procurement of the PPE by the management of the NYA, which made it informally fall on Mensah to intervene and have Adonko Bitters Ltd supply 290 boxes when it had difficulty in obtaining supply for alcohol-based hand sanitiser.
It said the action of the deputy gender minister to have Adonko Bitters Ltd supply hand sanitiser to the NYA did not amount to conflict of interest, and that at the time of concluding the investigations on this case, Adonko Bitters Ltd had not picked its cheque for GHC 68,980.58 from the NYA in respect of supplies of hand sanitiser made to the NYA.
"On the totality of the evidence, the respondent did not put herself in a position where her personal interest conflicted or was likely to conflict with the performance of her official duties as chairperson of the NYA board of directors," CHRAJ said.
The commission, however, commended the complainant for showing public spiritedness in lodging the complaint and the deputy minister for her cooperation.
Thanks for reading from MyNewsGH as a news publishing website from Ghana. You are free to share this story via the various social media platforms and follow us on; Facebook, Twitter, Instagram etc.
Send your news stories to [email protected] and via WhatsApp on +233 202452509

This cheap recipe relieves joint pain.Joints Health
If You Suffer From Knee and Hip Pain You Should Read Thisnews4ppl
Fully Funded Scholarships In Canada Assured StudyLearn More
Prices of Used Cars in Accra Could Surprise YouUsed Cars | Search adsSearch Now
Sponsored Linkshttps://s.adx.opera.com/aframe
null
Unmute