It is sad BoG unlawfully printed $3.3bn for government – IEA Director of Research
mynewsghana.com
Feb 6, 2023 3:08 PM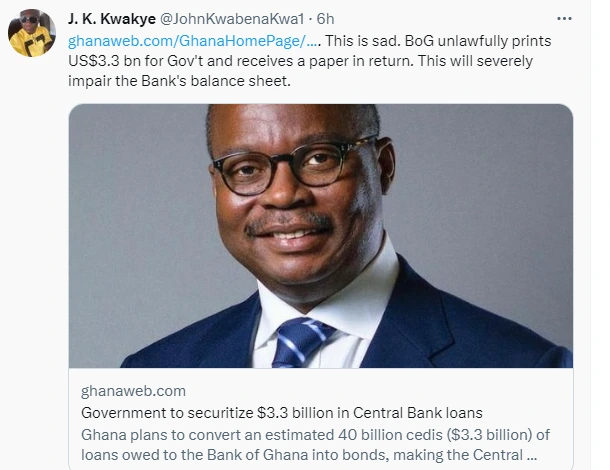 Dr. John Kwakye
The Director of Research at the Institute of Economic Affairs (IEA), Dr. John Kwakye, has described as unacceptable for the Bank of Ghana to allow its balance sheet to be destroyed by Section 30 of the Bank of Ghana Act, which permits the central bank to lend to the government.
According to him, it is sad the Bank of Ghana unlawfully printed $3.3 billion for government and received a paper in return.
In a tweet, Dr. Kwakye, who was until recently a member of the Monetary Policy Committee of the BoG, said, this will severely impair the Bank's balance sheet.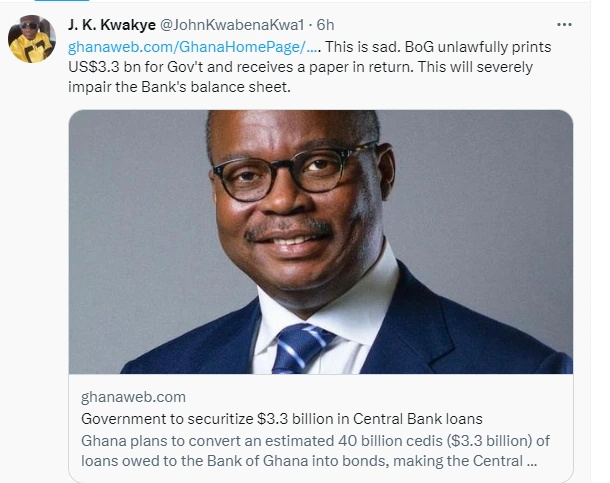 Bloomberg reported that Ghana plans to convert an estimated ¢40 billion ($3.3 billion) of loans owed to its central bank into bonds, making it the single biggest holder of domestic government securities and exposing it to an ongoing debt restructuring, according to people familiar with the matter.
The bonds, due to be issued by the finance ministry, will also cover interest owed to the Bank of Ghana, said the people, who asked not to be named because they're not authorised to speak publicly on the matter.
But the astute economist said the Central Bank stands becoming potentially bankrupt.
"It is unacceptable for BoG to allow its balance sheet to be destroyed by this act. The Bank stands becoming potentially bankrupt".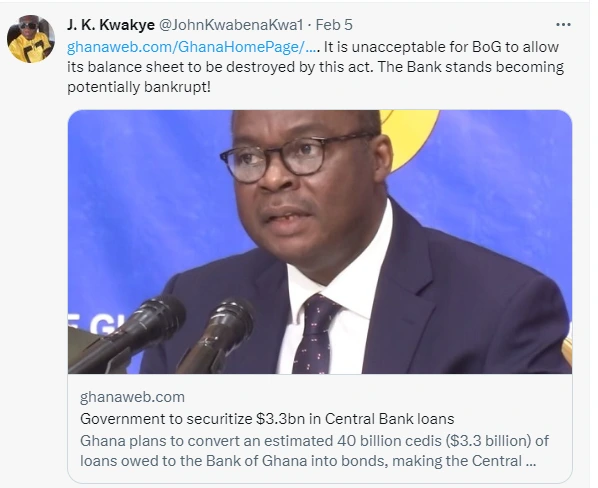 He added "another result of financial recklessness perpetrated by BoG and MoF [Ministry of Finance. How could BoG have lent ¢41.9 billion to government in 2022 when its Act allowed only ¢3.5 billion (being 5% of 2021 revenue of ¢70bn)".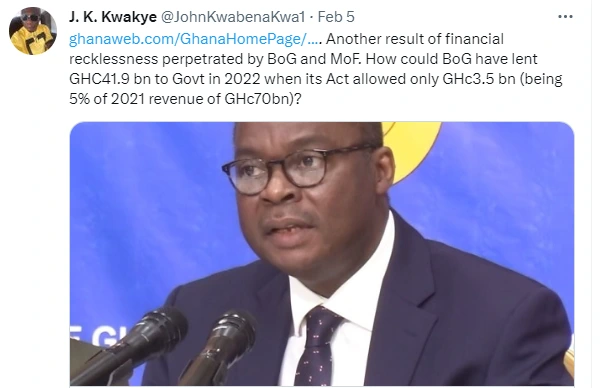 The securitised central bank loan, according to Bloomberg, would be added to list of domestic debt under restructuring.
The new bonds would bring the central bank into Ghana's ongoing debt restructuring process, under which it is asking investors to swap out ¢137.3 billion ($11.2 billion) worth of local government securities into new notes with less attractive terms. The voluntary exchange has a February 7, 2023 deadline.
DISCLAIMER: The Views, Comments, Opinions, Contributions and Statements made by Readers and Contributors on this platform do not necessarily represent the views or policy of Multimedia Group Limited.
Liked this Article? You can share with others via various social media platforms. Got some information to share with us?
Send us your articles or advertisements enquiries via [email protected]

If You Suffer From Knee and Hip Pain You Should Read Thisnews4ppl
This cheap recipe relieves joint pain.Joints Health
Fully Funded Scholarships In Canada Assured StudyLearn More
Rub VapoRub on Your Skin at Night, This Is WhyTheWorldReads.com
Sponsored Linkshttps://s.adx.opera.com/aframe