Students of UG hit the street to protest against increasing cost of education
Graphic Online
Feb 3, 2023 12:17 PM
Some students of the University of Ghana (UG) have conveyed at Obra Spot at Kwame Nkrumah Circle in Accra to protest against some decisions taken by the management of the school.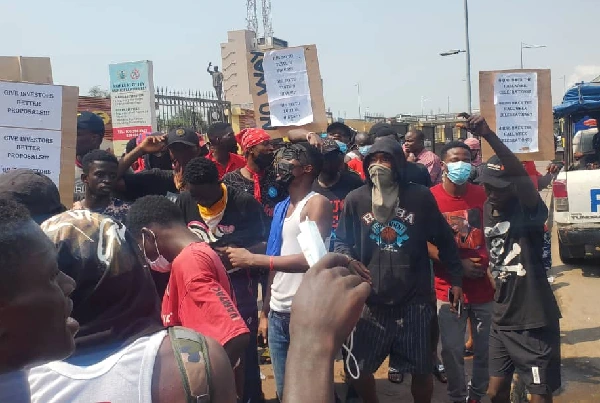 The "Ye Abremo Demo" which is led by the University of Ghana's Concerned Students Association is also demonstrating against the decision of the university to allow only level 100 students into Commonwealth and Sarbah Halls and relocate continuing students to other hostels.
The new directive to reassign the continuing students to other halls comes on the back of numerous clashes recorded between students of the respective halls in times past.
The students are also lamenting the high cost of education on the campuses of the universities.
They are also accusing the university management of increasing fees by more than the 15% approved by Parliament.
They were of the view that although the university's intake continues to increase, the management of the school has not provided enough hostel facilities for the students.
This, the group said has led to most students going in for very expensive hostels outside the school.
about:blank

They are therefore calling on the government to come to their aid and stop the university management from enforcing the unpopular decision.
More to follow soon

Learn to trade like a pro (Free ebook)Deriv.comDownload
This cheap recipe relieves joint pain.Joints Health
Fully Funded Scholarships In Canada Assured StudyLearn More
Man Pulls Hidden String In Attic And Discovers Secret Room Filled With…Housediver
Sponsored Linkshttps://s.adx.opera.com/aframe
null
Unmute