Minority caucus 'exposes' corruption scandal in Agenda 111 project
GhanaWeb
Feb 2, 2023 12:02 PM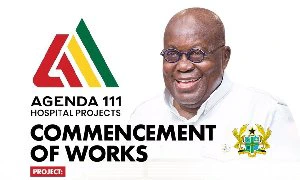 The minority caucus has accused the government of yet another act of corruption in the implementation of Agenda 111.
According to the Ranking Member of the Parliamentary Select Committee on Health, Kwabena Mintah Akandoh, the government and some of its officials created new entities just to take advantage of the project.
"The Capital Investment Unit of the Ministry of Health has been responsible for the construction of health facilities under every government. But because of the ill intent of this government, they established another agency for the Agenda 111 project, called the Agenda 111 Secretariat.
"The project was taken from the hands of the ministry and brought to the presidency, and was under the supervision of the Chief of Staff. So, the Chief of Staff is in charge of the Agenda 111 project and not the Ministry of Health.
"So, all the procurement laws of the country were ignored in the Agenda 111 project," he said in Twi in an XYZ TV interview monitored by GhanaWeb.
He also alleged that some government officials also established a private company right after the project was announced by the president to manage the Agenda 111 project.
Mintah Akandoh said that the said company, Com One Limited, was established in 2016 and was into the trade of general goods, but in May 2020, the objective of the company was amended by the Registrar General's Department to include the management of projects like Agenda 111, and its name was changed to Hospital Infrastructure Group Limited.
"This company was supposed to manage the Agenda 111 project which was in billions of Ghana cedi but it had only GHC 5000 as its stated capital," he added.
Watch the interview in the video below:
https://www.facebook.com/plugins/video.php?height=420&href=https%3A%2F%2Fwww.facebook.com%2FTVXYZGHANA%2Fvideos%2F2238638739647358%2F&show_text=false&width=560&t=0
IB/BOG