GHC20m on calls and internet, GHC 15m on car tyres and batteries; Akufo-Addo's office expenses in 9 months
theindependentghana.com
Feb 1, 2023 8:33 AM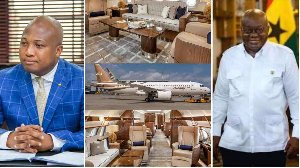 Member of Parliament (MP) for North Tongu, Samuel Okudzeto Ablakwa, has yet again made another damning revelation about how the Presidency squanders the taxpayers' money.
He alleged in his latest release that the Office of the President spent over GHC 20 million on internet and call charges, among other expenses, in a span of nine months (January 2022 to September 2022).
Taking to twitter, Mr Ablakwa also disclosed that the Presidency spent a "whooping" GHC 16.9 million (16,906,272.45) on President Akufo-Addo's regional tours.
Additionally, he mentioned the Presidency spent GHC 6.5 million (6,500,000.00) to purchase new vehicles despite a ban on imported official vehicles in March last year, as announced by the Finance Minister, among other things.
Also, he disclosed that "tyres and batteries for official vehicles cost the suffering Ghanaian taxpayer an unbelievable GHC15million (15,000,000.00)."
This adds to the number of revelations made by Mr Ablakwa about the President's expenditure. He has been monitoring presidential travels on chartered jets since 2021. In June last year, he revealed that President Akufo-Addo spent GHC 34 million on luxury jet charters in 13 months. However, the Presidency contested this claim, describing it as false.
With the details in the said report which he described as gut-wrenching, Mr Ablakwa concluded that the government was not taking seriously the request to dramatically reduce spending in the midst of an economic crisis.
"I couldn't agree more with the revered and celebrated Ghana Catholic Bishops' Conference following their timely appeal to the Akufo-Addo/Bawumia government to "present a posture that is consistent with the fact that the country is in dire straits or crisis" and their further demand for "drastic government expenditure control"," he said.