GH¢575.7bn debt could be much higher than announced – Jackson
nsemgh.com
Jan 31, 2023 6:01 AM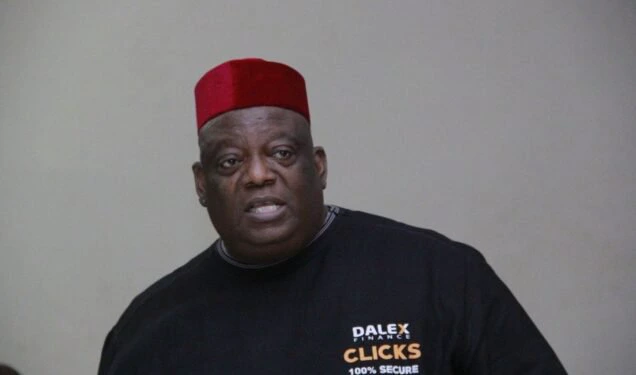 The Director of Business Operations for Dalex Finance, Joe Jackson, says Ghana's debt could be much higher than what the Bank of Ghana (BoG) announced.
The BoG on January 30, 2023, said Ghana's total public debt stock shot up to GH¢575.7 billion at the end of November 2022.
The new debt figure brings Ghana's debt to Gross Domestic Product (GDP) ratio to 93.5% from 75.9% in September 2022.
Speaking in an interview with Umaru Sanda Amadu on the Eyewitness News,monitored by NSEMGH, Mr. Jackson said, "This figure means we owe a whole lot of money. If we take all the money generated in Ghana in one year by all of us, from the President to the lowest member of the public, all the money in this country, every little bit, what we owe is 93.5% of that. The debt we are ultimately liable for could be much higher than this".
"We are indebted, we are in this country, when government borrows, it takes it to Parliament and our representatives in Parliament give their assent. Once that happens, you and I have borrowed the money. And no Ghanaian can exclude himself from this process. It's sovereign debt, it's debt owed by Ghana and Ghanaians," he noted.
https://www.google.com/afs/ads?psid=5134551505&channel=AutoRsVariant&fexp=44778204%2C21404%2C17300003&client=pub-1883810847636355&r=m&sct=ID%3D8d48dfc20b4fbbe2%3AT%3D1663995891%3AS%3DALNI_MYBQ_1mRlbaYMdncuO4-jaN5s_Fpg&sc_status=6&hl=en&rpbu=http%3A%2F%2Fgoogle.com&rpqp=q&type=3&rs_tt=c&oe=UTF-8&ie=UTF-8&format=r5&nocache=5051675246365219&num=0&output=afd_ads&domain_name=cdn-af.feednews.com&v=3&bsl=10&pac=0&u_his=2&u_tz=0&dt=1675246365221&u_w=360&u_h=806&biw=360&bih=674&psw=360&psh=2481&frm=0&cl=503972142&uio=-&cont=autors-container-0&jsid=csa&jsv=503972142&rurl=https%3A%2F%2Fcdn-af.feednews.com%2Fnews%2Fdetail%2F36f6c9d562972e48b3a9277355394d7c%3Ffeatures%3D2114057%26country%3Dgh%26uid%3D08c1e53bf8ea5f4e83fb533f6407a12207298822%26like_count%3D3%26client%3Dmini%26language%3Den&adbw=master-1%3A318
The Director of Business Operations for Dalex Finance said the debt servicing could take all the tax revenue generated by government.
"What scares me was a simple statement by the Minister of Finance, [Ken Ofori-Atta] at the launch of the domestic exchange programme some weeks ago. What he said was that, servicing the debt or paying the interest on Ghana's debt takes up 70% of Ghana's revenue–sometimes as high as 100% of all the tax revenue that the government makes goes into debt servicing. That should scare you more than how much we owe in total," he stated.
He laments the interest Ghana pays on its debt as compared to other countries with higher GDP.
"To be honest with you, there are countries whose GDP are higher than Ghana, but they spend a paltry 10%, 15% of all their income servicing their debt. We are now doing 70% and sometimes as high as 100%. When you pay and pay your interest, kaput, anything else you do, you have to borrow," Mr. Jackson cited.
source:citinews

This cheap recipe relieves joint pain.Joints Health
How To Play the USA Mega Millions From Your Mobile?24lottosPlay Now
Rubbing VapoRub to Your Skin at Night Will Surprise YouTheWorldReads.com
If the Cat Bites You, Here's What It Really Means. Weird Cat Behavior ExplainedHandy Tricks
Sponsored Linkshttps://s.adx.opera.com/aframe
Unmute