Starlink Arrival: MTN Reacts As Customers Declare Its Network 'Dead'
thewhistler.ng
Jan 31, 2023 12:25 PM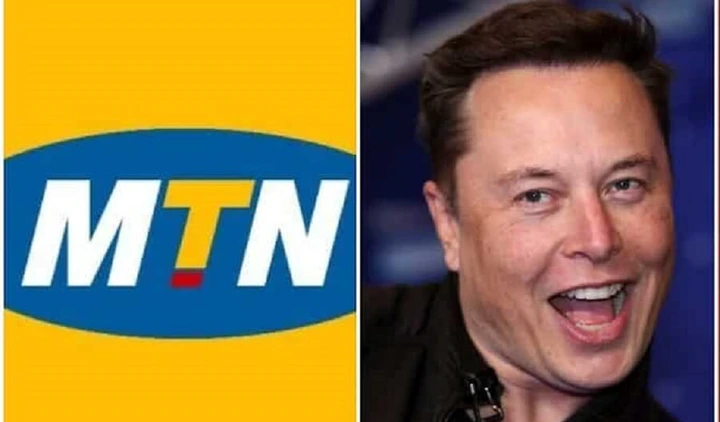 Starlink, the high-speed satellite internet service owned by Elon Musk, announced late Monday that it has now begun service in Nigeria, thereby drawing reactions from Nigerians on social media.
The company revealed this in a tweet, adding that Nigeria is the first African country to receive the service, to the excitement of social media users.
https://platform.twitter.com/embed/Tweet.html?dnt=true&embedId=twitter-widget-0&features=eyJ0ZndfdGltZWxpbmVfbGlzdCI6eyJidWNrZXQiOltdLCJ2ZXJzaW9uIjpudWxsfSwidGZ3X2ZvbGxvd2VyX2NvdW50X3N1bnNldCI6eyJidWNrZXQiOnRydWUsInZlcnNpb24iOm51bGx9LCJ0ZndfdHdlZXRfZWRpdF9iYWNrZW5kIjp7ImJ1Y2tldCI6Im9uIiwidmVyc2lvbiI6bnVsbH0sInRmd19yZWZzcmNfc2Vzc2lvbiI6eyJidWNrZXQiOiJvbiIsInZlcnNpb24iOm51bGx9LCJ0Zndfc2hvd19idXNpbmVzc192ZXJpZmllZF9iYWRnZSI6eyJidWNrZXQiOiJvbiIsInZlcnNpb24iOm51bGx9LCJ0ZndfbWl4ZWRfbWVkaWFfMTU4OTciOnsiYnVja2V0IjoidHJlYXRtZW50IiwidmVyc2lvbiI6bnVsbH0sInRmd19leHBlcmltZW50c19jb29raWVfZXhwaXJhdGlvbiI6eyJidWNrZXQiOjEyMDk2MDAsInZlcnNpb24iOm51bGx9LCJ0ZndfZHVwbGljYXRlX3NjcmliZXNfdG9fc2V0dGluZ3MiOnsiYnVja2V0Ijoib24iLCJ2ZXJzaW9uIjpudWxsfSwidGZ3X3ZpZGVvX2hsc19keW5hbWljX21hbmlmZXN0c18xNTA4MiI6eyJidWNrZXQiOiJ0cnVlX2JpdHJhdGUiLCJ2ZXJzaW9uIjpudWxsfSwidGZ3X3Nob3dfYmx1ZV92ZXJpZmllZF9iYWRnZSI6eyJidWNrZXQiOiJvbiIsInZlcnNpb24iOm51bGx9LCJ0ZndfbGVnYWN5X3RpbWVsaW5lX3N1bnNldCI6eyJidWNrZXQiOnRydWUsInZlcnNpb24iOm51bGx9LCJ0Zndfc2hvd19nb3ZfdmVyaWZpZWRfYmFkZ2UiOnsiYnVja2V0Ijoib24iLCJ2ZXJzaW9uIjpudWxsfSwidGZ3X3Nob3dfYnVzaW5lc3NfYWZmaWxpYXRlX2JhZGdlIjp7ImJ1Y2tldCI6Im9uIiwidmVyc2lvbiI6bnVsbH0sInRmd190d2VldF9lZGl0X2Zyb250ZW5kIjp7ImJ1Y2tldCI6Im9uIiwidmVyc2lvbiI6bnVsbH19&frame=false&hideCard=false&hideThread=false&id=1620166806722981890&lang=en&origin=https%3A%2F%2Fnews-af.feednews.com%2Fnews%2Fdetail%2F4a9272953382d3712f5dd28d23dfda49&sessionId=76f627f73587f9e713c9b9bbd344a8bfb7262ac7&theme=light&widgetsVersion=aaf4084522e3a%3A1674595607486&width=550px
Starlink is now available in Nigeria – the first African country to receive service! → https://t.co/slZbTmZmAt— SpaceX (@SpaceX) January 30, 2023
Some of them called out MTN, a prominent internet service provider, alluding that they would begin losing customers with the arrival of Starlink, prompting the South-African-owned company to respond to some of the comments via its Twitter handle.
@hayzweb3 tweeted, "MTNNG and others are dead now!"
MTN responded to the tweet saying, "Y'ello, our intention is not to disappoint our customers with our service. Kindly walk us through your complaint/request and provide the affected number via DM to enable me to provide necessary assistance."
Another user, @legit_comrade shared a complaint about how quickly MTN's data subscription bundles deplete: "How long does your 1 month data subscription last. Cause @MTNNG dey carry us go where we no know."
MTN answered the complaint, tweeting, "Hi @legit _comrade, sorry to read about your complaint regarding data bundle depletion. Data is depleted based on internet usage. However, you can please click on the links below to learn more about how you can control your data usage to last longer."
MTN users have frequently taken to Twitter to express the dissatisfaction with how quickly their data bundles are depleted compared to that of other internet service providers as well as network issues while making calls.
A quick search on Twitter of some tweets about MTN in the last few days showed the following complaints from users within and outside Nigeria.
@unclesam_001, "I used to act like @MTNNG brand ambassador and told people how good the network was. But today, they're the slowly becoming so useless, I'm speechless!"
This user added that he was hosting a Twitter Space, and he was speaking to himself for minutes not knowing he had been logged off long ago by poor network.
"The most annoying was when I wanted to swap a coin and take profits while it was pumping and BOOM! I couldn't access my metamask wallet again. The token went down, and I lost the profit I needed to take. I was so d*** pissed!" he added.
@toluwani_alli, "Funny how I always used to stream anything I watched. It's terrible now! I used to claim they had the fastest broad band service in Nigeria but these days it seems like they've gotten comfortable. Their broad band is terribly slowwww @MTNNG."
@Toorera, "90Gb is quite much for a month. MTN: Dey Play … 2 weeks later, you have 950mb of data remaining".
@Social_Ustaxx, "Shitty network. MTN is the most useless network in the whole of Nigeria."
@TendaiSia, "Does MTN still want to provide internet or what?"
@TradeWithThanos, "MTN. 2 hours and I cannot open Binance. Nice one. Everything is just trash, Nigeria is useless."
@stanleystizzywg, "MTN is really falling off! Very shitty network."

How to Build a Winning Remote-First CultureRemote Health by SafetyWing
This cheap recipe relieves joint pain.Joints Health
How To Play the US Megamillion One Billion Jackpot from Your Mobile?24lottosPlay Now
Rub VapoRub On Your Skin At Night, Here's WhyTheWorldReads.com