A Gay Cannot be Installed a Development Chief in Any Akan Community – Nana Kwame Edu VI
mynewsghana.com
Jan 30, 2023 11:40 AM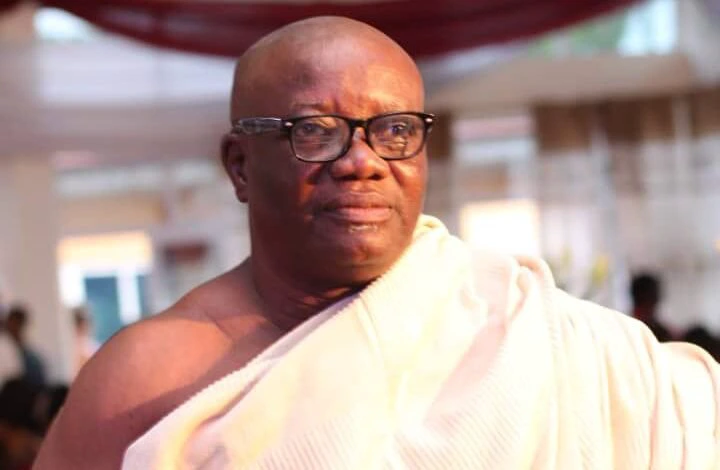 Nana Kwame Edu VI, Tufohen of Oguaa Traditional Area has posited that, any Akan Chief must be someone without blemish and as such a person with gay tendencies cannot be installed a Development Chief.
According to him 'without blemish' means not harmed or spoiled; perfect in your traditional and costumary beliefs. Thus, sound, perfect or being complete of its kind and without defect in character thoughts, deeds and words. "These are enshrined in the chieftaincy act, so someone who is gay cannot be installed a Development Chief in Akan society." Nana posited.
Nana however quizzed that: "Is the person who is being alleged as gay a practicing gay or a lawyer defending gays, or jut a gay activist?" Does he speaks for gays as a matter on human rights point of view, or is he trying to use advocacy to transform gays. All these are to be investigated. But the bottom line is that a Development Chief must be gazetted and before such processes could be exhausted, a criminal report on the prospective candidate ought to be obtained from the Police.
"If anything untoward is found about the person's character, s/he cannot be gazetted", Oguaa Tufohen affirmed. "When that happens, it's like a chief who has no sandals to wear." Because no CID in Ghana will give a clean sheet to a gay activist who want to be gazetted a chief. Gayism and it's activities are taboos in our traditions and customs."
A Development Chief, according Nana Kwame Edu VI, is an honorary title and is normally given to people who have contributed immensely towards the development of the community. Such an individual is the person in charge, and leads the development agenda of the area and can also use his or her image or connections to scout and attract sponsors to bring development to his people.
"Even if you've built an airport for us and, you're gay, you cannot be installed a Development Chief." The Oguaa Tufohen averred. "What use are buildings, edifices, scholarships, etc, when your youth, the future leaders, are destroyed in the long run?" He quizzed
The Oguaa Tufohen made these assertions in a telephone interview with Benjamin Tetteh Nartey, host of GBC Radio Central Morning Show, on Monday 30th January, 2023, when his views were sought on Davis Mac Iyalla (an alleged known gay activist) who was installed the Development Chief of Yamuransa Nkusukum Traditional Area over the weekend.
For a chief to be properly installed, he or she must take the Oath of Allegiance before the Chiefs and his people. Unfortunately, these could not happen as the candidate fell from his palanquin, when being paraded through the principal streets of the town which in this case never happened. Nana Edu intimated that, if that didn't happen then, his installation isn't complete and therefore, cannot be pronounced a chief of the area.
In Nana Edu VI explanations, regarding the chief falling from the palanquin, "That could be an accident, but, as I know it to be, the ancestors have spoken and passed a verdict on the supposed Development Chief", Nana Edu stated.
In concluding his remarks, the Oguaa Tufohen charged journalist to go to Iyalla to ascertain the veracity of the claims against him being a gay or gay activist and also find out from the Nkusukum Traditional Authorities as to why such person was installed a Development Chief.
"That's is the only way we can come to a conclusion on the matter going forward. These are my views based on what I've also read in the news", he ended.
Nana Kwame Edu VI is renowned for his strong belief in traditions and custom, and has authored and published a book on the four stages of life titled, "NSUNSUANSU, ƆNAM OBIARA N'ABOWANO".
Liked this Article? You can share with others via various social media platforms. Got some information to share with us?
Send us your articles or advertisements enquiries via [email protected]

Expert Opinion: If you have aching joints use this.Joints Health
How To Play the USA Mega Millions From Your Mobile?24lottosPlay Now
Man Whistles To Woman On Street – When She Yells "Do You Know Who I Am!", He Regrets ItBest Of Glamour
Seniors in Kumasi Might Fall in Love with Stairlifts – See OptionsStair Lift | Search Ads